The MEAC conference tournament begins this week as No. 1 Hampton is the heavy favorite after making the NCAA tournament last season and winning the conference's regular season. The Pirates (18-10, 13-3) are led by a strong inside-outside duo of Quinton Chievous and Reginald Johnson Jr as both players were first-team All-MEAC selections. Norfolk State, South Carolina State and Bethune-Cookman round out the top four seeds in the event as the winner of this conference tournament almost assuredly plays in a First Four game in Dayton.
The Bracket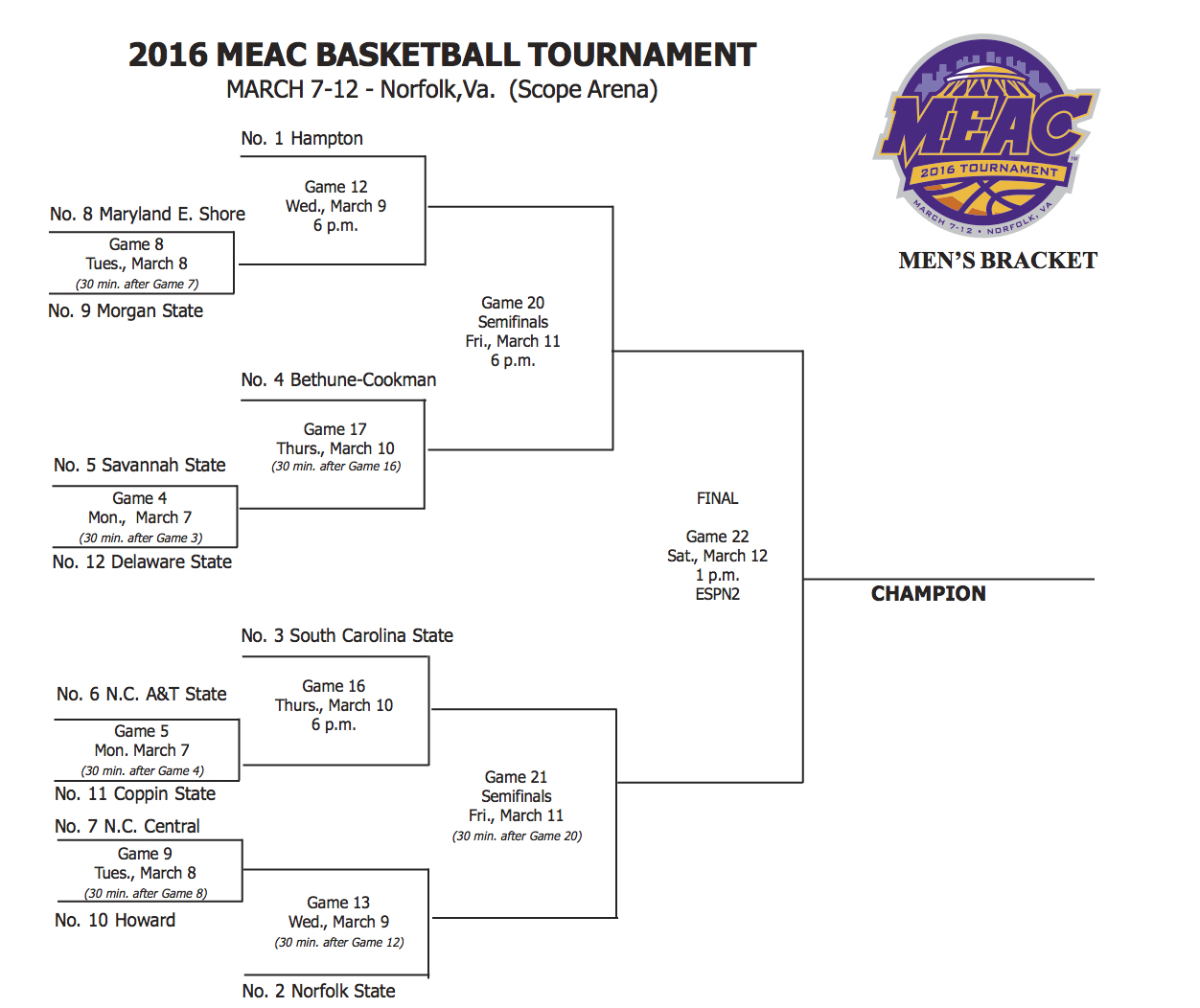 When: March 7-12
Where: Scope Arena, Norfolk, Va.
Final: March 12, 1:00 p.m. (ESPN2)
[   MORE: All of NBCSports.com's conference tournament previews   ]
Favorite: Hampton
After making the NCAA tournament last season, the Pirates won the conference regular season and have the league's best duo in Quinton Chievous and Reginald Johnson Jr. Hampton's offense can struggle at times, but their defense is among the league's best.
And if they lose?: Norfolk State
Riding the momentum of beating Hampton for the No. 2 seed in the tournament in the last game of the regular season, Norfolk State also owns a win over No. 3 seed South Carolina State in the last few weeks. The Spartans have shown that they can beat the league's elite and senior guard Jeff Short is one of the top players in the MEAC.
Other Contenders:
South Carolina State: Over their last 15 games, the Bulldogs are 12-3 and two of those losses came against Savannah State.
Bethune-Cookman: Before a loss to South Carolina State, the Wildcats had won five straight games to get the No. 4 seed.
MEAC Player of the Year: James Daniel, Howard
The nation's leading scorer (27.2 ppg) and No. 20 nationally in steals, Daniel did everything he could this season for Howard. The junior guard averaged 37.1 minutes per game and was held below 20 points three times all season. His season low was 15. Daniel isn't the most efficient scorer in college basketball but he consistently puts up points and does it against all competition.
MEAC Coach of the Year: Gravelle Craig, Bethune-Cookman
After three consecutive losing seasons in conference play, Bethune-Cookman re-tooled with nearly an entirely new roster and finished fourth in conference play at 10-6. With only two players returning from last season's team the Wildcats faced a ton of uncertainty but they were a surprise team in league play.
First-Team All-MEAC:
James Daniel, Howard
Quinton Chievous, Hampton
Reginald Johnson, Jr., Hampton
Jeff Short, Norfolk State
Dominique Elliott, UMES
CBT Prediction: Hampton over South Carolina State