Akron finished the MAC season with two fewer league losses than anyone else in the league, but after the Zips it was a total free-for-all with five teams finishing five teams finishing with seven or eight losses and another two with nine. Play opens Monday on campuses before shifting focus Thursday to Cleveland and Quicken Loans Arena for the final three rounds.
The Bracket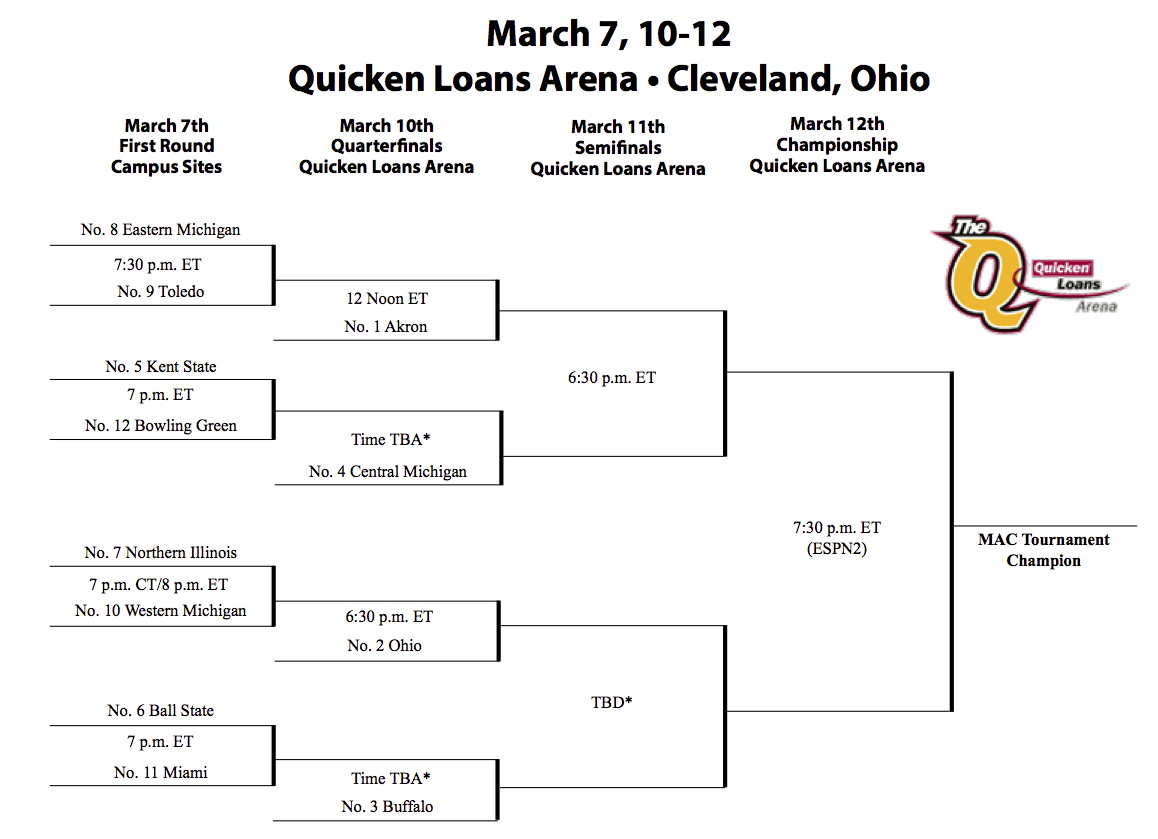 When: March 7-12
Where: Quicken Loans Arena, Cleveland, OH
Final: Saturday, March 12, 7 p.m. (ESPN2)
Favorite: Akron
The Zips handled business at home this season en route to the Eastern Division title, but their losses away from home this month (Miami (OH), KenPom No. 242; Kent State, 174; Northern Illinois, 158) would suggest they're vulnerable in this tournament, even if it's not far from their campus.
And if they lose?: Ohio
Ohio has played exceedingly well the last few weeks as the Bobcats have won nine of 12, with two of those losses coming to Akron. They haven't, though, played the Zips to single digits in either game.
Other Contenders:
Ball State: The Cardinals have had a big turnaround this year but have lost three of four.
Buffalo: The Bulls haven't been better than average in conference,but a monster non-con schedule has them more than battled tested.
Central Michigan:CMU has played Akron well twice, with one win,but they'll have to get past the Zips to even make the title game.
MAC Player of the Year: Antonio Campbell, Ohio
It's been a breakthrough season for the 6-foot-10 junior, who is averaging career-highs in scoring (17.5), rebounding (10.0), field goal percentage (58.1), 3-point percentage (41.9) and blocked shots (1.7), all of which outside 3-point percentage (eighth) rank in the conference top-five. His season has coincided with the Bobcats winning 10 more games overall and six more in conference from last season.
MAC Coach of the Year: James Whitford, Ball State
Ball State was picked to finish last in the MAC's West Division after going 7-23 overall and 2-16 in the conference last year, but in Whitford's third-year at the helm, the Cardinals tied Central Michigan atop the Division with a 10-8 mark while engineering one of the conference's top defenses.
First-Team All-[league name:
Antonio Campbell, Ohio
Nathan Boothe, Toledo
Chris Fowler, Central Michigan
Jimmy Hall, Kent State
Isaiah Johnson, Akron
CBT Prediction: Akron over Buffalo