This year's version of the SoCon looks quite a bit different than last year's version. Wofford, who won the league last season, saw their roster almost completely turned over. The team they beat in the SoCon title game last year, Furman, finished last place in the league a year ago. They're the three seed this season. Will Wade left Chattanooga for VCU and Matt McCall, a first time head coach, out-dueled Steve Forbes, another first time Division I head coach, for the league title.
The Bracket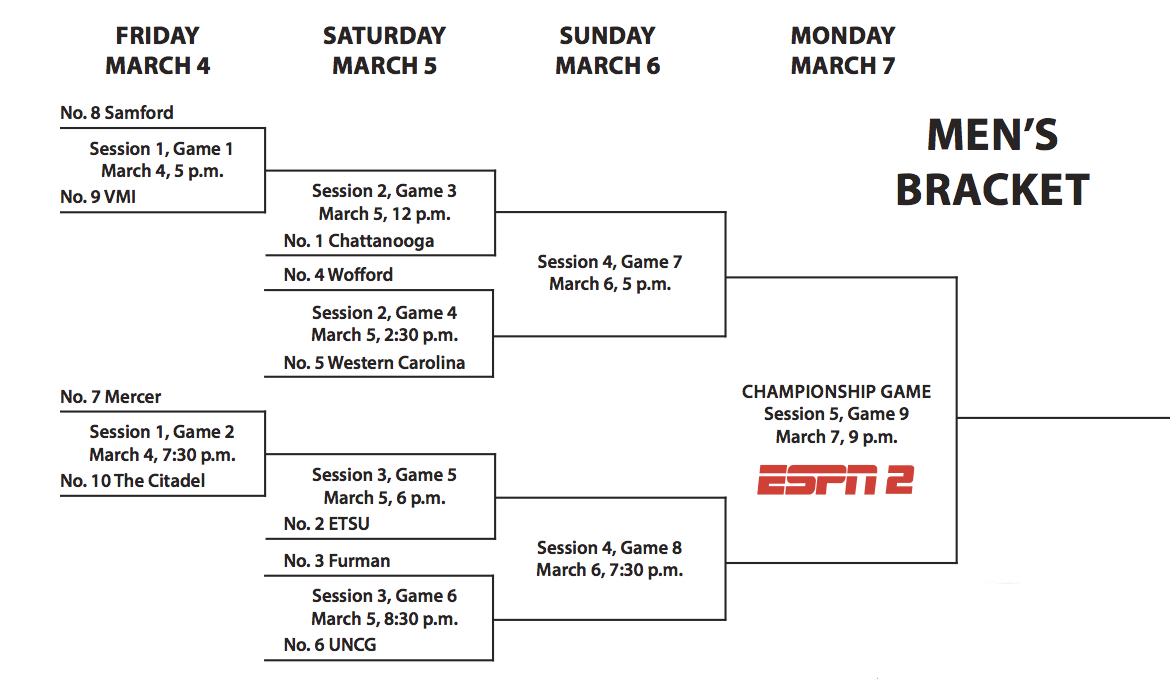 When: March 4-7
Where: U.S. Cellular Center, Asheville, N.C.
Final: March 7th, 9:00 p.m. (ESPN2)
Favorite: Chattanooga
Matt McCall has done a phenomenal job with the Mocs this season. In his first season in Chattanooga, he lost his best player (Casey Jones) and not only won an outright SoCon regular season title, but he did it while beating Georgia, Illinois and Dayton in the process. If the Mocs can get through the SoCon tourney unscathed, they're going to be a trendy upset pick when the brackets are released.
And if they lose?: East Tennessee State
Another head coach in his first season with a new program, former Wichita State assistant Steve Forbes brought in a boat load of transfers to build the Buccaneers into a contender. ETSU is the most talented team in the league, and while they did get swept by Chattanooga, the Bucs have won eight of their last nine games.
Other Contenders
Furman: Niko Medved has done a great job building on last year's fluky run to the league title game, finishing tied for third in the league while getting carried by Stephen Croone to the league title game.
Wofford: The Terriers had a ton of turnover in the offseason, but they've been the most consistent program in the league for years.
SoCon Player of the Year: Ge'Lawn Guyn, ETSU
In his first season in the league, the Cincinnati transfer played like a high major prospect, averaging better than 18 points for the Buccaneers. Guyn played a major role in ETSU finishing second in the conference this season.
SoCon Coach of the Year: Matt McCall, Chattanooga
We touched on it earlier, but in his first season as a head coach, McCall won the conference outright and picked off three high-major teams — including Dayton at Dayton! — more or less without the Preseason SoCon Player of the Year. That's damn impressive.
First-Team All-SoCon
Ge'Lawn Guyn, ETSU
Stephen Croone, Furman
Justin Tuoyo, Chattanooga
Tre' McLean, Chattanooga
Spencer Collins, Wofford
CBT Prediction: Furman makes another run to the finals, picking off Chattanooga this season.