Yale University erupted in scandal this week as posters alleging that the men's basketball team is "supporting a rapist" have been posted in various buildings on the New Haven campus.
The posters, some of which also said "I stand with Yale women, end rape culture," have since been pulled down. They were posted as a response to a statement that was made by the men's basketball team in a game against Dartmouth last Friday.
Last week, Yale announced that starting point guard and captain Jack Montague had withdrawn from the program, although the reasons behind his decision were not made public. According to the Yale Daily News, the student paper on campus, Montague actually withdrew from classes two weeks prior to the announcement. On Friday, the Elis wore t-shirts that had Montague's nickname (Gucci) and number (4) on the back with ELAY (Yale backwards) printed on the front: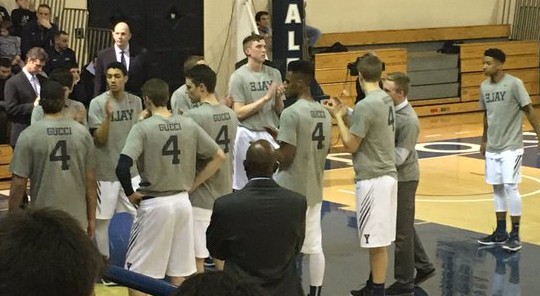 Yale star Justin Sears told the Yale Daily News that the T-shirts weren't meant to start a controversy and that the spelling of Yale was not a statement they were trying to make.
"No one in the team is aware of what happened [to Montague], and the shirts are not a comment on what the administration has done or anything happening with Jack's situation," Sears told the paper. "It was just to say he is part of the team and we miss him, and because he's been deleted off the roster and is not mentioned anymore."