Four solid teams head the Big South conference tournament this year with the top two seeds bringing some solid star power. The No. 1 seed, High Point, has — hopefully? — a two-time Player of the Year in senior forward John Brown while No. 2 seed Winthrop has the talented guard duo of Keon Johnson and Jimmy Gavin.
Coastal Carolina and UNC Asheville also had successful conference seasons are are no pushover in this tournament. The winner of this tournament is likely facing a No. 15 or No. 16 seed in the NCAA Tournament.
The Bracket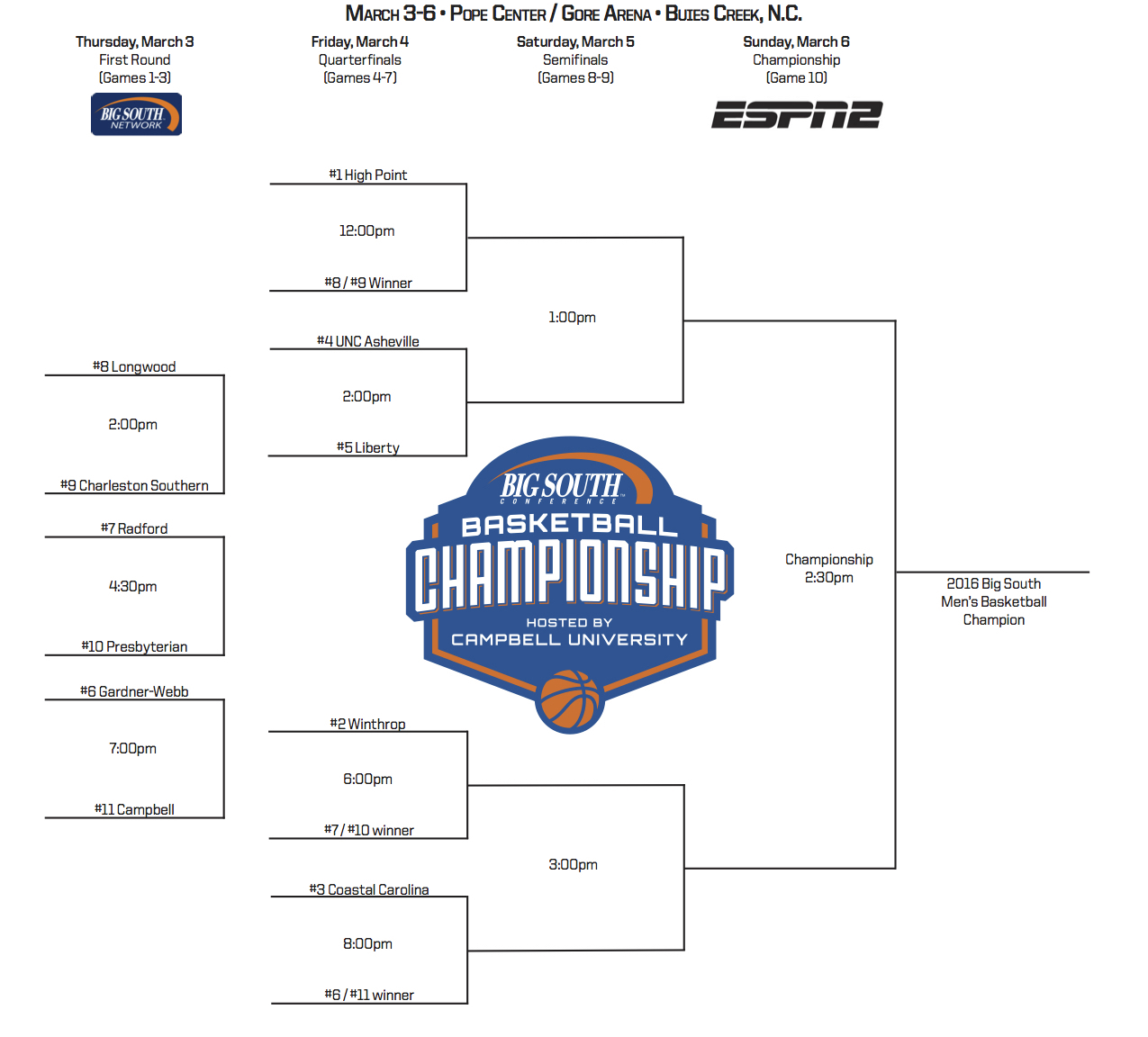 When: March 3-6
Where: Campbell University's Pope Center and Gore Arena in Buies Creek, N.C.
Final: March 6, 2:30 p.m. (ESPN2)
[   MORE: All of NBCSports.com's conference tournament previews   ]
Favorite: High Point
Winners of six consecutive games, High Point also beat No. 2 seed Winthop in that span and the Panthers have the conference's Player of the Year in John Brown. But Brown suffered a foot injury on Saturday, and his status for the Big South tournament is very much in the air. High Point is a team that shoots efficiently around 3-point range (39 percent) and they'll need to have other options besides their star.
And if they lose?: Winthrop
The Eagles have been major contenders in the Big South this season in-part because they have two go-to scorers in Keon Johnson and Jimmy Gavin. With a good third scorer in Xavier Cooks, Winthrop can really put up points. Like High Point, Winthrop is efficient shooting the 3-pointer at 38.5 percent from distance.
Other Contenders:
Coastal Carolina: Elijah Wilson and Shivaughn Wiggins can both score and Jaylen Shaw and Badou Diagne aren't bad options either.
UNC Asheville: The Bulldogs have five double-figure scorers and gave High Point and Winthop close games this season.
Big South Player of the Year: John Brown, High Point
The redshirt senior also earned the conference's Defensive Player of the Year honors and was a four-time first-team all-conference selection during his time at High Point. Brown averaged 19.6 points, 7.1 rebounds, 2.2 assists, 1.8 blocks and 1.7 steals per game this season.
Big South Coach of the Year: Richie McKay, Liberty
Liberty was predicted to be last place in the league this preseason and ended up 10-8 and in fifth place in an 11-team league. McKay had only four letters winners and no returning starters to build a roster from and Liberty still had a winning conference season in his first year back as head coach.
First-Team All-Big South:
John Brown, High Point
Keon Johnson, Winthrop
Jimmy Gavin, Winthrop
DeShawn Murray, Presbyterian College
Lotanna Nwogbo, Longwood
CBT Prediction: Winthrop takes down High Point