The Ohio Valley was one of the most competitive conferences in the country this season, as six teams finished with double-figure league victories, all of whom were within just two games of first place. Parity always leads to a wild tournament.
Right?
Right.
The Bracket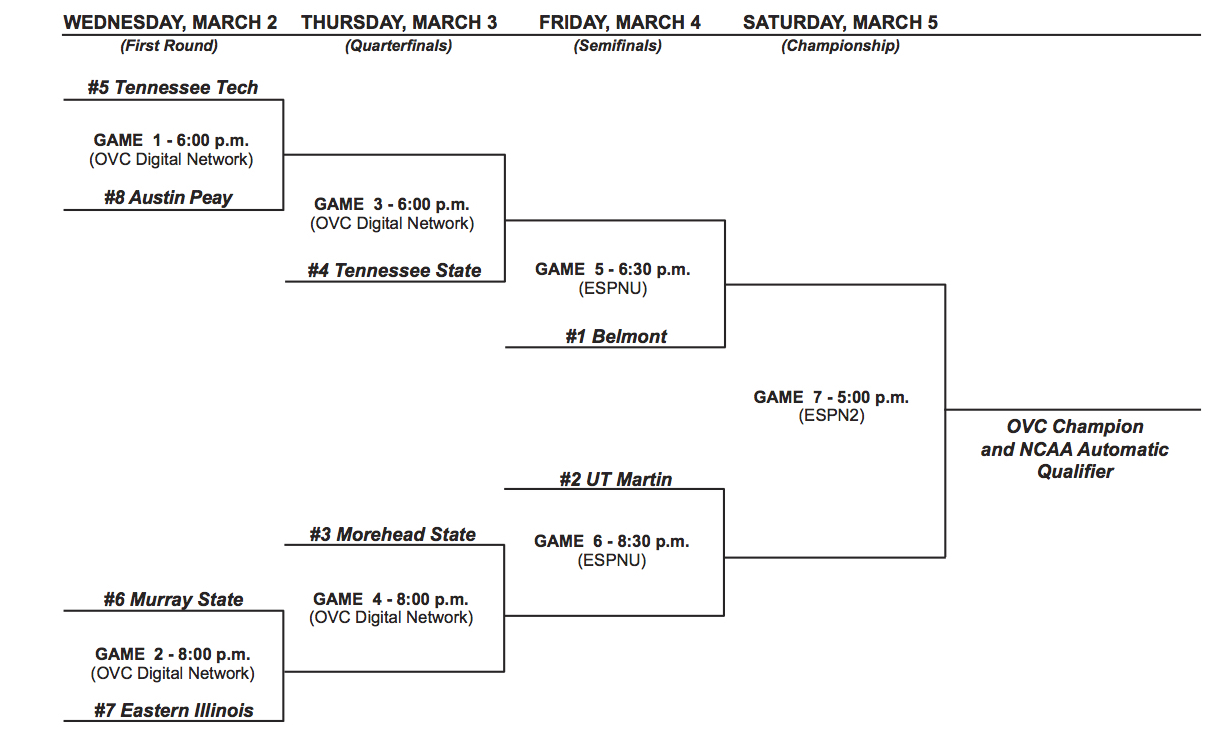 When: March 2, 3, 4 and 5
Where: Municipal Auditorium, Nashville
Final: March 5th, 5:00 p.m.
Favorite: Belmont
Not only did the Bruins win the league, but they'll be playing the OVC tournament in their own backyard in Nashville. And if head coach Rick Byrd has taught us anything about his tenure with the Bruins, it's that we probably should not be betting against him winning. This year's squad is typical Belmont: a star guard (Craig Bradshaw) flanked by a myriad of shooters to surround an uber-efficient post presence in Evan Bradds. The Bruins, if they get to the tournament, will even be a threat to win a game there. They have the best offense in the league and own wins at Murray State and over Valparaiso in Nashville.
And if they lose?: Morehead State
The Eagles do three things well that will make them dangerous in tournament situations: they force a lot of turnovers, they get a lot of offensive rebounds and they shoot the three ball well. Extra possessions in a one-and-done tournament setting are huge, especially when a team is playing well and hitting shot from the perimeter. Should I mention that the Eagles won in a row to close out the regular season?
Other Contenders
Murray State: There are a lot of new faces on the Racers this season, but there is a reason that this program has had such a sustained run of success.
Tennessee State: Dana Ford's club was the best defensive team in the league and has one of the best 1-2 punches in Keron DeShields and Tahjere McCall.
UT-Martin: Winning their division was monumental, as they get a bye to the semifinals.
OVC Player of the Year: Evan Bradds, Belmont
Bradds is one of the most efficient players in college basketball, consistently finishing among the leaders nationally in field goal percentage. He shot better than 70 percent from the floor every year since he arrived at Belmont. His ability as a low-post scorer forces opponents to decide whether they want to double him to get the ball out of his hands, opening up the shooters on Belmont's perimeter, or let him go one-on-one in the post, where he's near-unstoppable.
OVC Coach of the Year: Dana Ford, Tennessee State
All due respect to the rest of the conference, there wasn't much competition for Ford here. The Tigers won five games all season long in 2014-15. This year, Ford brought in a slew of new pieces, turned TSU into the best defensive team in the conference and finished tied for second in the conference standing, a game behind Belmont.
First-Team All-OVC:
Evan Bradds, Belmont
Chris Horton, Austin Peay
Twymond Howard, Tennessee-Martin
Craig Bradshaw, Belmont
Torrance Rowe, Tennessee Tech
CBT Prediction: Belmont is heading back to the dance.