The Northeast Conference has a heavy favorite in the conference tournament thanks to one team being superior and the deck being stacked in favor of the No. 1 seed. Wagner, the conference's only 20-win team, is in prime position to at least make the championship game thanks to the favorable format the NEC tournament has with top seeds.
Not only do the Seahawks (20-9, 13-5) get home games in each game as the highest seed, but after the tournament quarterfinals, the tournament redraws seeds so that Wagner will once again play the lowest seed left in the semifinals. That leaves them in better position than the No. 2 through No. 4 seeds — who also get home games in the quarterfinals. Fairleigh Dickinson, Sacred Heart and St. Francis (NY) are the other top seeds. The winner of this conference tournament is likely facing a No. 16 seed and potential First Four game in Dayton.
The Bracket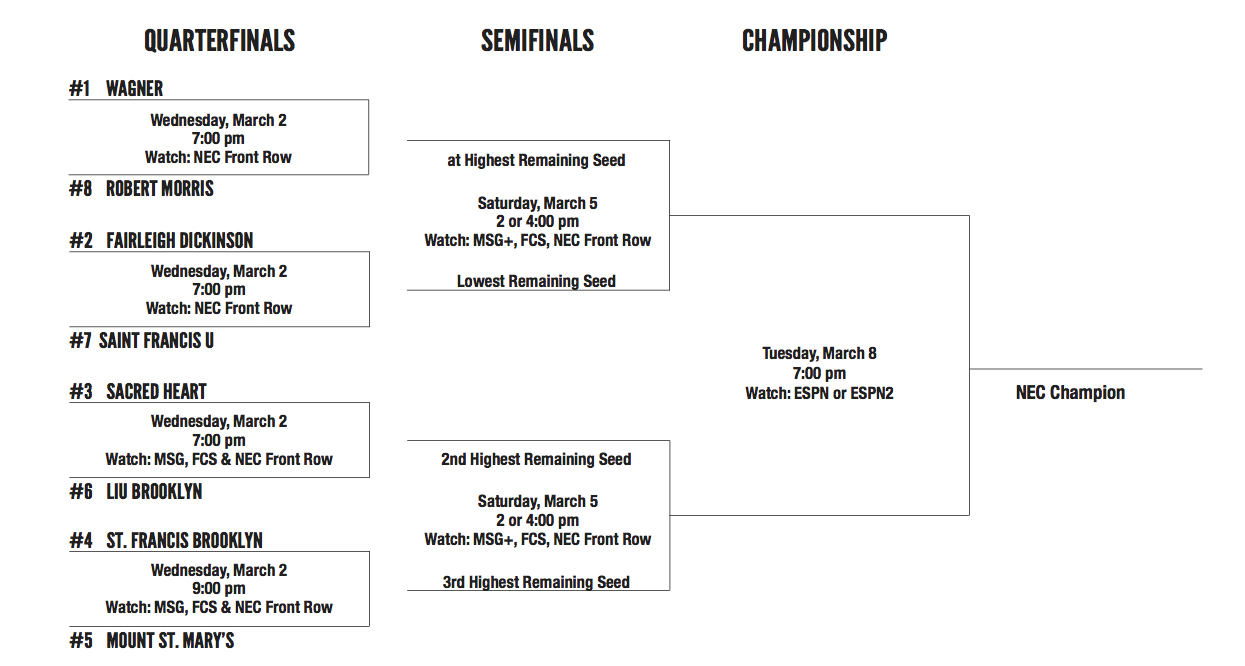 When: March 2, 5 and 8
Where: Campus sites, with the higher seed hosting every game.
Final: March 8, 7:00 p.m. (ESPN)
[   MORE: All of NBCSports.com's conference tournament previews   ]
Favorite: Wagner
The only 20-win team in the conference, the Seahawks are riding a five-game winning streak and own homecourt advantage throughout the NEC tournament. A balanced team that can defend well for its level, Wagner has a lot of pieces that can hurt you, led by sophomore guard Corey Henson (13.5 ppg) and junior wing Michael Carey (12.0 ppg, 9.1 rpg).
And if they lose?: Fairleigh Dickinson
The Knights have been a confusing team, full of road wins over the league's better teams and home losses to those same teams. Fairleigh Dickinson still has one of the league's top duos in a pair of sophomores, guard Darian Anderson (14.8 ppg, 3.7 apg, 3.3 rpg) and wing Earl Potts Jr. (14.0 ppg, 6.0 rpg).
Other Contenders:
Sacred Heart: The Pioneers have won nine of 12 games to earn the No. 3 seed and Cane Broome can really score.
St. Francis: Winners of four consecutive games, the Terriers get a home game early and offer a balanced scoring effort.
Northeast Conference Player of the Year: Cane Broome, Sacred Heart
The sophomore guard was the league's best scorer and it wasn't even close. In conference games, Broome led the NEC in scoring by over seven points a game over second place. He was also top ten in league play in assists, steals, free throw percentage and tops in minutes. The 6-foot-0 guard was held to single-digit scoring one time all season and it came against UConn. Broome's turnover numbers are high and his shooting percentages can improve but he's an offensive force in most games.
Northeast Conference Coach of the Year: Bashir Mason, Wagner
The 30-year-old Mason is finding some early success in his career as he's won at least 19 games and 12 NEC games in three of his four seasons as head coach at Wagner. At one time the youngest head coach in Division I men's basketball, Mason has a chance to make his first NCAA tournament with Wagner with a win in the conference tournament.
First-Team All-Northeast League:
Cane Broome, Sacred Heart
Michael Carey, Wagner
Jerome Frink, LIU
Martin Hermannsson, LIU
Darian Anderson, Fairleigh Dickinson
CBT Prediction: Wagner over Fairleigh Dickinson