Stony Brook entered the season as the heavy favorite to win the America East, given that they returned all five starters from last season, including now three-time conference Player of the Year, Jameel Warney. Albany and Vermont were expected to make a push for the league title — and they did, each picking off the Seawolves during the last two weeks of the regular season.
The Bracket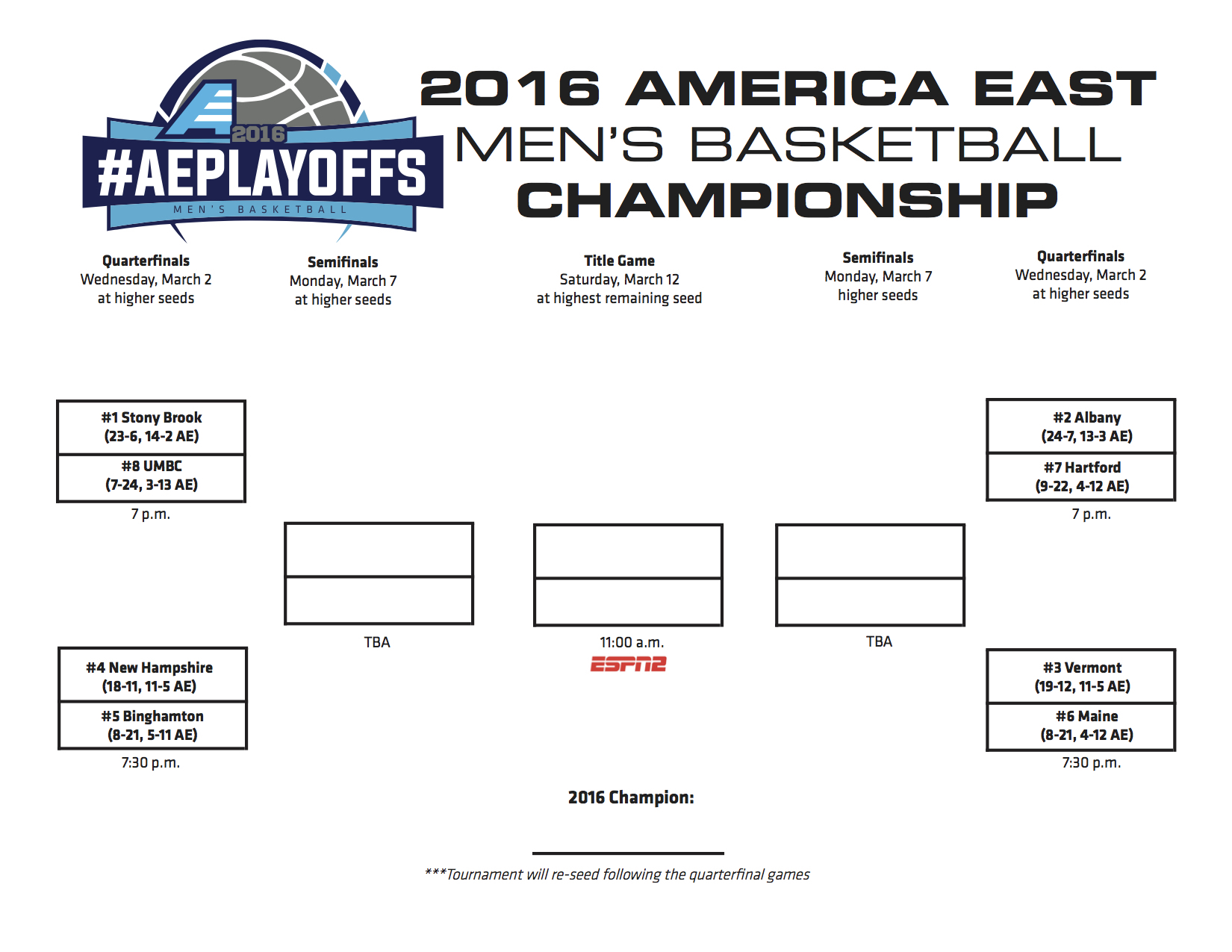 When: March 2, 7 and 12
Where: Campus sites, with highest remaining seed hosting and games getting reseeded after the quarterfinals.
Final: March 12, 11:00 a.m. (ESPN2)
Favorite: Stony Brook
Is this the year that the Seawolves finally break through and get to the NCAA tournament? They've won the America East four of the last seven years and haven't finished worse than second since 2011. But they've lost in the America East title game four times in the last five years and still have not made an NCAA tournament. Last year's run may have been the most excruciating, with the loss coming on a buzzer-beater. This is the last chance for Jameel Warney and company to get to the dance. Can they make it happen?
And if they lose?: Albany
The Great Danes returned the majority of their roster from last year's dual-title winners and played like it throughout the year. They finished 24-7 overall and 13-3 in the America East, just a game behind Stony Brook. They were one of just two teams to beat the Seawolves in league play this season, and their three league losses all came on the road by a combined nine points.
Other Contenders:
Vermont: The Cats were the only team not named Albany to pick off Stony Brook, and while they're young, they're also talented enough to win three straight in March.
New Hampshire: The Wildcats finished tied for third in the league and have all-league forward Tanner Leissner on the roster.
America East Player of the Year: Jameel Warney, Stony Brook
Warney is an absolute monster at this level, and he may be the best mid-major player in all of college basketball. He's averaging 18.7 points, 10.2 boards and 3.2 blocks for the best team in the conference. That's not bad, right?
America East Coach of the Year: Steve Pikiell, Stony Brook
Most of the time, Coach of the Year gets picked based on the team that most outperforms expectations. But sometimes just living up to expectations is as impressive when expectations are as high as they were for Stony Brook, which is why we're going with Pikiell as the Coach of the Year.
First-Team All-America East:
Jameel Warney, Stony Brook
Evan Singeltary, Albany
Carson Puriefoy, Stony Brook
Tanner Leissner, New Hampshire
Peter Hooley, Albany
CBT Prediction: Stony Brook gets to their first NCAA tournament.