The Patriot League was a tough league to figure out at times this season. No team was truly dominant, but Bucknell won the regular season and now enjoys home-court advantage throughout the Patriot League conference tournament. They'll be challenged most by second-place Lehigh, as the Mountain Hawks won nine straight games and has the league's Player of the Year in Tim Kempton. The winner of this conference tournament will almost assuredly play as a No. 16 seed in the NCAA tournament.
The Bracket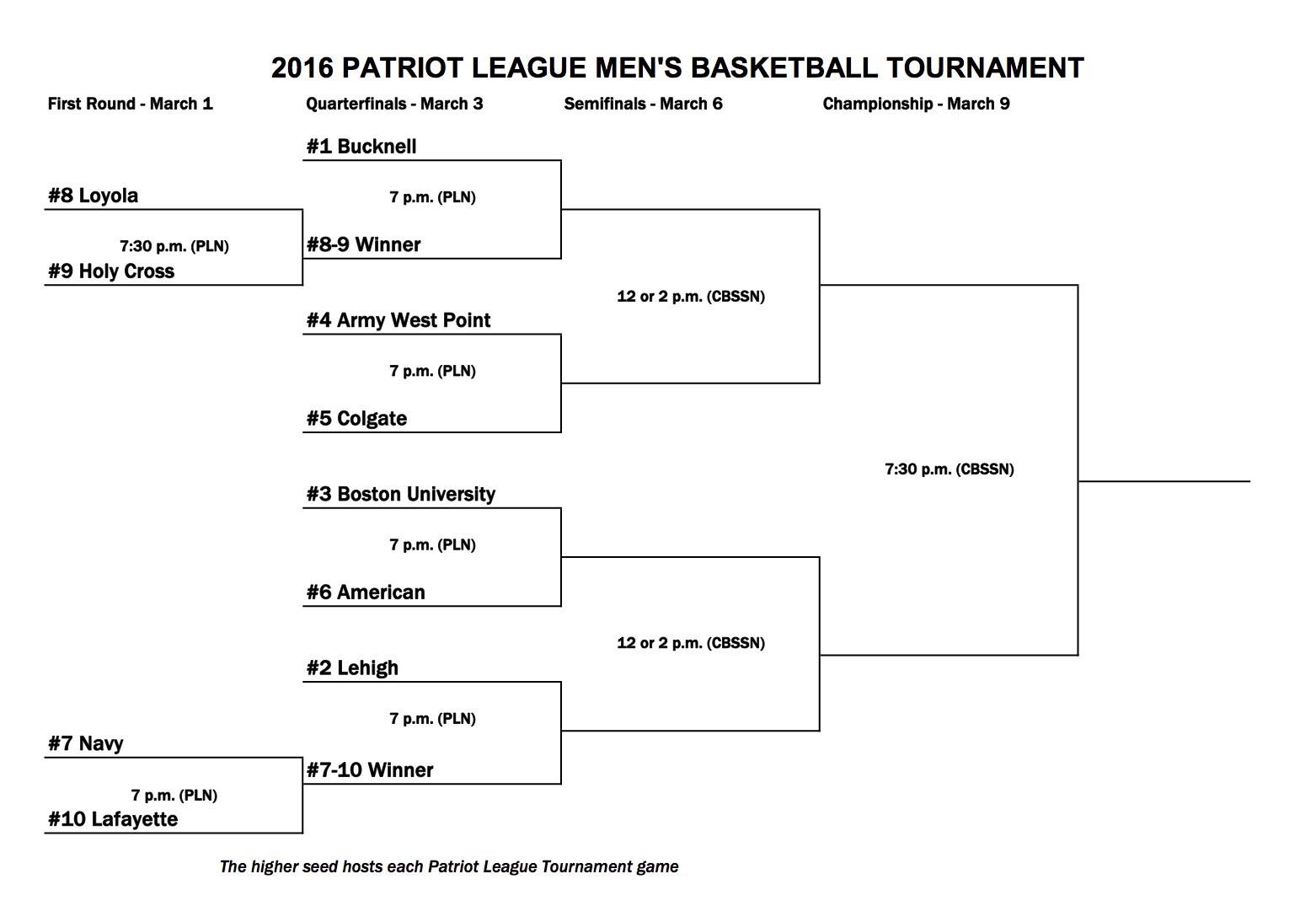 When: March 1, 3, 6 and 9
Where: Campus sites, with the higher seed hosting every game
Final: March 9, 7:30 p.m. (CBSSN)
[   MORE: All of NBCSports.com's conference tournament previews   ]
Favorite: Bucknell
Winning the conference regular season is a nice boost for the Patriot League winner because of the guaranteed home games in each round of the tournament. Besides the home-court advantage, the Bison will hopefully avoid Colgate — who beat them twice during the season — and slow down Lehigh, who they split with during the season.
And if they lose?: Lehigh
Second place in the conference went to Lehigh, who won nine consecutive games to close out the regular season. They have the conference's best player in junior center Tim Kempton, they're the hottest team in the league and they get two home games before the title game — which the Mountain Hawks could also host if Bucknell loses before the finals.
Other Contenders:
Boston: Despite the injuries, this is still a dangerous team that is filled with experienced upperclassmen.
Army: The high-scoring duo of Tanner Plomb and Kyle Wilson can really point up points and makes Army a tough out.
Patriot League Player of the Year: Tim Kempton, Lehigh
The reigning Patriot League Player of the Year was even better during his junior year as the 6-foot-10 center averaged 17.5 points and 9.3 rebounds per game. During the Mountain Hawks' recent nine-game winning streak, Kempton has double-doubles in six of those games. Second in the conference in scoring and rebounding, Kempton shot 54 percent from the field this season.
Patriot League Coach of the Year: Joe Jones, Boston
Boston was hit hard by injuries this season but the Terriers still finished third in the conference and 18-13 overall. Starters Cedric Hankerson and Justin Alston were lost to season-ending injuries within the first 10 games of the season and other injuries have occurred during the season. That didn't stop Boston from being one of the league's better teams.
First-Team All-Patriot League:
Tim Kempton, Lehigh
Chris Haas, Bucknell
Eric Fanning, Boston
Tanner Plomb, Army
Austin Tillotson, Colgate
CBT Prediction: Lehigh defeats Bucknell on the road in the championship.