The Atlantic Sun has had quite a bit of tournament success in recent years. Mercer, who has since left the conference, picked off No. 3 seed Duke in the 2014 tournament while FGCU became #DunkCity after the Eagles flew to the Sweet 16 with wins over No. 2 seed Georgetown and No. 10 seed San Diego State.
The conference didn't have many marquee wins during the regular season, but they did pick off a couple high-major program. North Florida won at Illinois. NJIT beat St. John's in Carnesecca Arena. FGCU got UMass at home. And while none of those teams are tournament teams, it is a sign that this league, in general, may be more competitive than you may think. Can you say 'Upset City'?
The Bracket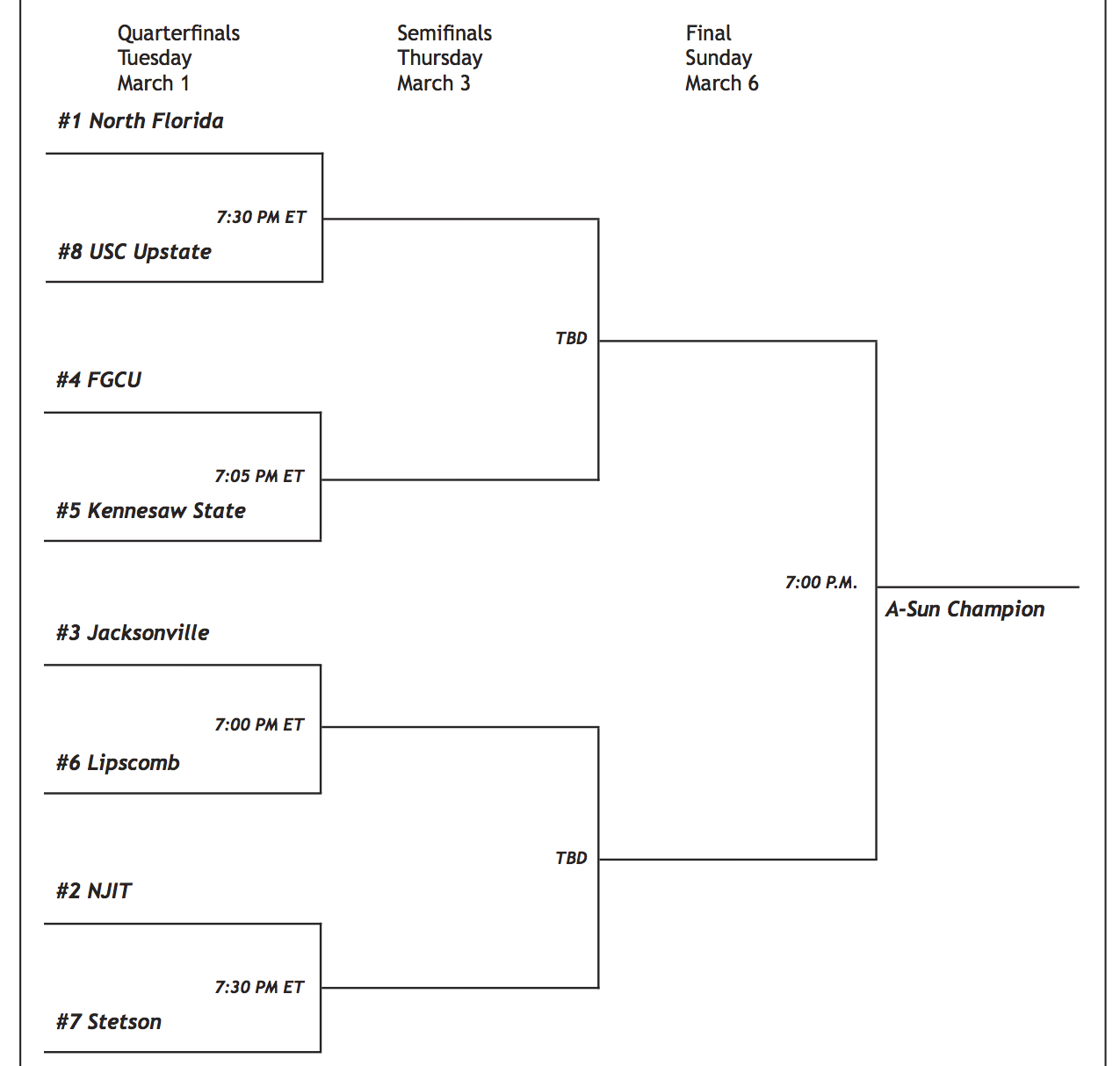 When: March 1, 3 and 6
Where: Campus sites, hosted by the higher seed
Final: March 6th, 7:00 p.m. (ESPN2)
Favorite: North Florida
The Ospreys won a competitive conference that plays a true, double round-robin league schedule by two full games. They're the best team in the league, meaning that they get home court advantage through the tournament, and they've lost just a single game at home all season long. Throw in the fact that this group is one of the nation's most potent offensive attacks — you'd be hard-pressed to find a better back court at this level than Dallas Moore and Beau Beech — and you may want to get out of their way if their shots are going down.
And if they lose?: NJIT
It's their first year in the conference, but I think NJIT can make a run. For starters, traveling all the way to New Jersey for a game is not an easy thing for teams located in the south to do, and the Highlanders will have home court throughout the tournament unless they get UNF in the title game. Then throw in the fact that this team A) Has one of the league's best players in guard Damon Lynn and B) has beaten Michigan, Duquesne, South Florida and St. John's in the last two years, and it's not difficult to picture them making a run.
Other Contenders
FGCU: The Eagles are arguably the most talented team in the conference, but they'll have to lock horns with UNF in the semis if they win.
Kennesaw State: Al Skinner's Owls struggled for much of the season, but they were the hottest team in the league down the stretch, winning four of their last five games.
Atlantic Sun Player of the Year: Dallas Moore, North Florida
More was the best player on the best team in the conference, which, generally speaking, is usually enough to earn an award like this. He led the conference in scoring (19.7 points) and assists (6.1). This wasn't a difficult pick.
Atlantic Sun Coach of the Year: Al Skinner, Kennesaw State
On Jan. 23rd, the Owls, who were picked to finish last in the league in the preseason, were 3-16 against Division I opponents, but Skinner was able to turn things around down the stretch. KSU won six of their last nine games to get to .500 in league play, which is A) something that has not happened for this program since 2007 and B) tied for the best record the Owls have ever had in the league as a Division I program. In the previous four seasons, KSU had a total of nine league wins.
First-Team All-Atlantic Sun:
Dallas Moore, North Florida
Damon Lynn, NJIT
Kendrick Ray, Kennesaw State
Beau Beech, North Florida
Marc-Eddy Naurelia, FGCU
CBT Prediction: North Florida protects their home court and earns the automatic bid.