Kentucky has had a bit of a roller coaster season.
Early in the year, when they were steam-rolling Duke at the Champions Classic and mowing down buy-game opponents, Kentucky looked like a team that was on their way to competing for a national title.
Then came the loss at UCLA. And the loss to Ohio State. Then they fell at LSU and at Auburn. None of those four teams are destined for an at-large bid to the NCAA tournament, which begged the question: Can we really trust this Kentucky team? If their front court isn't getting any better and Skal Labissiere is never going to be the kid that we wanted him to be this season, was it time to adjust our expectations for this group? Was it time to say that simply getting to the second weekend of the NCAA tournament would be a successful season?
And the answer to that question, as we've learned in the five weeks since Auburn head coach Bruce Pearl picked off his old nemesis, John Calipari, was a resounding 'No!'
There have been a couple of changes in the last ten games for the Wildcats, not the least of which is their effort on the defensive side of the ball. Kentucky currently ranks 41st nationally in KenPom's adjusted defensive efficiency metric, which is good for sixth in the SEC. But if you look at just their performance in league games, the Wildcats are the best defensive team in the SEC.
I'll take it a step further: Every game the Wildcats have lost this season, they've allowed at least 1.00 points-per-possession. They're 4-7 in those games and 17-0 when they hold opponents under 1.00 PPP. This isn't exactly breaking news, but when teams get better defensively, they tend to win more games.
Shocking, I know.
But Kentucky's improvement has been about more than just their effort on defense.
Tyler Ulis and Jamal Murray have gone from promising-but-inconsistent to the nation's best back court pairing, and it all stems from a tweak that Coach Cal made after the Auburn loss.
It starts with Derek Willis, a 6-foot-9 combo-forward and in-state recruit that spent the majority of his first two seasons in Lexington as nothing more than a glorified walk-on. He was on scholarship, but his minutes were mostly limited to garbage time; he was the guy that the Rupp Arena crowd would be screaming for when the Wildcats held a 25 point lead with three minutes left.
And while he showed some flashes early on this season — he had 25 points in the season's first two games, he scored 11 points at UCLA — it wasn't until the Auburn loss when saw more than 19 minutes of playing time against an opponent not named Albany. He had 12 points and 12 boards in 31 minutes of action against Auburn, which was enough for Cal to roll the dice on him as a starter the next game — at Arkansas — and Willis delivered. He had 12 points and seven boards, hitting 2-for-4 from beyond the arc, and he hasn't looked back since.
In the last 11 games he's started (Willis sat out last night's win over Alabama with an ankle injury), he's averaging and 10.1 points and shooting 26-for-52 from three, an even 50 percent.
"Putting Derek Willis in the role he's in has changed us," Cal said. "Now all of a sudden Derek gives us another stretch guy that you've gotta go play with Tyler and Jamal. It lets Isaiah do his thing, it posts up Alex where he should be. It puts us all in the right spots."
Here's what Cal is talking about: In this possession from UK's loss at LSU in early January, take a look at how clogged the lane is. With Isaiah Briscoe, Alex Poythress and Skal Labissiere on the floor together, there are essentially three guys the defense does not need to worrying about guarding beyond 12-15 feet from the rim. In this example, you can see how Ben Simmons traps Murray off the ball-screen. He knows Craig Victor is there to help on Labissiere's roll to the rim because Keith Hornsby can play 20 feet off of Briscoe without being worried about getting burned by a three: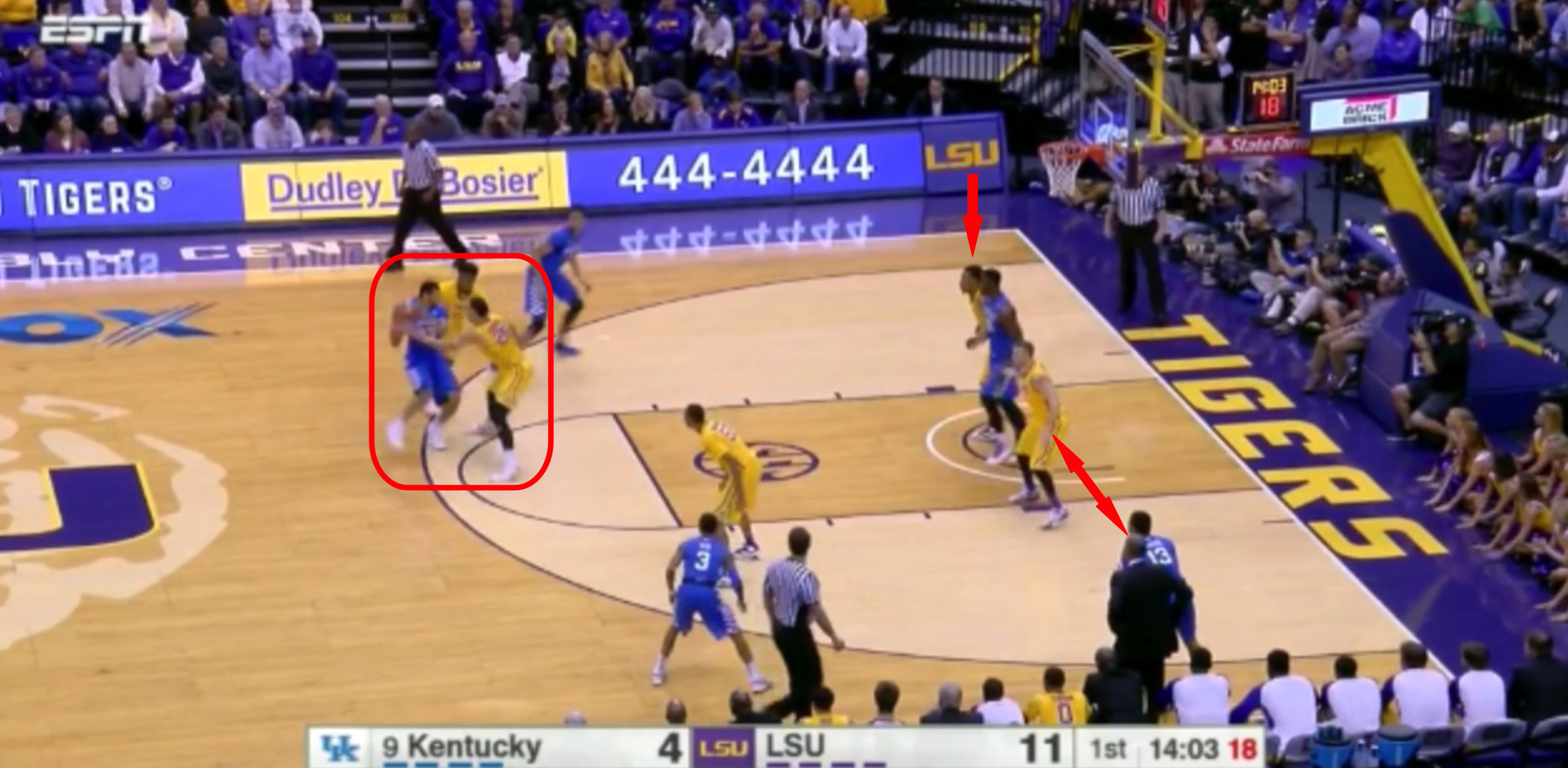 Here's the full possession:
Here's another example, with Briscoe on the same side of the floor as the ball-screen. Texas A&M's Danuel House (green arrow) is camped out in the paint because he's (rightfully) more concerned about Marcus Lee rolling to the rim than he is with Briscoe spotting up in the corner: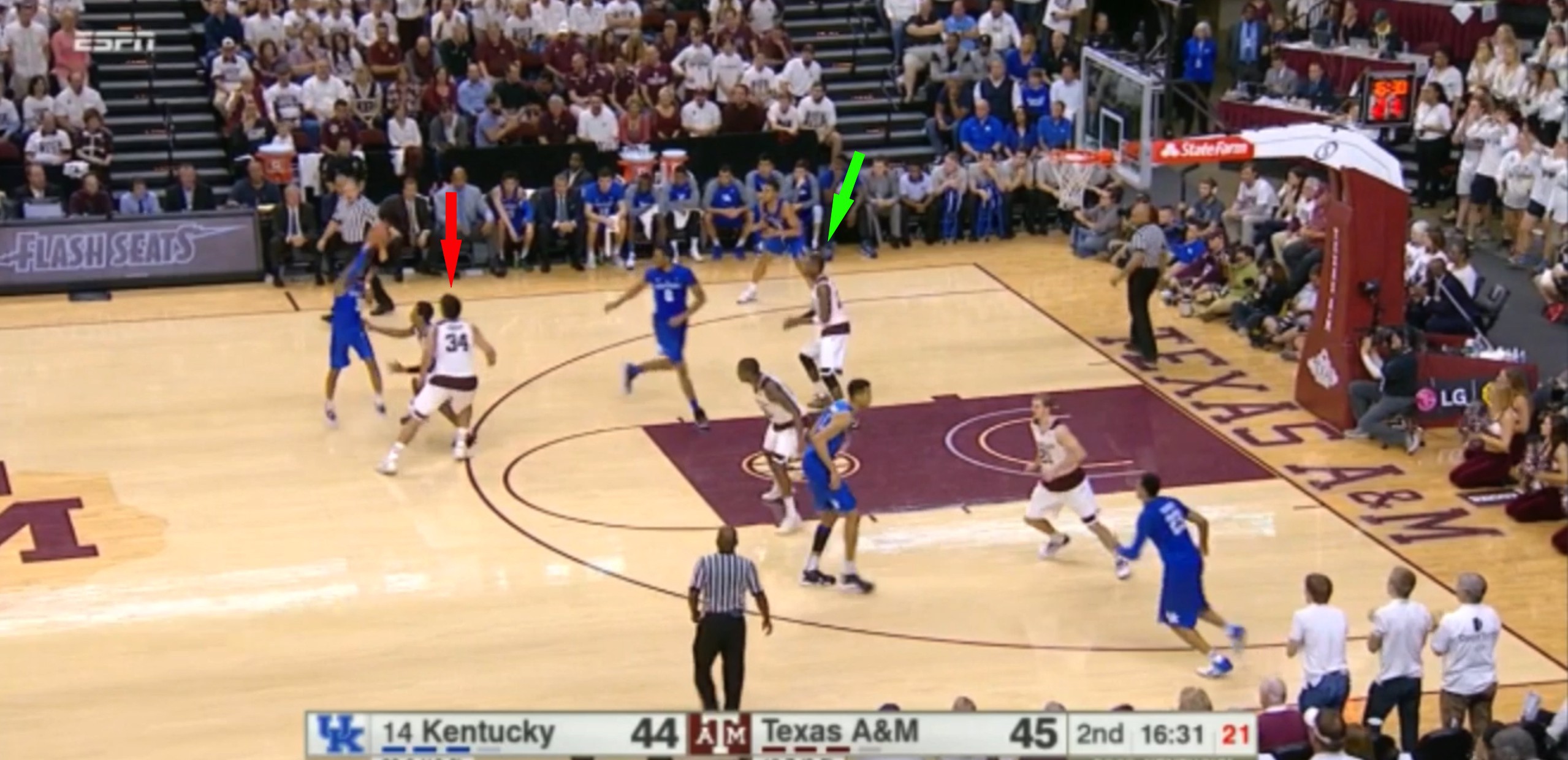 As you can see, Briscoe bricked the jumper:
It's different with Willis on the floor. Whether or not he's actually making threes, it's the threat of the shot that makes the difference. "You have to really decide how you want to guard those ball-screens," one SEC coach told NBCSports.com. "His shooting makes them much harder to guard."
Here are three examples of what that coach is talking about.
1. Willis sets a ball-screen for Ulis, and with South Carolina icing the screen (meaning forcing the ball-handler away from the screen and towards the baseline), the big has to make sure Ulis doesn't get a head of steam going to the rim. Willis can then pop into space for a clean look at a three: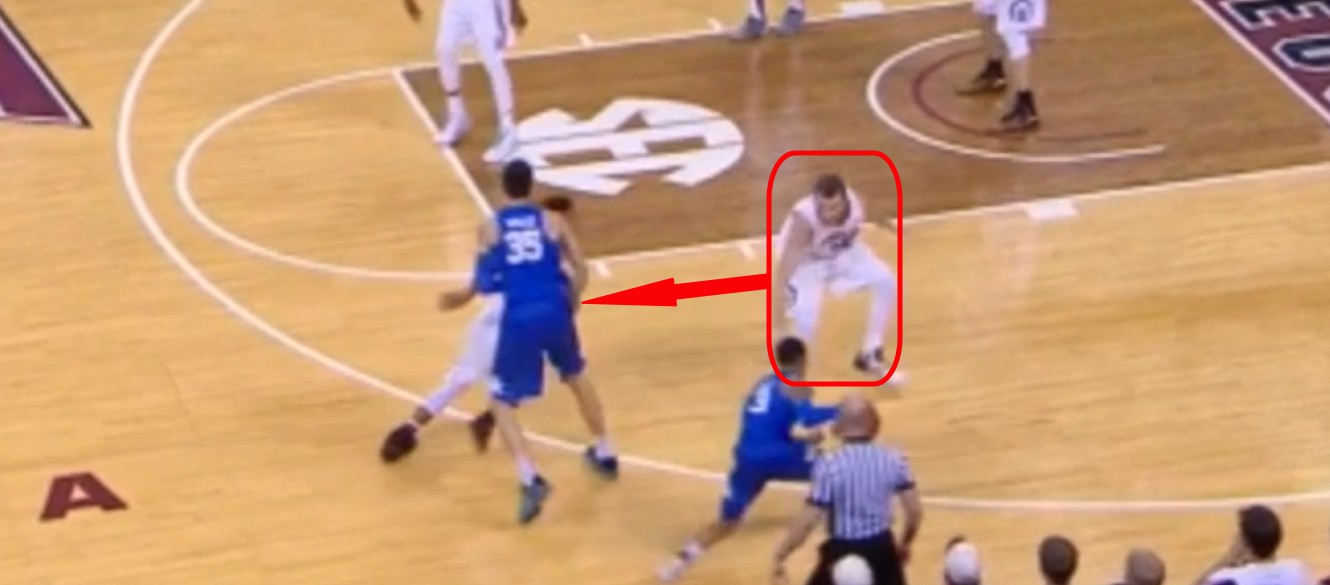 Buckets:
2. Defenders are forced to choose between taking away Willis' jumper and helping on drives. Here, you'll see a Tennessee defender cutting off Ulis in the paint, meaning that he's not able to recover when the Kentucky point guard finds his open shooter: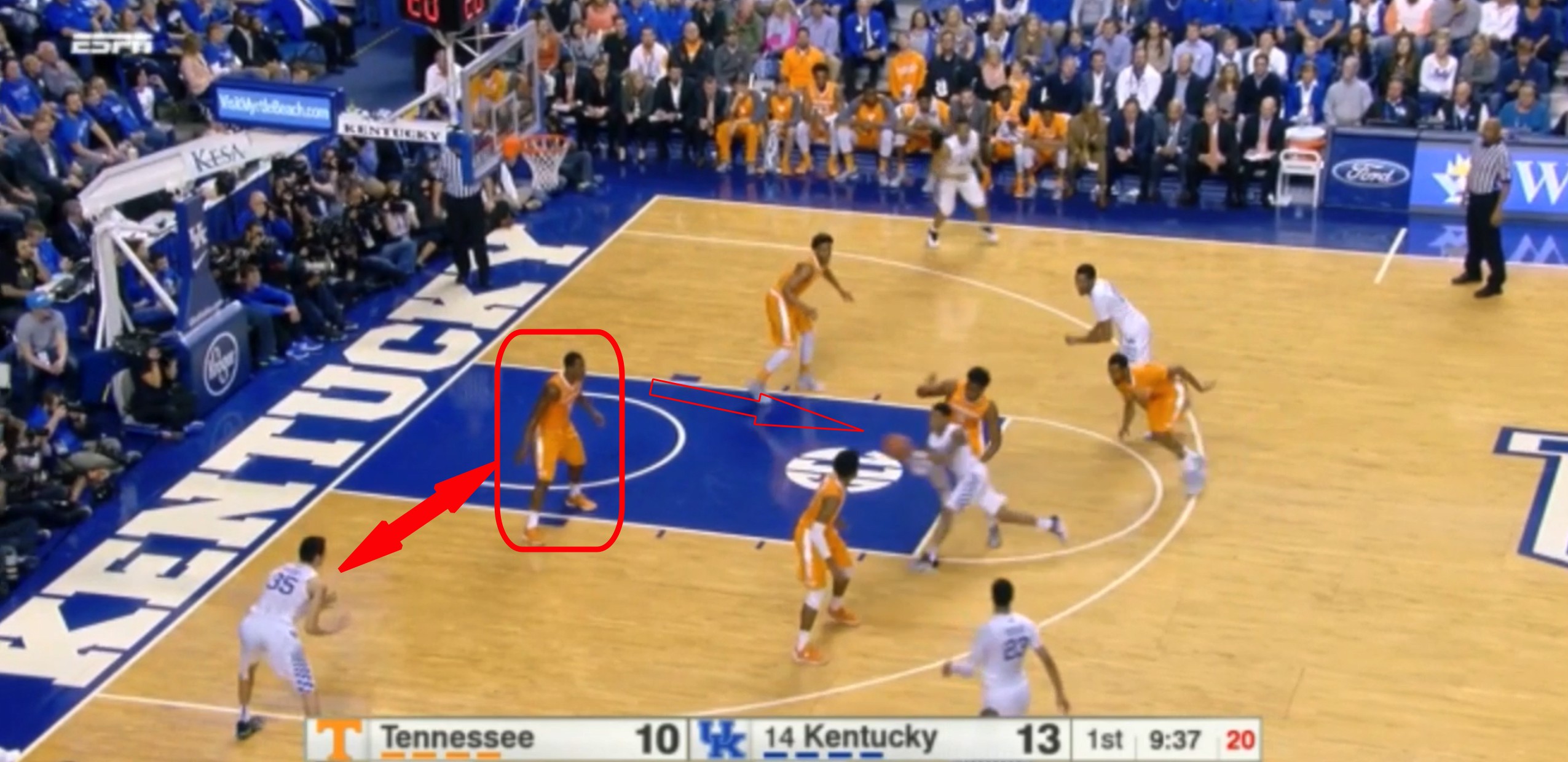 Again, buckets:
3. He's a threat even when he's not involved in the play. In this example, which comes out of Kentucky's 'Elbow' series, you see South Carolina's Chris Silva locked onto Willis' hip, so when Ulis gets by his defender and sees the weak-side help coming, he's able to find a cutting Briscoe, who has a wide-open lane to the rim: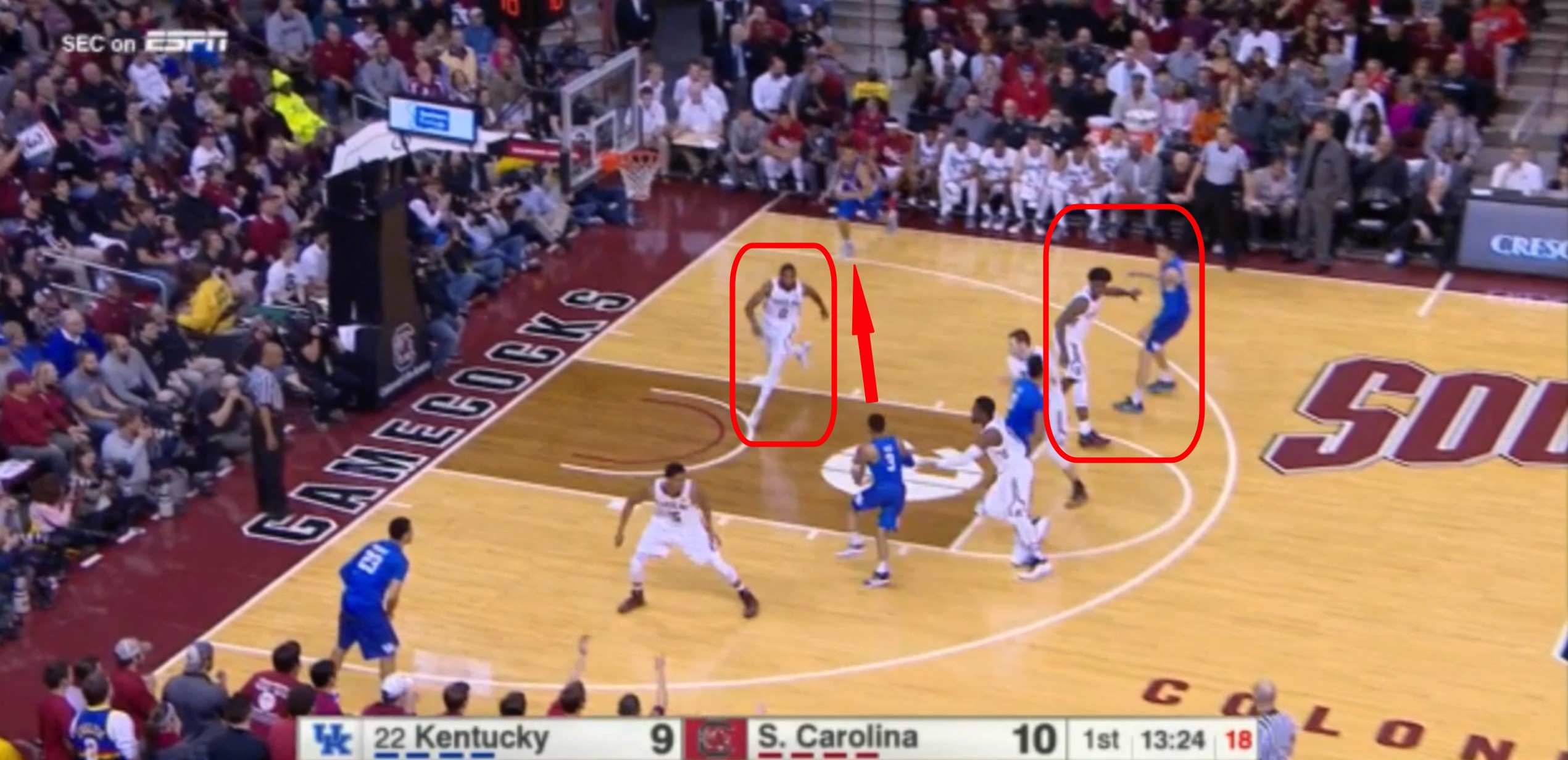 Layups:
Willis' presence is not the be-all and end-all here. Kentucky's resurgence wouldn't be possible without Ulis playing out of his mind or Murray shooting like he's trying to make Steph Curry jealous. (Can we start calling him Chef Murray yet or nah?)
And it certainly has to be noted that Murray's role has changed as well. He's no longer being used as much as a play-maker or simply a spot-up shooter. Cal has him running off of more screens as opposed to just spotting up on the perimeter. To Murray's credit, he's fully embraced his role as a shooter. One of the concerns about him entering the season was what position he would play and whether he could accept being off the ball, and he has. Without question. As a result, not only has he become a much more consistent shooter, but he's cut down on the stupid decisions that he made earlier in the year; when you decision-making process is limited to 'if you're open, shoot the ball', it's much easier to avoid making mental mistakes.
But the larger point here is that all of that was made possible — or, at the very least, made easier — by Willis' presence on the perimeter.
Who would've thought in November that the most important player on this Kentucky roster was a junior from Bullitt County that had never played a meaningful minute for the Wildcats?