With the NBA Trade Deadline looming this week, we took a look at six trades that could be made to benefit some of college basketball's contenders this season. The only real stipulation was that the trade has to be a deal that both sides would be willing to make. Trading Ben Simmons to Oklahoma a couple of walk-ons would be fun in theory but it's not something LSU would consider under any circumstance.
Tell us what trades you would propose in the comments.
NORTH CAROLINA GETS: Nic Moore and Markus Kennedy
SMU GETS: Joel Berry, Isaiah Hicks, Luke Maye and Kenny Williams
What fun is it to make up hypothetical trades if you aren't going to make major moves?
This move is beneficial for both teams, but let's start with the Tar Heels. It's national title or bust for North Carolina this season so I'm dreaming big for them. With the addition of Nic Moore, it creates a Moore-Marcus Paige backcourt that improves North Carolina's perimeter shooting and makes them that much tougher to defend. It also gives Paige the all-ACC caliber point guard we've been waiting for Roy Williams to bring in for two years. Markus Kennedy also provides insurance for Kennedy Meeks inside — he may actually be better than Meeks — and gives the Tar Heels four really good big men to use in case of foul problems.
For SMU, they're lacking scholarship players and young talent for the future, so Joel Berry is a solid replacement for Nic Moore in the short term and the move also gives them two more years of eligibility at point guard. Luke Maye and Kenny Williams are both freshmen with time to mature and grow into rotation players. Isaiah Hicks gives SMU a talented replacement for Markus Kennedy who still has another year of eligibility remaining. He can anchor SMU's front line next season, when they'll actually have a shot at the NCAA tournament.
PROVIDENCE GETS: Damion Lee
LOUISVILLE GETS: Two Providence scholarships and future recruiting hours
This is Ed Cooley's best chance to make a run at a Final Four since he's been at Providence, and unless another Kris Dunn comes along sometimes soon, it may be the best chance he ever has with the Friars. The problem? Providence doesn't have enough consistent shooting or scoring in their supporting cast outside of Ben Bentil. If Lee has proven anything during his time in college, it's that the man can get buckets.
And at Louisville, the buckets that he is currently getting don't really matter. In his one and only season with the Cardinals he won't be playing in any postseason, the result of a self-imposed postseason ban that, in all likelihood, will also mean that the Cardinals are probably going to be hurting for scholarships in the near future. Since this hypothetical includes trades, we're just going to pretend that the NCAA wouldn't veto that.
IOWA STATE GETS: Jordan Tolbert
SMU GETS: One SMU scholarship
Thanks to Keith Frazier, SMU is going to need all the extra scholarships they can get in the future — especially with the four players they've getting from that UNC deal — and with no real reason to keep a senior like Jordan Tolbert around, why not shuffle him off to an Iowa State team in desperate need of interior depth?
KENTUCKY GETS: Devin Thomas
WAKE FOREST GETS: Charles Matthews
Wake Forest has been a massive disappointment this season, as they currently sit at 1-13 in the ACC with barely a prayer of making a run through the conference tournament to earn that automatic bid.
In other words, Thomas is basically playing out his senior season with nothing more on the line than how high he'll climb in the Wake Forest record books. He's an excellent low-post scorer, however, and a guy with a motor that will get to the glass at both ends of the floor. That's exactly the kind of player that Kentucky is missing this season, and with a surplus of wing players — and a recruiting class that includes two future lottery picks — they can afford to offload a four-star freshman in Charles Matthews.
Matthews, it could be noted, will team with Bryant Crawford to give Danny Manning a young, talented and promising back court aimed at the future.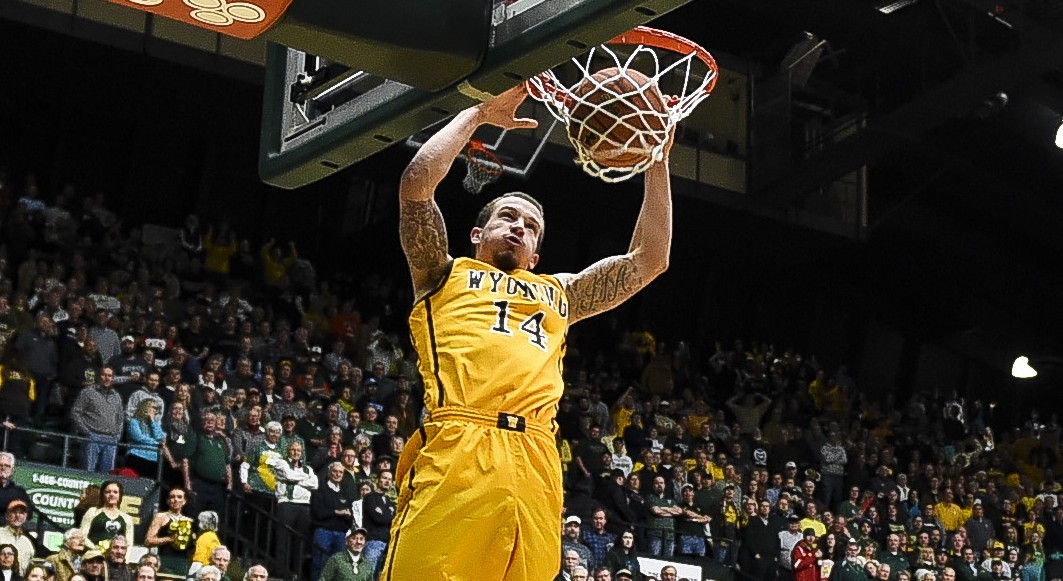 FLORIDA GETS: Josh Adams
WYOMING GETS: Brandone Francis-Ramirez
Florida is one of the nation's best defensive teams this season, but where they really, really struggle is offensively. Kasey Hill has never proven to be much of an offensive weapon. Chris Chiozza has never been known as an explosive offensive weapon, and while freshman KeVaughn Allen has had some big games this year, he's also been far too inconsistent to rely on.
Enter senior Josh Adams, who is currently averaging 23.7 points and 4.1 assists for a bad Wyoming team. He'll give Mike White's ball-club an instant injection of offensive firepower, and given his athleticism, he'll be a terrific fit in the pressing defensive system that White employs. Brandone Francis-Ramirez is a former four-star recruit, but the redshirt freshman seems a bit out of his element in the SEC, meaning that Wyoming should be able to get three-plus years out of a kid that would have the potential to be an all-MWC player down the road.
ARIZONA GETS: Malcolm Hill
ILLINOIS GETS: Justin Simon and Chance Comanche
Where Arizona is struggling this season is on the defensive end of the floor, but there isn't a piece that the Wildcats would be able to get that could make them the kind of team we're used to see out of Sean Miller.
So go all-in offensively. Become impossible to guard, and landing Hill — who's averaging 18.9 points for the Illini despite facing nightly double-teams — would help them do that. Hill is a wing forward who would slot in quite nicely at the three alongside Ryan Anderson and some combination of Kadeem Allen, Parker Jackson-Cartwright, Allonzo Trier and Gabe York. Mark Tollefsen hasn't been bad this year, but Arizona would be replacing an all-WCC forward with an all-Big Ten forward. That's a major upgrade.
Simon was rated as a five-star recruit coming out of high school, but he's been unable to break into Sean Miller's rotation. With Allen, Trier and Jackson-Cartwright all expected to return and a recruiting class that, for now, includes another five-star point guard (Kobi Simmons) and could add at least one more star perimeter prospect (Josh Jackson or Rawle Alkins), Simon is expendable. So is Comanche, who likely will end up on the bench again next season with Dusan Ristic returning and Lauri Markkanen entering the program. John Groce, who is currently on the hotseat, could really use that infusion of young talent.