PLAYER OF THE WEEK: Maurice Watson, Creighton
Creighton entered this week on the bubble of the bubble, meaning that, despite sitting in the top 50 of KenPom's efficiency rankings, the Bluejays had a big hole to climb if they wanted to make it back to the NCAA tournament.
And thanks to Mo Watson, Creighton started that climb.
Watson, who stands a shade up 6-foot, totally dominated No. 5 Xavier in a blowout win over the Musketeers, finishing with 32 points, seven boards and five assists. He followed that up with 18 points and 10 assists as Creighton landed a top 100 road win against Marquette.
All told, in the most important week of the season for the bluejays, Waston averaged 25.0 points, 7.5 assists, 6.0 boards and 2.0 steals while shooting 54.5 percent from the floor and 81.3 percent from the line. That's a good week, but Creighton is going to need quite a few more nights like that if they're going to pull off an at-large bid.
THE 'ALL THEY WERE GOOD, TOO' TEAM
Vitto Brown, Wisconsin: Brown scored a career-high 18 points in a win over Nebraska in the middle of the week, and followed that up with a new career-high of 21 points as the Badgers went into College Park and knocked off No. 2 Maryland by 13 points.
Brandon Ingram, Duke: Ingram went for 18 points, 10 boards and four assists in a win over Louisville, but his most impressive performance of the week was the 25 points that he put on Virginia. That included a stretch where Ingram scored 18 straight points. Not bad, right?
Demetrius Jackson, Notre Dame: After going for 17 points in a win at Clemson, Jackson followed that up with 27 points and five assists as the Fighting Irish picked up a come-from-behind win to knock off No. 13 Louisville.
Tyler Ulis, Kentucky: Ulis finished with a modest 14 points and eight assists in a blowout win over Georgia before going for 27 points and 12 assists in a dominating performance in a 27 point win at South Carolina in a game that John Calipari was thrown out of 2:26 in. Not a bad day.
Jabari Bird, Cal: Did Bird bust out of a season-long slump this weekend? He averaged 23.5 points in wins over Oregon and Oregon State, shooting 18-for-28 from the floor and 9-for-16 from three. He set a season-high on back-to-back nights; he hadn't scored more than 17 points this season.
Nick Emery, BYU: In two wins for the Cougars, Emery averaged 34 points this week, including a 37 point outburst on Thursday when he hit 10 threes.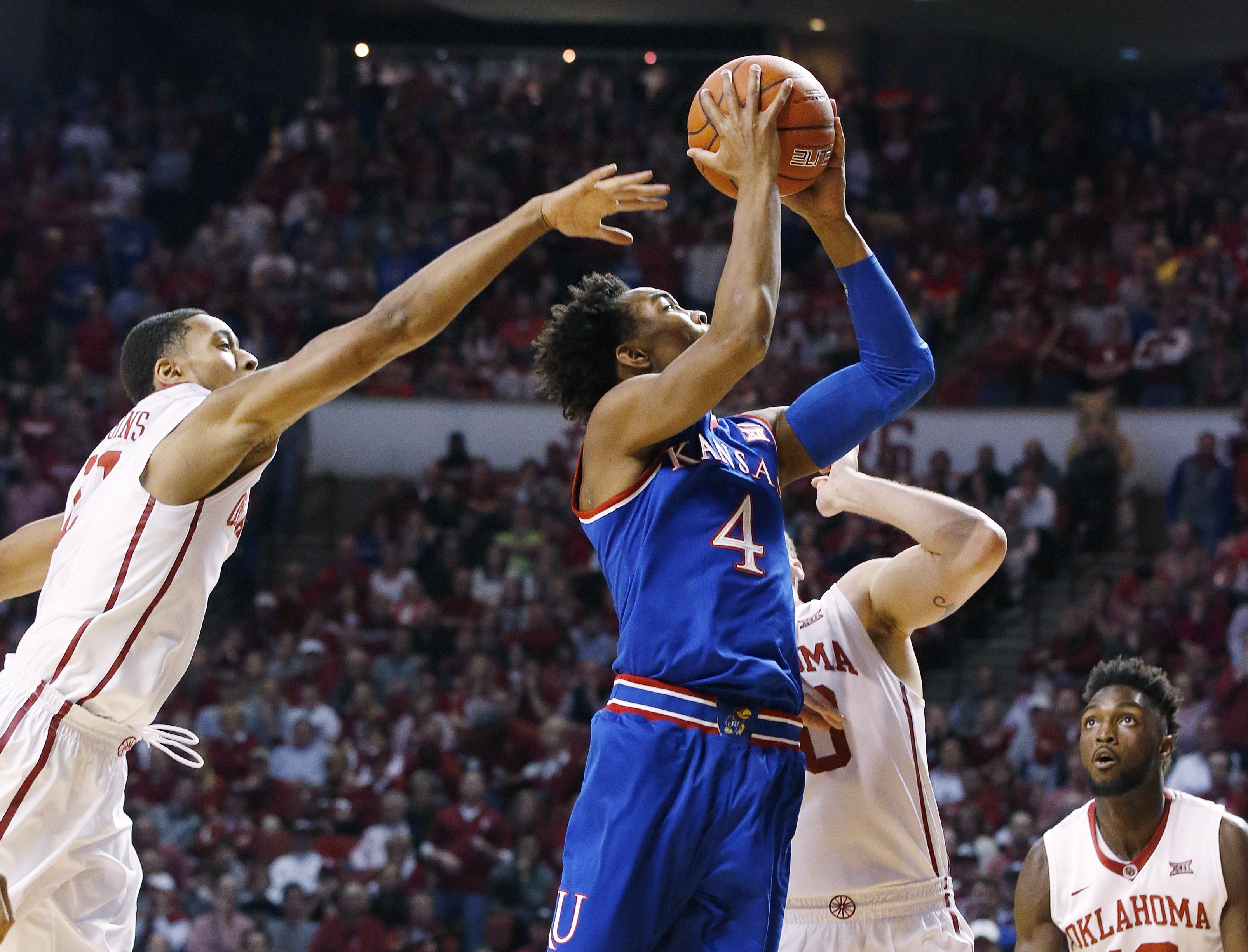 TEAM OF THE WEEK: Kansas Jayhawks
If Kansas does end up extending their Big 12 regular season title streak to 12, this may very well be the week that got it done.
On Tuesday, they handled No. 10 West Virginia fairly easily in Phog Allen Fieldhouse. On Saturday, they followed that up by going into Norman and knocking off No. 3 Oklahoma. Those two wins put the Jayhawks in a tie for first place in the Big 12 standings — with West Virginia, a game in front of Oklahoma, who still have to play at West Virginia this season. The race is far from over, but there was a real chance that we could have been sitting here today talking about how Kansas was three game out of first in the league.
So the wins alone were huge.
But how they got those wins might have been more important.
Kansas won at Oklahoma on a night where their two "stars", Perry Ellis and Wayne Selden, shot 6-for-21 from the floor. They won because Devonte' Graham scored 27 points and hit two critical threes in the final three minutes. Kansas picked up one of the best wins of the college basketball season, and they did so when they were carried by someone we thought was a role player.
THEY WERE GOOD, TOO
Texas Tech: Before this week, the Red Raiders lost eight of their last ten games. Then they went out and beat Iowa State in overtime, following that up by pounding Baylor in Waco. Suddenly, it looks like Tubby Smith has an outside shot of coaching in the NCAA tournament.
Duke: The Blue Devils are back on the map as a potential second weekend team after landing wins over Louisville and Virginia in Cameron Indoor Stadium this week. If they win at UNC and Louisville next week, we might be able to call them a potential Final Four team again.
Wisconsin: The Badgers capped their seven-game winning streak on Saturday with a 70-57 win at No. 2 Maryland. They're back in the mix as a potential bubble team, and are one elite win (at Michigan State, at Iowa, at Purdue) away from dancing.
Cal: Not only did the Bears get Tyrone Wallace back, but Jabari Bird found his shooting stroke, Jaylen Brown continued his excellent play and Cal landed wins over Oregon and Oregon State. Now let's see what they could do on the road?
Michigan: The Wolverines won at Minnesota last week and following that up with a win over Purdue, which is good for any team in any week. The bigger news? Caris LeVert returned to action. He only played a half — a scoreless 11 minutes, actually — but he's back. That's what matters.
Alabama: So I guess we have to start paying attention to Alabama now. After wins over Texas A&M and Florida on the road, Avery Johnson's club is within striking range of the NCAA tournament. Who saw that coming?
SET YOUR DVR
No. 10 West Virginia at No. 24 Texas, Tue. 7:00 p.m.
No. 14 Iowa State at No. 21 Baylor, Tue. 9:00 p.m.
Duke at No. 9 North Carolina, Wed. 9:00 p.m.
No. 12 Miami at No. 9 North Carolina, Sat. 12:00 p.m.
No. 3 Oklahoma at No. 10 West Virginia, Sat. 4:00 p.m.
No. 18 Purdue at Indiana, Sat. 8:30 p.m.