Whenever anyone puts together a list of the most hated players in college basketball history, there is always a common theme: it's headlined by white guys from Duke.
Christian Laettner. J.J. Redick. Steve Wojciechowski. Jon Scheyer. Greg Paulus. Bobby Hurley.
It was only a matter of time before Grayson Allen, Duke's latest caucasian star, found himself on that list, and last night might have been the moment that got him there.
[RELATED: How a busted pair of sneakers led Grayson Allen to Duke]
Allen is in the midst of an All-American caliber season with the Blue Devils, averaging 20.8 points, 4.6 boards and 3.6 assists while shooting 43.9 percent from three. He's also athletic enough to dunk over entire front lines in traffic, and he does all this while looking strikingly similar to Ted Cruz.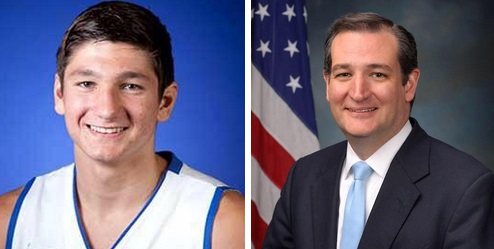 He also plays with a chip on his shoulder. After last year's national title game, Justise Winslow let it slip that Mike Krzyzewski's pet name for Allen is 'a**hole', and a person close to the program told me that no one wants to guard him in practice they'll "most likely get an elbow to the face."
In other words, his ceiling for national hatred is roughly equivalent to Brandon Ingram's ceiling as a small forward in the NBA.
And the tipping point may have come last night during Duke's 72-65 win over No. 13 Louisville.
Early in the second half, Allen received a flagrant foul for tripping Louisville forward Ray Spalding. You can't get in a kid's mind and know intent, but this sure looks like he meant to trip Spalding:
I don't know how long Allen will be around at Duke, but if he does remain in Durham for four years, he's got a shot at putting up numbers similar to what Redick posted during his career. By the end, when Redick was a national sensation and the target of the worst jeers you can imagine coming from student sections across the country, he was able to channel that into motivation.
Redick fed off of the crowd turning on him.
He wanted Maryland fans to chant, 'F— you JJ', because it then felt just that much better when he put 30 on them in a win.
If Allen sticks around for another season, he needs to embrace that mentality. He needs to get used to being the target of all the Duke hatred. Because it's coming.