PLAYER OF THE WEEK: Brice Johnson, North Carolina
Twice this week Johnson was the best player on the floor as the Tar Heels went on the road to knock off a pair of potential NCAA tournament teams in Florida State and Syracuse. Against the Seminoles, he put together one of the most dominant performances that we've seen in college basketball in a long time: 39 points, 23 boards, three steals and three blocks while shooting 14-for-16 from the floor in a 106-90 win. He controlled the paint defensively, he dominated the offensive glass and he finished every dump down or lob he received.
Against Syracuse, his impact was different. He had just 16 points and four boards, but his eight assists were absolutely eviscerated the Orange zone, setting up Isaiah Hicks for his 21-point outburst. The Tar Heels needed all of those assists as well, as they won by 11 but trailed 56-50 late in the second half.
And while I get that your thinking may be, 'It's Florida State and Syracuse. Yawn!' remember that Virginia, who entered this week ranked one spot ahead of North Carolina in the AP Poll, also went on the road twice this week, losing to Virginia Tech and Georgia Tech, neither of whom looked destined to even be in the bubble conversation before landing that win.
Winning on the road in league play is never an easy thing to do, and Johnson made sure that the Tar Heels picked up a pair of those wins this week.
THE 'ALL THEY WERE GOOD, TOO' TEAM
Buddy Hield, Oklahoma: Hield could have easily been the Player of the Week. He had 31 points, eight boards, five assists, two steals and two blocks in a win over Kansas State on Saturday which followed his 46 points, eight board and seven assist performance in the triple-overtime loss to No. 1 Kansas. We went with Johnson because UNC went 2-0 this week.
Bryce Alford, UCLA: Alford averaged 21.5 points, 5.0 assists and 3.0 boards in a pair of wins this week. That included 25 points, six assists, four boards, no turnovers and the game-winning three-pointer in a win over Arizona at Pauley Pavilion, all of which happened in front of Kevin Durant and Russell Westbrook.
Josh Hart, Villanova: Hart posted a pair of double-doubles this week, capped by a 22-point, 11-board performance in Villanova's win at Butler on Sunday night.
Marshall Plumlee, Duke: Plumlee played the best basketball of his Duke career this week. After going for 18 points and seven boards in a win at Wake Forest, Plumlee posted 21 points and 10 boards as the Blue Devils dispatched Virginia Tech at Cameron Indoor Stadium.
Mo Watson, Creighton: Creighton made a statement this week with impressive wins over Georgetown and Seton Hall, and Watson was the catalyst, posted 27 points and four assists against the Hoyas and 13 points and 14 assists at Seton Hall.
BENCH: Jaron Blossomgame (Clemson), Ben Moore (SMU)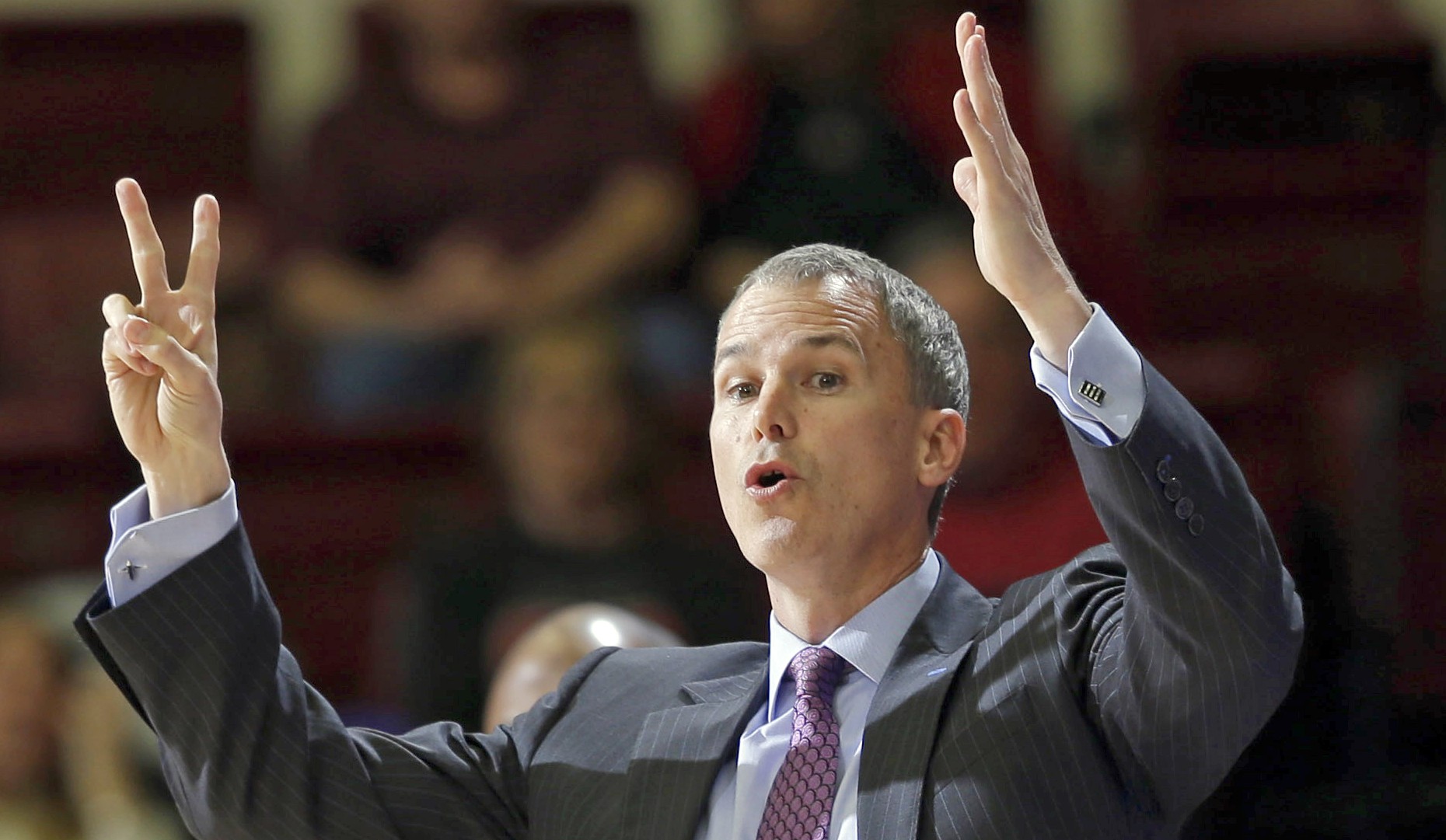 TEAM OF THE WEEK: USC Trojans
Dunk City West is starting to come to fruition.
The Trojans picked up two huge wins this week, knocking off Arizona State at home before beating No. 7 Arizona in a quadruple-overtime thriller on Saturday night. The two wins moved Andy Enfield's club to 3-1 in Pac-12 play, a record that would be perfect had they not blown a 22-point second half lead at Washington last week, a collapse that was spurred on when their most important player, Julian Jacobs, left the game with an ankle injury.
It may be too early to truly call USC a Pac-12 contender (their next three games — at UCLA, at Oregon and at Oregon State — will give us that answer) but what's clear is that this is going to be a team that is far more relevant to the conference race this season than we expected. For the most part, USC was thought to be a year away from mattering heading into the season, but now that we're at the midway point, it seems clear this team isn't going anywhere.
The thing that gets you with this USC team: their balance. Six guys average double-figures and five of them are scoring between 12.2 and 12.9 points. Pick your poison.
THEY WERE GOOD, TOO
SMU: The Mustangs remained undefeated on Sunday with a blowout win over UCF, but it was their come-from-behind win over Cincinnati — when they only had six scholarship players left — that got them on this list.
Baylor: The Bears made a statement this week, going into Hilton Coliseum and knocking off Iowa State despite trailing by double-figures in the second half. That came after they whipped Oklahoma State in a game where they grabbed 23 of a possible 34 offensive rebounds.
Pitt: It's time to start taking the Panthers seriously. They're now 15-1 on the season after beating Georgia Tech at home and knocking off Notre Dame in South Bend.
Marquette: The Golden Eagles may have changed the course of their season on Tuesday when they went into Providence and knocked off the Friars. They followed that up with a win over St. John's at home.
Clemson: The Tigers moved to 3-1 in ACC play this week as they knocked off Louisville and and won at Syracuse.
SET YOUR DVR
No. 12 Miami at No. 4 Virginia, Tue. 7:00 p.m.
No. 1 Kansas at No. 17 West Virginia, Tue. 7:00 p.m.
No. 19 Iowa at No. 5 Michigan State, Thu. 7:00 p.m.
No. 24 Pitt at No. 16 Louisville, Thu. 9:00 p.m.
No. 17 West Virginia at No. 2 Oklahoma, 9:00 p.m.