College basketball's non-conference season is coming to a close, and to help you shake off post-holiday haze and the hangover of losing in your fantasy football playoffs, we'll be providing you with some midseason primers to get you caught up on all the nation's most important conferences.
Today, we're taking a look at the Atlantic 10.
PLAYER OF THE YEAR: Jack Gibbs, Davidson
After averaging 16.2 points per game as a sophomore Gibbs has been even better this season, scoring 24.6 points per game to go along with 4.0 assists. He's shooting better from the field than he did a season ago, upping that percentage to 52.8 percent from last season's mark of 47.9, and shooting 38.9 percent from three is nothing to scoff at either. He's the focal point in Davidson's offense, and Gibbs has still managed to put up points despite opponents targeting him defensively.
ALL-ATLANTIC 10 FIRST TEAM
Jack Gibbs, Davidson
Melvin Johnson, VCU
DeAndre Bembry, Saint Joseph's
Terry Allen, Richmond
Hassan Martin, Rhode Island
WHAT WE'VE LEARNED
Injuries have done some damage to a formidable Rhode Island squad: With two of the conference's top players in guard E.C. Matthews and forward Hassan Martin leading the way and the addition of multiple talents including Kuran Iverson and Four McGlynn, this was seen as the season in which URI would not only contend in the Atlantic 10 but also return to the NCAA tournament for the first time since 1999. Both objectives remain on the table for Dan Hurley's team, but the injury bug has made the task far more difficult with Matthews out for the year and both Martin and Iverson dealing with ankle issues. That being said, it would be unwise to count out URI heading into conference play.
With added depth, Dayton's even more dangerous than they were a season ago: Dayton's trip to the NCAA tournament last season was an impressive one, as they reached the field despite playing a seven-man rotation with no player taller than 6-foot-6. This season the Flyers are off to a 9-2 start despite the fall semester suspension of forward Dyshawn Pierre, and improved depth is one reason why. Steve McElvene has given them much-needed size in the post after sitting out last season as a partial qualifier, James Madison transfer Charles Cooke is the team's leading scorer, and veterans such as Scoochie Smith, Kendall Pollard and Kyle Davis have picked up where they left off. The question at this point is how Pierre will fit into the rotation, with the Flyers looking to make a third straight trip to the NCAA tournament.
Transfers have also been key at George Washington, which reached the polls for the first time since 2006: URI and Dayton aren't the only teams in the conference who have benefitted from transfers, as George Washington added a high-impact newcomer in Tyler Cavanaugh. Cavanaugh (15.7 ppg, 7.1 rpg), who began his career at Wake Forest, leads Mike Lonergan's team in scoring and is second in rebounding while shooting 52.3 percent from the field and 42.9 percent from three. Dartmouth transfer Alex Mitola is also in the rotation, and the newcomers have fit in well with a veteran group led by forwards Patricio Garino and Kevin Larsen and guard Joe McDonald.
KEY STORY LINES IN LEAGUE PLAY
Davidson's ability to defend will dictate its title hopes: Bob McKillop's Wildcats surprised those who pegged them to finish in the bottom half of the A-10 in their inaugural season, using one of the country's best offenses to win the regular season title. With Jack Gibbs leading the way Davidson is once again difficult to guard, but there aren't as many secrets this time around. What they'll need is to make improvements defensively, especially considering how tight the race is expected to be. Off to an 8-3 start, Davidson's won games despite having issues defending the three and keeping opponents off the offensive glass. They'll win games for sure, but getting stops could mean the difference between simply contending and repeating as regular season champions.
How Dyshawn Pierre fits into the rotation at Dayton: Pierre was one of the Atlantic 10's best players as a junior, earning second team all-conference honors after averaging 12.7 points, 8.1 rebounds and 2.9 assists per game. But with that being said, Archie Miller isn't going to risk upsetting his team's chemistry just to get Pierre minutes. What kind of shape will he be in, both physically and mentally? What will his role be, and more importantly how will he adjust to/accept it? Pierre performed well Wednesday night in his season debut, and if that continues to be the case the Flyers will be the favorite to win the A-10.
Does the progress made by Isaiah Miles make Saint Joseph's a dark horse?: DeAndre Bembry is the first name out of most peoples' mouths when discussing the Hawks, and rightfully so given his skill set and accomplishments to date. But he's had more consistent help this season, with senior forward Isaiah Miles being the most noteworthy of those players. After averaging 10.7 points and 5.1 rebounds per game as a junior, Miles is up to 17.3 and 8.0 this season while also blocking nearly two shots per game. His emergence means that opponents have to account for another consistent scorer, and the Hawks have been much better offensively as a result. A-10 dark horse? Maybe.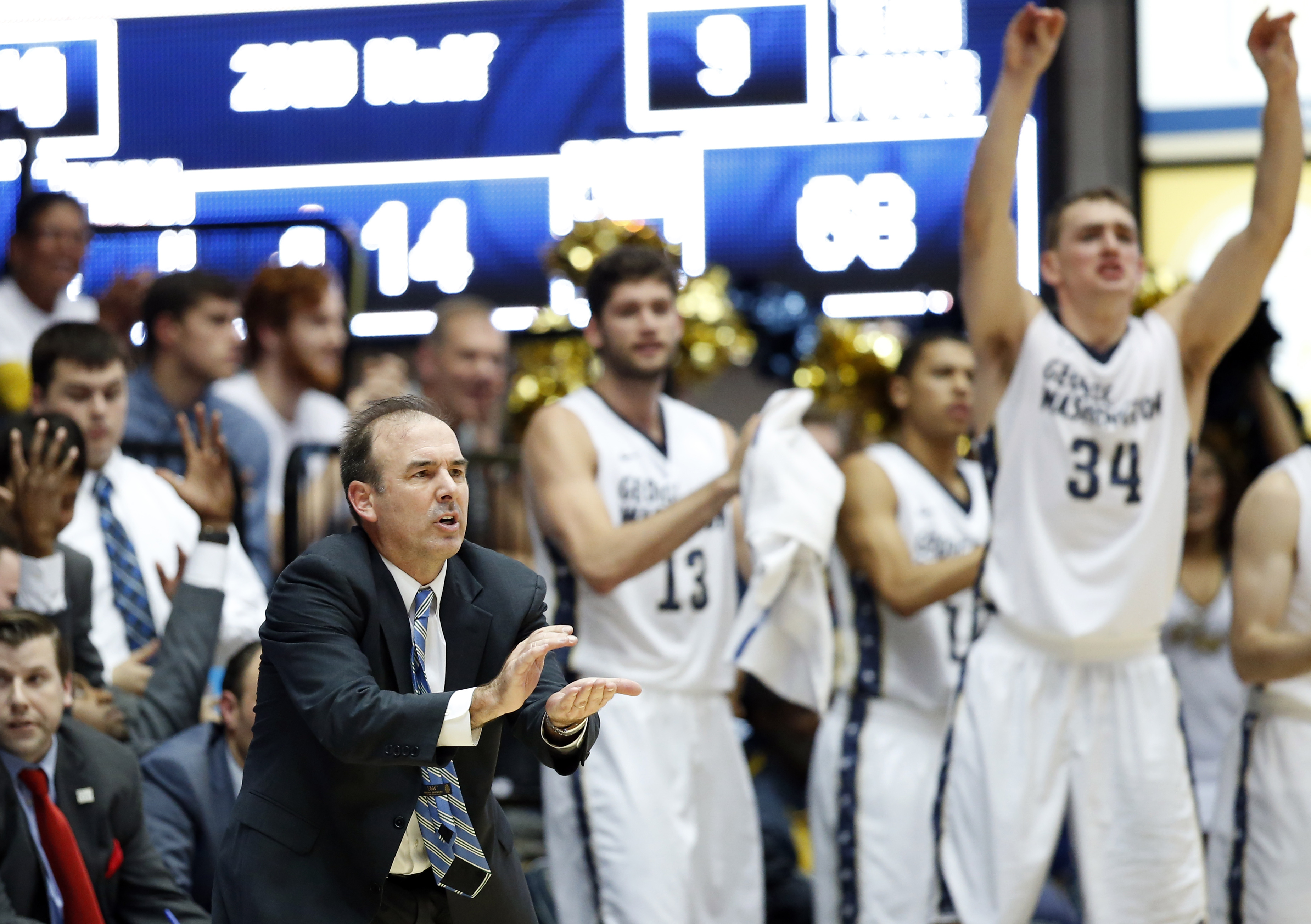 BETTER THAN THEIR RECORD: VCU has lost five games on the season, but none of those defeats would be considered particularly bad. There was the 0-2 trip to New York to play Duke and Wisconsin, and three losses in December to Florida State, Georgia Tech and Cincinnati. VCU's played a challenging slate, made even tougher by the fact that they're getting used to a new head coach and life without two highly influential players in Briante Weber and Treveon Graham.
BEAT SOMEONE AND WE'LL TALK: At 9-2 there's no denying that Jeff Neubauer's Fordham Rams are off to a good start in his first season at the helm. However the Rams' two defeats came against the toughest opponents on the schedule (UT-Arlington and Boston College), with their best win coming at the expense of St. John's. Fordham has some talent and they've performed well in games that prior teams would have lost, which bodes well for the future. But don't expect them to make a major leap up the standings in year one under Neubauer.
COACH UNDER PRESSURE: After tallying 55 wins, two A-10 regular season titles and two NCAA tournament appearances in his first two seasons at the helm, Jim Crews' Saint Louis program has hit a rough patch of late. After winning 11 games in 2014-15, the Billikens are currently 5-7 and will begin A-10 play on a four-game losing streak. The Billikens have struggled mightily offensively, ranking 318th in adjusted offensive efficiency thanks to a combination of poor turnover percentage (22.0) and poor perimeter shooting (30.8 percent 3PT).
POWER RANKINGS, POSTSEASON PREDICTIONS
Tourney teams
1. Dayton: Unlike last season the Flyers have both depth and size, with 6-foot-11 redshirt freshman Steve McElvene joining an experienced rotation anchored by point guard Scoochie Smith and forward Kendall Pollard. The question for Archie Miller's team moving forward is the role Dyshawn Pierre will play, and how that will impact the team's flow.
2. George Washington: Much-improved from a season ago offensively, the Colonials are off to an 11-2 start and were ranked before their surprising loss at DePaul last week. Tyler Cavanaugh and Alex Mitola have been key additions for George Washington, and the defensive prowess of Patricio Garino can cause fits regardless of which defense the Colonials use.
3. Richmond: The Spiders didn't look all that good in a loss at Texas Tech Tuesday, but that defeat shouldn't remove UR from the list of A-10 contenders. The forward tandem of Terry Allen and T.J. Cline is a handful for opponents, and they've got experienced guards as well. But the defense, with teams shooting 45.8 percent from the field with an effective field goal percentage of 50.4, has to improve.
NIT teams
4. Rhode Island: The Rams haven't used injuries as an excuse, but there's no denying the impact that the loss of E.C. Matthews has had on them. Four McGlynn has been a positive addition as has Christion Thompson, and they've got one of the nation's best defenders in Hassan Martin. If URI is to make a run at the A-10 crown, Kuran Iverson and Jared Terrell will be key offensively.
5. VCU: Despite the head coaching change the Rams are still turning opponents over, and in Melvin Johnson they've got one of the league's best sharpshooters. But if VCU is to push for the top spot and a return trip to the NCAA tournament, they have to get better inside of the arc. The Rams are shooting just 44.6 percent from two this season.
6. Saint Joseph's: Phil Martelli has one of the nation's best wings in junior DeAndre Bembry, and unlike last year there's been consistent help for the A-10 POY candidate. Isaiah Miles has been excellent at forward, and the Hawks also have a good freshman class that can help both now and in the future.
7. Davidson: Bob McKillop's team are going to put points on the board, thanks to the combination of individual talents capable of knocking down shots (most notably Jack Gibbs) and their system. But can the Wildcats get the stops needed to repeat as A-10 regular season champions? That's the question for Davidson entering conference play.
Autobid or bust
8. Massachusetts: The triumvirate of Trey Davis, Donte Clark and Jabarie Hinds can put points on the board for Derek Kellogg's Minutemen, and as a team UMass takes care of the basketball. The issue is rebounding, but the return of Antwan Space (9.0 rpg in three games) alongside Zach Coleman will help.
9. St. Bonaventure: Mark Schmidt's Bonnies aren't the best shooting team but they do hit the offensive boards hard, tied with VCU for the top offensive rebounding percentage in the conference (34.6). But only three teams in the conference (UMass, Davidson and La Salle) have been worse on the defensive glass than SBU, something that has to change in league play.
10. Duquesne: The perimeter tandem of seniors Derrick Colter and Micah Mason is one of the best in the A-10, as they combine to average 33.9 points and 8.7 assists per game. But the Dukes will need to do a better job of defending the three in conference play as opponents are shooting 41.5 percent from distance.
11. Fordham: Jeff Neubauer's Rams haven't played a "murderer's row," but they are winning games that prior Fordham teams would have found a way to lose. Ryan Rhoomes leads the A-10 in field goal percentage, and Joseph Chartouny has been one of the league's best freshmen as he leads the conference in assists.
12. George Mason: Dave Paulsen's Patriots have made some strides in his first year at the helm, most notably reaching the Charleston Classic title game. Shevon Thompson is one of the A-10's best big men, but the offensive issues (last in the A-10 in field goal and three-point percentage) will be tough to overcome.
13. Saint Louis: With their offensive issues being what they are, SLU has to work even harder defensively to make up for the lack of scoring punch. Mike Crawford leads four players in double figures at 11.1 ppg, but not having a standout who can get them buckets in a pinch hurts.
14. La Salle: The Explorers have one of the nation's best scorers in Jordan Lewis, but they'll struggle to get wins. They don't have much in the way of depth, which has impacted Dr. John Giannini's team adversely on both ends of the floor.