College basketball's non-conference season is coming to a close, and to help you shake off post-holiday haze and the hangover of losing in your fantasy football playoffs, we'll be providing you with some midseason primers to get you caught up on all the nation's most important conferences.
Today, we're taking a look at the Big East.
PLAYER OF THE YEAR: Kris Dunn, Providence
This decision was made somewhat difficult by the combination of Dunn missing some games due to illness and other players excelling in non-conference play. But it's hard to overlook his influence on a team that enters Big East play ranked 12th in the AP poll after being projected as a bubble team in the preseason. Dunn's averaging 16.5 points, 6.1 rebounds, 7.3 assists and 2.3 steals per game for the Friars, and his turnovers (2.9) are down more than one per game from last season's average (4.2).
ALL-BIG EAST FIRST TEAM
Kris Dunn, Providence
Trevon Bluiett, Xavier
Josh Hart, Villanova
Ben Bentil, Providence
Henry Ellenson, Marquette
[2015 REVIEW: Best Dunks | Best Games]
WHAT WE'VE LEARNED
The Big East is one of the nation's best leagues: The preseason conversations regarding the best conference in college basketball centered on the ACC, Big 12 and Big Ten, but through non-conference play the Big East has stepped forward into that discussion. Xavier's been one of the most impressive teams in the country to this point, two-time defending champion Villanova's lone defeats came against two Top 10 teams in Oklahoma and Virginia, and Butler is 10-1. Joining those contenders has been 12-1 Providence, and both Marquette and Seton Hall are off to good starts as well.
Xavier's depth and talent make it Villanova's biggest threat: The biggest question for the Musketeers entering the season was how they'd fill the hole left by the graduation of Dee Davis at the point. Would Edmond Sumner be ready to take the reins after redshirting last season? To this point Sumner has indeed been the answer Chris Mack needed at the point, giving the Musketeers an athletic finisher who continues to improve as a floor general. And he's surrounded with a host of experienced options, including Trevon Bluiett, Myles Davis and Jalen Reynolds, who can put points on the board. That makes Xavier the team best equipped to challenge reigning Big East champ Villanova.
To look at Providence as "Kris Dunn and some other dudes" would be a big mistake: While Dunn was a preseason favorite for National Player of the Year honors, many didn't know what to make of the rest of Ed Cooley's team. Heading into their conference opener against Butler the Friars are ranked in the top ten, and this has been no one-man operation. Sophomore Ben Bentil has been one of the nation's most improved players, Rodney Bullock's given them another quality front court option, and role players such as Junior Lomomba have been productive as well. Will the Friars be a top ten team throughout league play? That remains to be seen, but this has been an impressive group worthy of Big East contender status.
[CONFERENCE RESETS: ACC | Big Ten | American]
KEY STORY LINES IN LEAGUE PLAY
Villanova's perimeter shooting: For a team loaded with quality guards, the Wildcats' shooting in non-conference play was a surprise. Jay Wright's team is shooting just 31.1 percent from three on the season, with nearly 52 percent of their field goal attempts being three-pointers. Josh Hart (39 percent) and Ryan Arcidiacono (37 percent) have been the best of the bunch, and they'll need players such as Jalen Brunson, Phil Booth and Kris Jenkins to raise their perimeter accuracy moving forward.
Does Georgetown have what it takes to rebound: With two of their first three losses coming against very good Maryland and Duke teams, not too many worried about the Hoyas' 1-3 start after a five-game win streak made John Thompson III's team appear to be okay. But after dropping games to Monmouth and UNC Asheville and escaping with a win at Charlotte, there are some significant issues to be addressed. Paul White's struggled with health, and D'Vauntes Smith-Rivera hasn't been the player many envisioned him being when he changed course and decided to return for his senior year. Can they turn things around and be the contender many expected them to be?
Marquette, Seton Hall looking to make NCAA tournament push: Both the Golden Eagles and Pirates put together quality records in non-conference play, which sets them up for run at NCAA tournament bids as conference play begins. And the strength of the Big East can help both in the quality wins department, with Seton Hall's best win coming against Wichita State and Marquette's being at the expense of Arizona State. Marquette's Henry Ellenson has been one of the nation's best freshmen, but their tournament hopes may hinge on the development of their perimeter rotation. As for the Pirates, this sophomore-laden group will lean on Isaiah Whitehead and Desi Rodriguez as they look for their first tournament bid since 2006.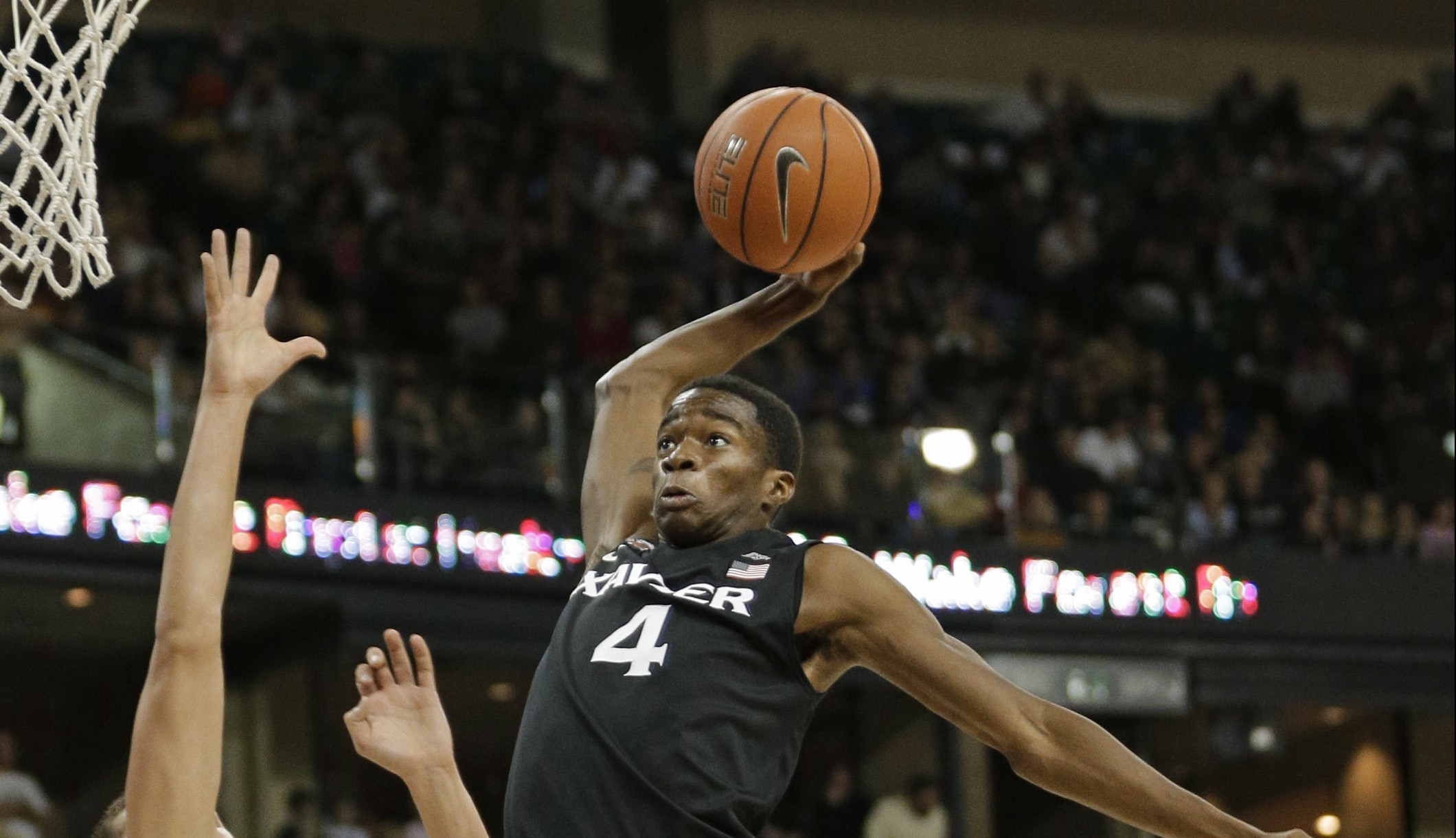 BETTER THAN THEIR RECORD: On Monday's podcast, my colleague Rob Dauster said that he believed that Villanova was the fourth-best team in the conference, that their issues shooting the ball combined with their question marks in the front court left them susceptible to being picked off. Jay Wright's club has their issues, but they also have a total of four losses in Big East play the last two years.
BEAT SOMEONE AND WE'LL TALK: On paper, Marquette looks like the real deal. They have a slew of highly-regarded guards surrounding a pair of NBA-caliber big men in Henry Ellenson and Luke Fischer. And as good as they've looked in bursts this season, their best wins are over a depleted LSU, Arizona State and a Wisconsin team that has already lost five games. They were also embarrassed on their home floor by Iowa and lost to Belmont in Milwaukee. I want to believe in Marquette, but they need to beat one of the top four teams in the league for me to get there fully.
COACH UNDER PRESSURE: Georgetown has been by far the most disappointing team in the Big East and one of the most disappointing teams in the country. They have top 20 talent on the roster, but they've lost at home to Radford, UNC Asheville and Monmouth, the latter of which was a blowout. Given who his father is, it's going to be very hard for the program to jettison John Thompson III, but if he can't turn this thing around, he's going to be a name that pops up on hot seat lists.
POWER RANKINGS, POSTSEASON PREDICTIONS
Tourney teams
1. Xavier: Chris Mack's team, which reached the Sweet 16 a season ago, has everything a team needs to not only reach that point but go further. And if Edmond Sumner continues to develop at the point, Houston is possible.
2. Villanova: The Wildcats do have to shoot better from the perimeter than they have, and with players such as Arcidiacono, Brunson and Hart they're capable of turning things around on that front. But do they have enough in the post to play deep into March?
3. Butler: The Bulldogs don't defend as well as they did in years past, but they're better offensively thanks to the presence of two playmakers in Tyler Lewis and Roosevelt Jones.
4. Providence: Dunn and Bentil have been excellent, but Ed Cooley's had many other contributors step forward as well. And their play with Dunn out of the lineup can only help the confidence of those supplementary players moving forward.
5. Marquette: The Golden Eagles' best wins have come over teams likely to land on the bubble (Arizona State, LSU, Wisconsin). They've got an extremely talented front court tandem in Ellenson and Fischer, but the key moving forward: the guards keeping the turnovers (19.6 percent turnover rate) to a minimum.
NIT teams
6. Seton Hall: The progress made by Desi Rodriguez has been huge for the Pirates, who have wins over Ole Miss and Wichita State on their résumé. Kevin Willard's team will go as far as their sophomore class, led by Rodriguez, Isaiah Whitehead and Angel Delgado, can lead them.
7. Georgetown: The Hoyas have NCAA tournament talent, but they haven't played to that level on a consistent basis thus far. The biggest issues have been on the offensive end, but they need to be better on the glass as well (7th in defensive rebounding percentage).
8. Creighton: With Maurice Watson Jr. on the leading a balanced offensive attack, the Bluejays could surprise some people in league play. But in order to do so, they'll need to improve defensively (last in field goal percentage defense, ninth in three-point percentage defense).
Autobid or bust
9. DePaul: The Blue Demons did manage to knock off a ranked George Washington squad, but they're unlikely to make a major move up the Big East pecking order.
10. St. John's: This is a rebuilding year for the Red Storm, who still hope to add Marcus LoVett Jr. at some point in the near future. That being said, they compete and are capable of pulling off some upsets in league play.