College basketball's non-conference season is coming to a close, and to help you shake off post-holiday haze and the hangover of losing in your fantasy football playoffs, we'll be providing you with some midseason primers to get you caught up on all the nation's most important conferences.
Today, we're taking a look at the AAC.
AAC PLAYER OF THE YEAR: Nic Moore, SMU
Playing another steady season, the senior has no postseason to play for but is still the catalyst of one of the nation's only unbeaten teams. Moore is among the conference's leaders in points (15.5 ppg), assists (5.3 apg) and 3-point percentage (43 percent).
ALL-AAC FIRST TEAM
Nic Moore, SMU
Daniel Hamilton, UConn
Jordan Tolbert, SMU
Dedric Lawson, Memphis
Shaquille Harrison, Tulsa
WHAT WE'VE LEARNED
The AAC is a gigantic question mark against legitimate teams: The American has some teams with gaudy records atop the conference standings, but they haven't been so good against strong competition. The league is a combined 1-11 against top-25 opponents on the season and UConn and Memphis have yet to play a true road game.
UConn's deep stable of wings can play together: One of the major question marks for the American this season is how UConn would look with so many talented perimeter-oriented players on the roster? So far, the group has played very well together as Daniel Hamilton, Rodney Purvis and Sterling Gibbs are all enjoying strong seasons while Jalen Adams and Omar Calhoun provide some additional pop. The Huskies are shooting at 51 percent from the field and 37 percent from 3-point range, so the offense has really clicked so far.
Cincinnati is still a force to be reckoned with: Mick Cronin is back on the sidelines and Cincinnati is once again looking like a team that nobody wants to play. Despite not having a true star player, the rugged and balanced Bearcats have proven that they can hang with the nation's elite teams. Cincinnati lost to Butler and Iowa State by two points each and were able to play with two of the nation's better offensive teams.
KEY STORY LINES IN LEAGUE PLAY
Who emerges to win the autobid with SMU being tournament ineligible?: The logical choice here would be Cincinnati since they're off to a good start and have shown well in losses to elite teams, but UConn might have more talent when they're expected to be healthy by February. Without SMU in the tournament, the league is in danger of getting only one or two teams into the field of 68 if nobody in the second tier has a great conference season.
How will UConn adjust to the loss of Amida Brimah?: The Huskies are preparing to play the next six to eight weeks without the reigning AAC Defensive Player of the Year and this will be a huge stretch for UConn. Their interior defense has looked very mediocre at times without Brimah and they don't have many big men behind him who are productive.
Can Tulsa make a push towards a NCAA tournament bid?: Last season, Tulsa finished 14-4 in the American but still missed the NCAA tournament despite a very solid 22-10 record on Selection Sunday. Now armed with some better non-conference wins entering conference season, can the senior backcourt of Shaquille Harrison and James Woodard repeat a similar conference mark to help get Tulsa in the field?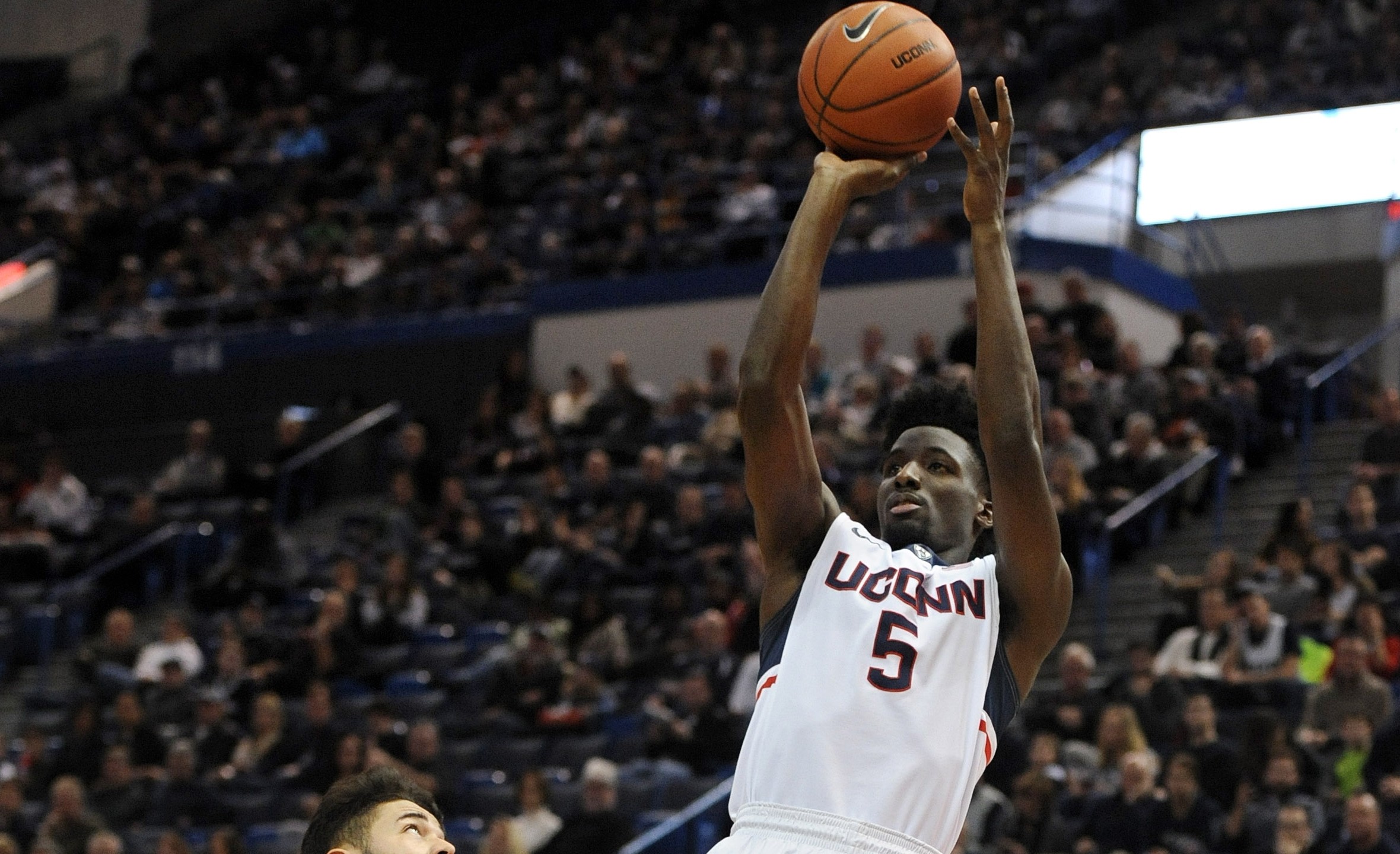 BETTER THAN THEIR RECORD: Tulsa stands at 8-4 and has played one of the tougher schedules in the conference. They beat Wichita State and Oklahoma State and have arguably the best back court in the conference.
BEAT SOMEONE AND WE'LL TALK: Kelvin Sampson has put together a talented Houston roster filled with transfers, but LSU — without Craig Victor — is their only notable win this season and they lost to Grand Canyon. There's reason to be hopeful about this group but until they do something of note in league play it's tough to totally buy-in.
COACH UNDER PRESSURE: UCF is off to a 6-4 start on the season, but Donnie Jones has never won more than five games in AAC league play. UCF likely needs a strong conference mark for Jones to keep his job.
POWER RANKINGS, POSTSEASON PREDICTIONS
Tourney teams
1. SMU (11-0): The Mustangs obviously can't play in the NCAA tournament, but they're still the class of the league and likely a legit top-25 team. It's a shame Nic Moore and the other seniors can't get one more crack at the Big Dance.
2. Cincinnati (10-3): Don't be fooled by Cincinnati's three losses this season. All three were tight games and they came against Butler, Xavier and Iowa State. Mick Cronin's team is balanced and very tough defensively.
3. UConn (8-3): The Huskies absolutely have the talent of a NCAA tournament team, but their best wins have come against Michigan and Ohio State. This next stretch without Amida Brimah will be huge for them.
4. Tulsa (8-4): The Golden Hurricane have an experienced backcourt in Harrison and Woodard and those two alone should win Tulsa a lot of games. After a 14-4 conference mark and NIT appearance last season, Tulsa is motivated to take the next step.
NIT teams
5. Houston (9-2): There's certainly enough talent for the Cougars to make the NCAA tournament but it remains to be seen if they can beat good teams, especially on the road. Rob Gray Jr. has been a consistent scoring force so far this season.
6. Memphis (8-3): It's been a decent start for the Tigers, and Dedric Lawson looks like a potential star, but it's tough to see them in the NCAA tournament with their questionable guard play.
Autobid or bust
7. East Carolina (8-5)
8. UCF (6-4)
9. Temple (5-5)
10. Tulane (7-6)
11. South Florida (3-10)