College basketball's non-conference season is coming to a close, and to help you shake off post-holiday haze and the hangover of losing in your fantasy football playoffs, we'll be providing you with some midseason primers to get you caught up on all the nation's most important conferences.
Today, we're taking a look at the ACC.
ACC PLAYER OF THE YEAR: Malcolm Brogdon, Virginia
By the end of the year, I think that Marcus Paige will be the recipient of this award, but given the fact that he has yet to really find his rhythm offensively and has essentially played half of the season as he's dealt with a broken hand and an ankle injury, it's impossible to give the North Carolina star this award. Enter Brogdon, who has been Virginia's best player and one of the most underrated players in the country. He averages 16.5 points, 4.5 boards and 3.0 assists on a team that gets the second-fewest offensive possessions per game out of the 351 Division I teams in the country. Throw in the fact that the 'Hoos are currently the highest-ranked team in the nation's best conference, and it's hard to go against him at this point.
ALL-ACC FIRST TEAM
Cat Barber, N.C. State
Malcolm Brogdon, Virginia
Damion Lee, Louisville
Grayson Allen, Duke
Brice Johnson, North Carolina
[2015 REVIEW: Best Dunks | Best Games]
WHAT WE'VE LEARNED
Louisville is actually good: They haven't actually beaten anyone this season — which is something that will probably come back to bite them come Selection Sunday — but I do think that Louisville is one of the top 25 teams in college basketball. I'm not yet convinced, however, that they have enough front court strength to be able to compete for a league title, but those grad transfers, Damion Lee and Trey Lewis, are the real deal. They won't reach their ceiling unless a couple of the young guys come of age during league play.
Miami looks like they're better: I've said it a thousand times by now: this Miami group reminds me so much of the team that won the 2013 ACC title. They're loaded with veterans, they have a talented back court full of playmakers (Sheldon McClellan, Angel Rodriguez, Ja'Quan Newton), they have a front line that's chock full of big, athletic, old guys that play hard and understand what they're going to be asked to do, and they have a head coach that knows how to fit all of those pieces together. This is a really, really good basketball team.
North Carolina is probably the league's best: I know that they lost at Northern Iowa and I know that they lost at Texas, but I'm still riding with the Tar Heels as the best team in the ACC; I've yet to change my pick of North Carolina as the eventual national champion. The key for this group is going to be health — Kennedy Meeks and Marcus Paige have been banged up — but their absences may actually be a boon come March. When Paige was out, Joel Berry and Justin Jackson had to learn how to play a leading role. Without Meeks in the lineup, Brice Johnson has looked like Dwight Howard. It will be interesting to see how that carries over to ACC play.
[CONFERENCE RESETS: ACC | Big Ten | American]
KEY STORY LINES IN LEAGUE PLAY
Amile Jefferson's foot: Jefferson broke his foot a couple of weeks ago and underwent surgery to repair the injury, and while he's not Duke's best player — Grayson Allen is — or their best prospect — hello, Brandon Ingram — he's their most valuable in the sense that they don't have anyone else on their roster that can do what he does. He averages a double-double and can switch onto guards in Duke's half court defense. When will he return, and will he be back to full health when he does?
Virginia's slow starts: The four times that Virginia has played top 25 caliber teams this season they've managed to dig themselves a first half hole and dig out of it down the stretch. Much of that has been the result of timely three-point shooting from London Perrantes against West Virginia, Villanova and Cal, but those late threes are going to dry up eventually just like they did against George Washington in November. In other words, you can't count solely on late runs to win a conference as good as the ACC, and Virginia, when they're playing well, is good enough to win the ACC.
Who else stands out?: That's the big story about the ACC this season. There appears to be a clear-cut top five in the league, but in putting together the power rankings below, I can see as many as six more teams being capable of earning themselves an NCAA tournament bid. Can Syracuse figure out their issues defensively? How far can Cat Barber lead N.C. State? Is Wake Forest for real? What about Pitt and Florida State? Can Notre Dame turn things around in league play? As many as three of those teams are probably going to make the NCAA tournament. Any guesses on which three?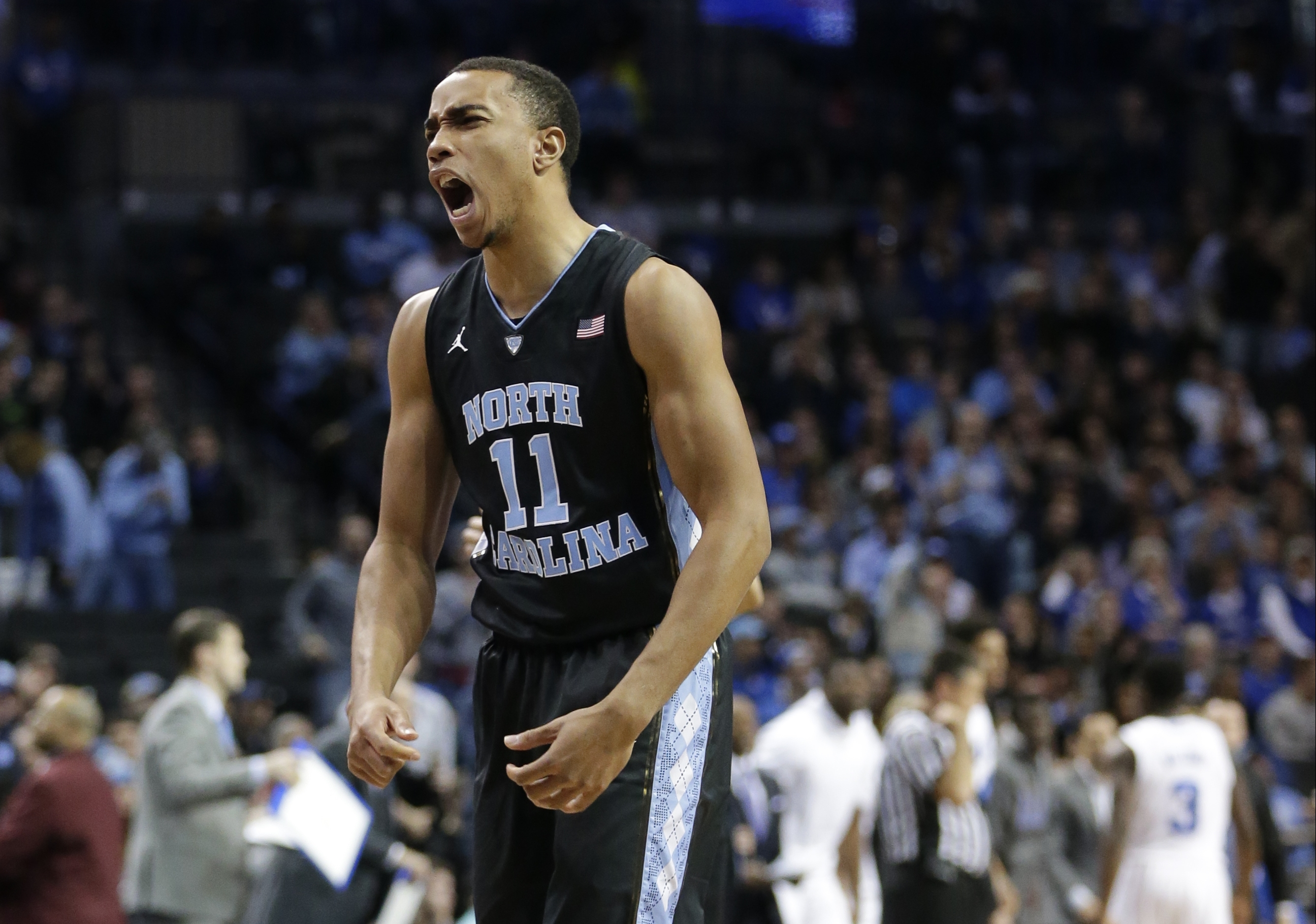 BETTER THAN THEIR RECORD: I really like this Wake Forest team. They already have a win over Indiana under their belt, and that came before Codi Miller-McIntyre had returned from his injury. The combination of Devin Thomas and Konstantinos Mitoglou is better than anyone gives them credit for, and Bryant Crawford is quietly having a freshman all-ACC caliber season.
BEAT SOMEONE AND WE'LL TALK: We're getting ready to start ACC play and Pittsburgh has yet to land a win over a team that we can count on being in the NCAA tournament. Their best win came over Davidson. Their best half of the season came against Gonzaga on opening night in a game that was cancelled due to the floor conditions. Michael Young and Jamel Artis are a solid 1-2 punch, but I'm not buying into this team until I see them beat one of the top five teams in the ACC.
COACH UNDER PRESSURE: Georgia Tech has actually been a bit better than I expected them to be early on this season, but they are still looking at a situation where they are likely to miss out on the NCAA tournament, and possibly the postseason altogether. If that happens, Brian Gregory may be forced to look for employment elsewhere.
POWER RANKINGS, POSTSEASON PREDICTIONS
Tourney teams
1. North Carolina (10-2): Health is the key for the Tar Heels. Kennedy Meeks has missed three games and Marcus Paige, already coming off of a broken hand, is dealing with an ankle injury. When healthy, this is still my pick to win the national title.
2. Virginia (10-1): As I wrote earlier, my concern with the 'Hoos is their early-game slumps. Get those figured out, and they'll be right there at the end of the season.
3. Miami (10-1): I love Miami. Talented, veteran guards that can make plays. A big, athletic front court that plays hard and knows their roles. And a coach that knows how to make the most out of what he has.
4. Louisville (11-2): I love the duo of Damion Lee and Trey Lewis, and Donovan Mitchell's emergence on Saturday was promising, but I still have doubts about their front line. Louisville would be fifth on this list if Amile Jefferson were healthy.
5. Duke (9-2): Amile Jefferson was their most valuable player because he's the only guy that didn't really have a backup. Until we know details regarding his injury, it's hard to picture the Blue Devils competing for the league title.
6. Syracuse (10-3): The Orange have a couple of nice non-conference wins — UConn, Texas A&M — and a pair of total head scratchers — Wisconsin at home, St. John's. I think they iron out some of those inconsistencies come ACC play, and their shooting ability will win them some games they have no business winning.
7. N.C. State (9-3): Cat Barber has been playing like one of college basketball's best point guards. If Abdul-Malik Abu continues to do what he's been doing the last two weeks, the Wolfpack will surprise some people once they get Terry Henderson healthy.
8. Wake Forest (8-3): I'm going to roll the dice on this one. I think Wake is better than they get credit for now that Codi Miller-McIntyre is back in the lineup, and with a non-conference win over Indiana already on their résumé, the Demon Deacons have a real chance to sneak into the NCAA tournament.
NIT teams
9. Notre Dame (8-3): This may be a bit of a surprising pick considering that I had Notre Dame in my preseason top 25, but Demetrius Jackson has not been quite as good as I expected and the Irish are missing Pat Connaughton more than we realize.
10. Pittsburgh (10-1): We've been fooled by Pitt and their soft non-conference scheduling before. As I wrote earlier, I'll believe it when I see it.
11. Florida State (9-2): I still love the talent on this Florida State roster, but I'm not convinced they're going to be able to land enough good wins to go dancing. They're a year away.
Autobid or bust
12. Georgia Tech (9-3)
13. Virginia Tech (8-4)
14. Clemson (7-5)
15. Boston College (6-6)