PLAYER OF THE WEEK: Wes Washpun, Northern Iowa
For the second time this season, the Panthers have landed a win over a top five team. In November, they beat then-No. 1 North Carolina. On Saturday, they knocked off No. 5 Iowa State. No one in all of college basketball has two wins that are as good as those two wins, and given that the Panthers don't have any horrid losses on their résumé, this win more or less locks up an at-large bid as long as UNI does the things they're supposed to do in Missouri Valley play.
The star of the show this weekend was Washpun, who finished with 28 points, 11 assists and seven boards. The scouting report on Iowa State at this point is pretty easy to figure out: they are not great defensively and struggle to contain penetration. Washpun exposed them, and while he was helped by the fact that UNI went 13-for-22 from beyond the arc, it doesn't change how dominant he was on Saturday.
THE 'ALL THEY WERE GOOD, TOO' TEAM
Brice Johnson, North Carolina: It's been two games since North Carolina lost Kennedy Meeks to a knee injury and Johnson is doing his best to make sure that the Tar Heels don't miss him. In wins over Tulane and No. 22 UCLA, Johnson averaged 26.0 points and 9.5 boards while shooting 22-for-29 from the floor.
Kahlil Felder, Oakland: Felder had 38 points, nine assists and six boards as the Grizzlies knocked off Washington in Seattle on Saturday. He's now averaging 25.9 points and 8.9 assists on the season.
Domantas Sabonis, Gonzaga: The good news: Sabonis played his best game as a collegian in a win over Tennessee on Saturday, finishing with 36 points and 16 boards. The bad news: The Zags needed every one of those points and rebounds in a close win over Tennessee.
Cat Barber, N.C. State: The 33 points, seven boards and four assists that Barber had in a win over Missouri on Saturday was his second-best game of the week. He also had 26 points, six boards, five assists and the game-winning, buzzer-beating jumper to beat High Point.
Isaiah Taylor, Texas: The 12 points and seven assists that Taylor had in a win over Appalachian State was nice and all, but it was the 26-point, six-assist homecoming performance in which he hid a game-winning floater to beat Stanford in Palo Alto that got Taylor on this list.
BENCH: London Perrantes (Virginia), Roosevelt Jones (Butler), Troy Williams (Indiana), Ryan Anderson (Arizona), Stefan Moody (Ole Miss)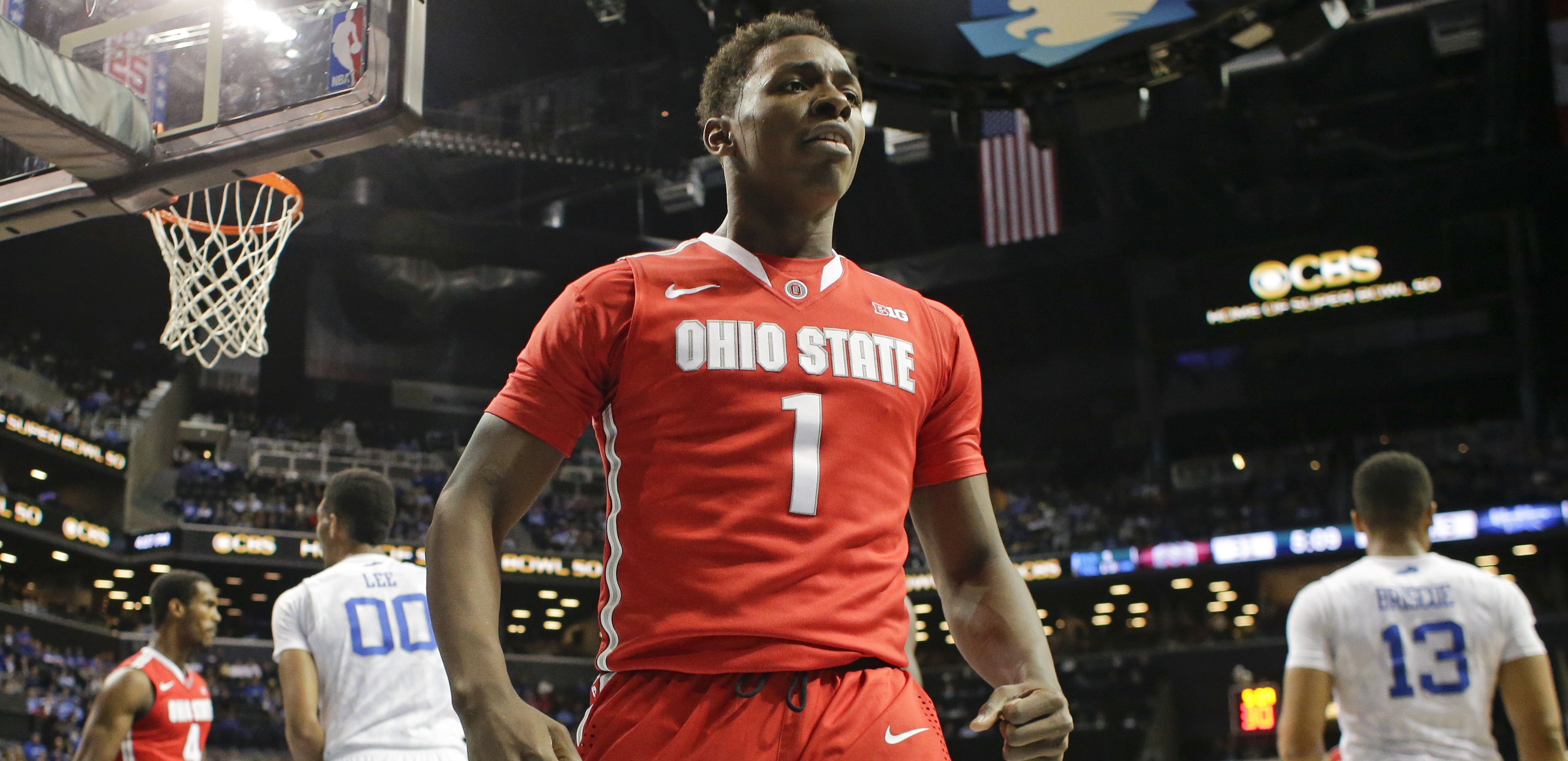 TEAM OF THE WEEK: Ohio State Buckeyes
Ohio State was dead in the water this season. They had already lost at home to UT-Arlington and Louisiana Tech. They lost in overtime against Memphis. They fell at UConn by 20 points in a game that wasn't even that competitive. They're young, they lack leadership at the point guard spot, they don't have a go-to scorer or a low-post presence, they don't defend. Through the season's first 10 games, Ohio State was 5-5 and, more than anything, proving to the world just how much better D'Angelo Russell made the players around him.
And then on Saturday, at the Barclays Center, Ohio State came out and whipped up on No. 4 Kentucky. They led by 16 points in the second half. Kentucky made a run when Jamal Murray caught fire, but the Buckeyes were able to hold them off, in the process landing the kind of marquee win that can be the difference between the NIT and the right side of the bubble.
Will Thad Matta's crew be able to get a bid?
It's way too early to make any kind of declarations like that, but the bottom line is that a young, inexperienced team get themselves a shot of confidence that they desperately needed.
THEY WERE GOOD, TOO
Utah: Utah made a statement on Saturday in New York, as they knocked off No. 7 Duke despite the fact that they spent much of the second half playing without Jakob Poeltl, who was in foul trouble all game long. The Utes have been a bit inconsistent this season — that loss at Wichita State doesn't look great today — but if this wins shows us anything, it's that this group is capable of being pretty good.
Virginia: The 'Hoos knocked off No. 12 Villanova in Charlottesville on Saturday afternoon in yet another sterling, late-game performance from London Perrantes. This team is not as good defensively as they have been in recent years, but are they actually the most dangerous offensive in college basketball? They may be.
Butler: Purdue entered the weekend undefeated, looking like the nation's best defensive team and a real Big Ten contender, and the Bulldogs beat them in impressive fashion at the Crossroads Classic despite getting an 0-for-12 shooting performance from leading scorer Kellen Dunham.
Monmouth: The latest Monmouth victims? Georgetown and Rutgers, who joined UCLA, USC and Notre Dame.
Texas A&M: The Aggies beat the brakes off of No. 16 Baylor on Saturday. The final score was 80-61, but at one point, Billy Kennedy's club was up 62-35. It was a mismatch. A&M might actually be the best team in the SEC as of today. Think about that.
Indiana: The most important ten minutes of Indiana's season came on Saturday as the Hoosiers erased a 16-point deficit against Notre Dame. Indiana beat the Irish with their defense, which is not something that has been said before this season.
SET YOUR DVR
No. 19 Louisville at No. 4 Kentucky, Sat. 12:00 p.m.
No. 10 Xavier at Wake Forest, Tue. 7:00 p.m.
No. 5 Iowa State at No. 23 Cincinnati, Tue. 7:00 p.m.
Vanderbilt at No. 9 Purdue, Tue. 8:00 p.m.
Cal at No. 8 Virginia, Tue. 9:00 p.m.