GAME OF THE WEEKEND: No. 12 Villanova at No. 8 Virginia, Sat. 12:00 p.m.
We've reached something of a crossroads with this Villanova team. In the last two seasons, they've won 32 regular season Big East games, storming through the conference for back-to-back league titles. But in neither of those years have they found a way to play themselves out of the first weekend of the NCAA tournament. All of the numbers tell us that this team, this program, is one of the best in the country … except for when they are asked to play elite competition. Fair or not, with Villanova, it always feels like this is a team that fails to perform when the lights shine the brightest, and that was once again on display last week, when they flew out to Hawaii and got run out of the gym by Oklahoma.
That said, this Villanova team is, in theory, one that should be able to give Virginia some problems. They have big men that can pass, they can spread the floor and they have shooters up and down their lineup, although part of the reason for their early season struggles has been the inability to consistently his threes this season. On the other hand, Virginia still has just one loss on the season, they were dominant in the win over West Virginia at the Garden last week and their only loss — at No. 22 George Washington — doesn't look all that bad. Another impressive win over a top 20 team will certainly be a statement.
THIS ONE'S GOOD, TOO: No. 17 Butler vs. No. 9 Purdue, Sat. 5:00 p.m.
We knew the Crossroads Classic at Bankers Like Fieldhouse was going to be a fun event, but back when the season began, it seemed like the matchup between Indiana and Notre Dame was going to be the highlight of the double-header. Yogi Ferrell vs. Demetrius Jackson! An ACC power vs. a Big Ten power! And while there's an argument to be made that it is still the more important of the two games — both the Hoosiers and the Irish desperately need this win — the nightcap has clearly become the better basketball game.
Butler's reputation over the years has been as a grind-it-out, tough, physical defensive team. Not this year. They run, they score a ton of points and they're the sixth-most efficient offense in the country, according to KenPom. Purdue, on the other hand, is the nation's best defensive team with the biggest front line. Butler's strength is in their back court. There's a lot going on here, but the bottom line is that it is must-see TV either way.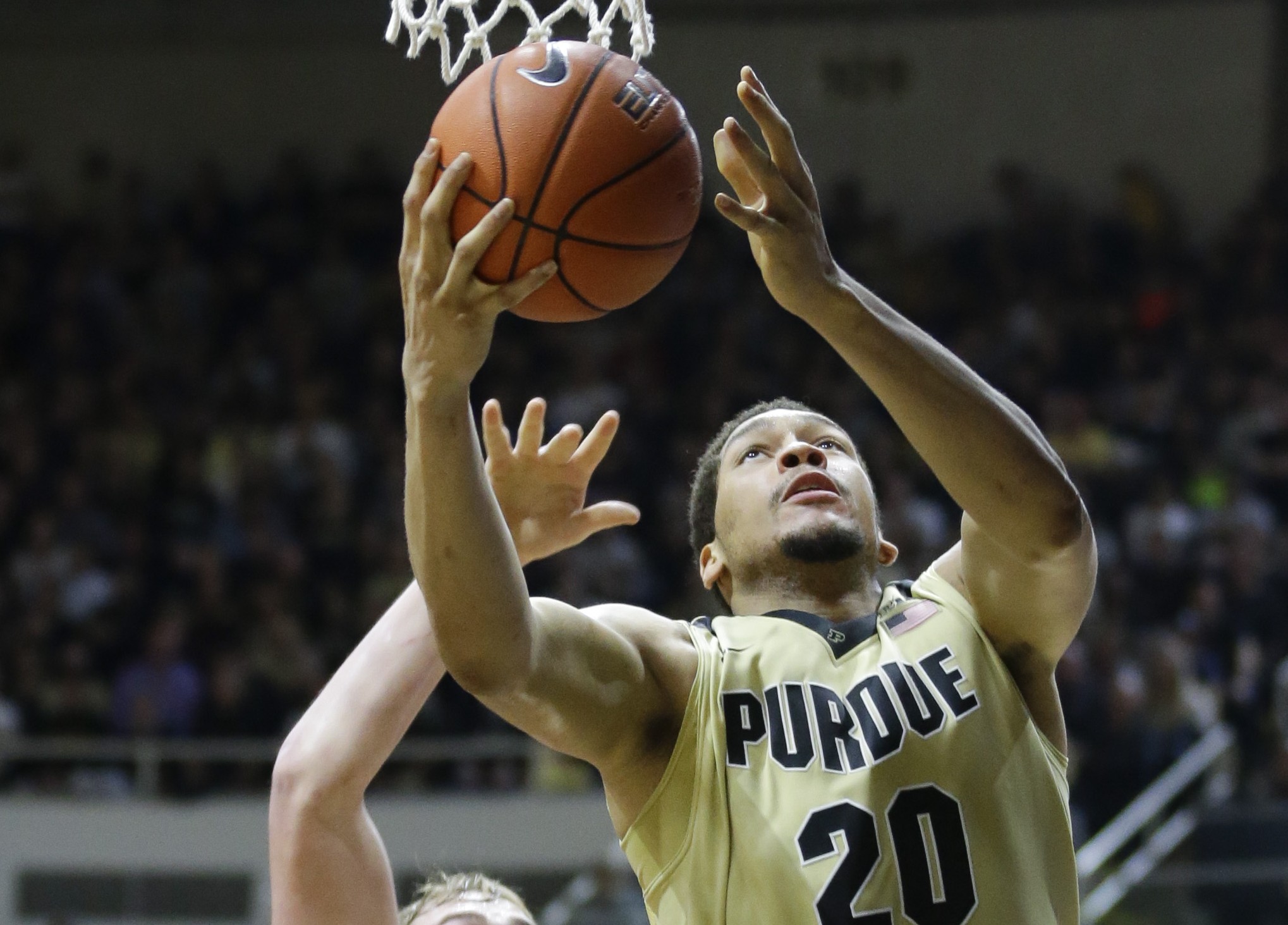 FIVE THINGS TO WATCH FOR
Bankers Life Fieldhouse won't be the only NBA arena hosting a really good double-header this weekend, as the CBS Sports Classic will take place in the Barclays Center in Brooklyn. The opener is the more intriguing matchup, as No. 11 North Carolina squares off with No. 22 UCLA at 1:00 p.m. The game is made all the more interesting by the fact that Kennedy Meeks will not be playing, opening up the door for Tony Parker to be able to out-muscle Isaiah Hicks. There's a real chance, based on the way that UCLA has been playing of late, that the Tar Heels will suffer their third loss of the season. The second game of the two will pit No. 4 Kentucky vs. Ohio State, a game the Wildcats should not have trouble with.
It's going to be a big day in New York for college hoops, as Utah will square off with No. 7 Duke at noon at the Garden. There is going to be a lot to keep an eye on here. For starters, this will be the first game against high level competition in which Duke will not have the services of Amile Jefferson, who broke a bone in his foot. Will Marshall Plumlee and Chase Jeter be enough to slow down Jakob Poeltl? The other part of it is that the Utes like to play four-around-one like Duke does, meaning they won't be able to take advantage of Duke's lack of a true power forward in the paint. But since they also don't have a pure point guard, it is going to be interesting to see how they fare against the pressuring, half court man-to-man defense that Duke throws at teams.
UNLV had looked like they had shaken off all the issues they've had with execution and under-performing in recent years … until they hosted Arizona State on Wednesday night. The Rebels blew a 14-point second half lead and ended up losing 65-55 to the Sun Devils. Now they have to travel down to Tucson to take on No. 13 Arizona, a team that has been surging of late. We'll really find out what UNLV is made of this weekend.
Perhaps the most interesting game of the day will be featured on NBCSN in a 12:30 p.m. ET tip as Michigan State, the No. 1 team in the country, will head up to Beantown to take on Northeastern in a true road game. How often does that happen? The game is part of another cool event that Spartan AD Mark Hollis dreamed up, as Michigan State will be playing a triple-header in men's hoops, women's hoops and hockey against the Huskies.

CLICK HERE to watch this game on NBC Sports Live Extra Saturday afternoon.

Not many people are going to be talking about this one — that's what happens when games are played in Texas during football season — but No. 16 Baylor will make the trip to take on No. 24 Texas A&M. The Aggies have the size up front to handle Baylor's bulk, but the Bears have enough talented perimeter defenders to deal with A&M's quality guard play. The title of Best In Texas is on the line.
THREE MORE NOTABLES GAMES
Auburn at No. 10 Xavier, Sat. 12:00 p.m.
Wichita State at Seton Hall, Sat. 12:00 p.m.
No. 23 Cincinnati at VCU, Sat. 4:00 p.m.
WHO'S GETTING UPSET: Northern Iowa vs. No. 5 Iowa State, Sat. 7:00 p.m. (Des Moines)
As good as Iowa State has looked at times this season, and as talented as their starting five is, there are still people — myself included — who are doubting whether or not this is a team that can truly compete at the top of the Big 12 and for a national title. The concern is, mainly, depth, particularly behind Jameel McKay. Ben Jacobsen's Northern Iowa team has already notched a win over North Carolina this season. Will they be able to hang another upset over a top five team?
WHAT WE'LL BE TALKING ABOUT ON MONDAY: Saturday will be the best day of college basketball this season to date, and, outside of March, it may be one of the best days of the entire season. There are in-state rivalry games. There are top 25 matchups in on-campus venues. There are bluebloods squaring off against each other in NBA arenas. Hell, the No. 1 team in the country is playing on the road against a mid-major that has already won a game in No. 15 Miami's gym.
On paper, it looks awesome.
And while a schedule looking doesn't always turn into a day of great games and wild finishes, at the very least we know that there is going to be something for us to talk about, something relevant that the public at-large will care about. It may not be Bo Ryan and it may not be Tony Bennett accepting the Wisconsin job, but with this number of quality basketball teams facing off against one another, we're going to get some action. Buckle up, because it's the first time since the Champions Classic that college basketball is can't-miss TV.
ALSO ON THE SCHEDULE
Creighton at No. 3 Oklahoma, Sat. 2:00 p.m.
Oral Roberts at LSU, Sat. 2:00 p.m.
Tulsa at Oregon State, Sat. 11:00 p.m.
Tennessee at Gonzaga, Sat. 11:00 p.m.
Texas at Stanford, Sat. 11:30 p.m.
Pittsburgh at Davidson, Sun. 12:00 p.m.