John Calipari was honored by UMass on Wednesday night, as the school celebrated the 20th anniversary season of his run to the 1996 Final Four.
Calipari was the coach at UMass from 1988 through 1996, turning a moribund program into a legitimate national title contender before he bolted for the NBA. He still won 193 games and ten Atlantic 10 titles — five regular season, five tournament — in his eight seasons in Amherst; the Minutemen have won just one other league title, the 2007 regular season crown, in the last four decades. Since 1962, UMass has been to eight NCAA tournaments: Cal took them to five and Bruiser Flint took them to two …  in the two years immediately after Cal left.
Derek Kellogg finally got UMass back into March Madness in 2014. Kellogg played for Calipari and was his assistant at Memphis.
So it's not a stretch to say that the entirety of UMass' basketball success can be directly or indirectly attributed to Cal and those eight years he spent in Amherst?
Which is why the school decided to honor him at halftime of their overtime win over New Orleans. Cal was able to make the trip because his team is off this week, finishing their finals before Saturday's trip to New York for a game against Ohio State.
But the interesting part? This is a picture of the banner they raised: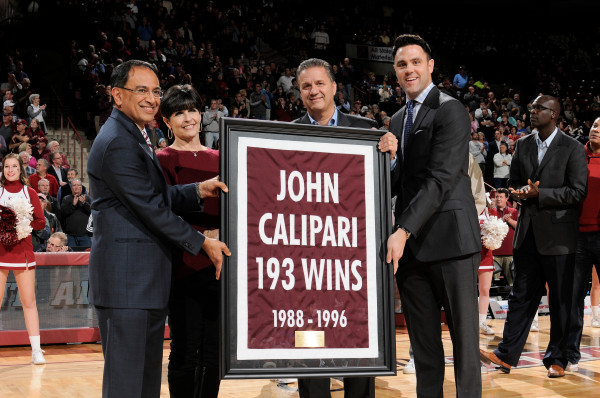 It lists 193 wins, which means that UMass is recognizing the wins from the Marcus Camby years, the ones that the NCAA has vacated.
Awesome.
Anyway, here are a couple more photos from the event: