1. Kris Dunn, Providence: I had Kris Dunn as the Preseason Player of the Year, and while he probably hasn't been the best player in the country through four games — he hasn't yet had a statement game on national television — he is averaging 18.8 points, 7.8 boards, 6.8 assists and 5.3 steals.
And while his shooting splits are down from a season ago, he only has eight turnovers through four games. I'm not going to drop my guy when he does that just because he hasn't gotten into the meat of his schedule yet. No way.
I've charted the four games that Dunn has played to determine how much of Providence's offensive runs through him, a stat I'm going to call, for lack of a better word, possessions "ended".
When he's on the floor, how many of Providence's possessions ended with Dunn shooting, getting to the free throw line, turning the ball over, assisting on a bucket, assisting on free throws or assisting on a missed shot.
Through four games, 62.6 percent of Providence's offense runs through Dunn, which is an insanely high number and a reason that his efficiency, and shooting percentages, are going to be lower than ideal.
Defenses know this.
Illinois had all five defenders in the paint trying to stop Dunn's ball-screen actions: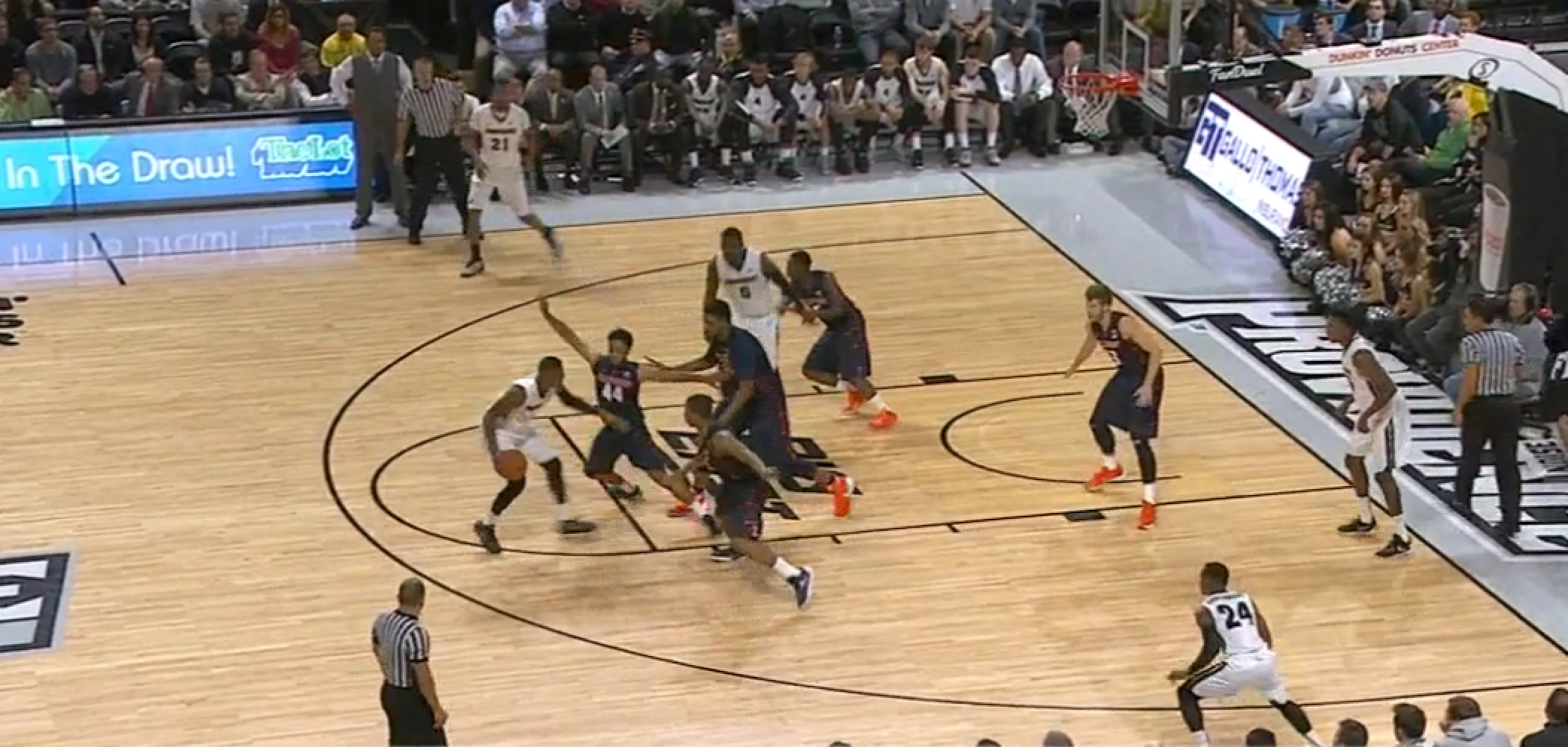 His defender went over the screen while the man guarding the screener stayed with Dunn. The weak-side defender is in the lane helping on Ben Bentil's role to the rim while the strong-side defender is helping on Dunn's drive. Here's video of the entire action:
2. Denzel Valentine, Michigan State: Valentine is almost averaging a triple-double this season. Seriously. He's at 15.3 points, 9.8 assists and 9.0 boards through four games. That won't last, but we can celebrate it while it does. He also is the own of the most impressive performance of the young season, going for 29 points, 12 boards and 12 assists in MSU's come-from-behind win over Kansas in the Champions Classic.
And just to put Dunn's numbers in perspective, Valentine "ended" 60.6 percent of Michigan State's possessions against Kansas.
3. Ben Simmons, LSU: Since we keep talking about whether or not Ben Simmons is overrated, I think this is worth mentioning: He's currently the leading rebounder in college basketball, averaging 14.5 boards to go along with his 19.3 points, 5.3 assists, 2.0 steals and 1.0 blocks. Oh, and he has just six turnovers in four games.
I'm not going to sit here trying to convince he's not a great player. He is. Unquestionably. But there are a few things you need to understand when analysts and scouts try to temper the comparisons to LeBron James.
MORE: Transcendent? Overhyped? The shame is if Ben Simmons is irrevelant
Simmons spends a lot of time at the five for LSU, meaning that he is quite often guarded by guys like Luke Fischer, a 7-footer that doesn't have a prayer of trying to slow down a player that big and that skilled in transition or in a half court setting:
Ben Simmons. Incredible. pic.twitter.com/ZTCsSvwKjE

— Cody Worsham (@CodyWorsham) November 24, 2015
He's also a terrific passer, one that is so skilled at making defenses pay when the help defenders are too focused on him. Look at Traci Carter when Simmons throws this lob: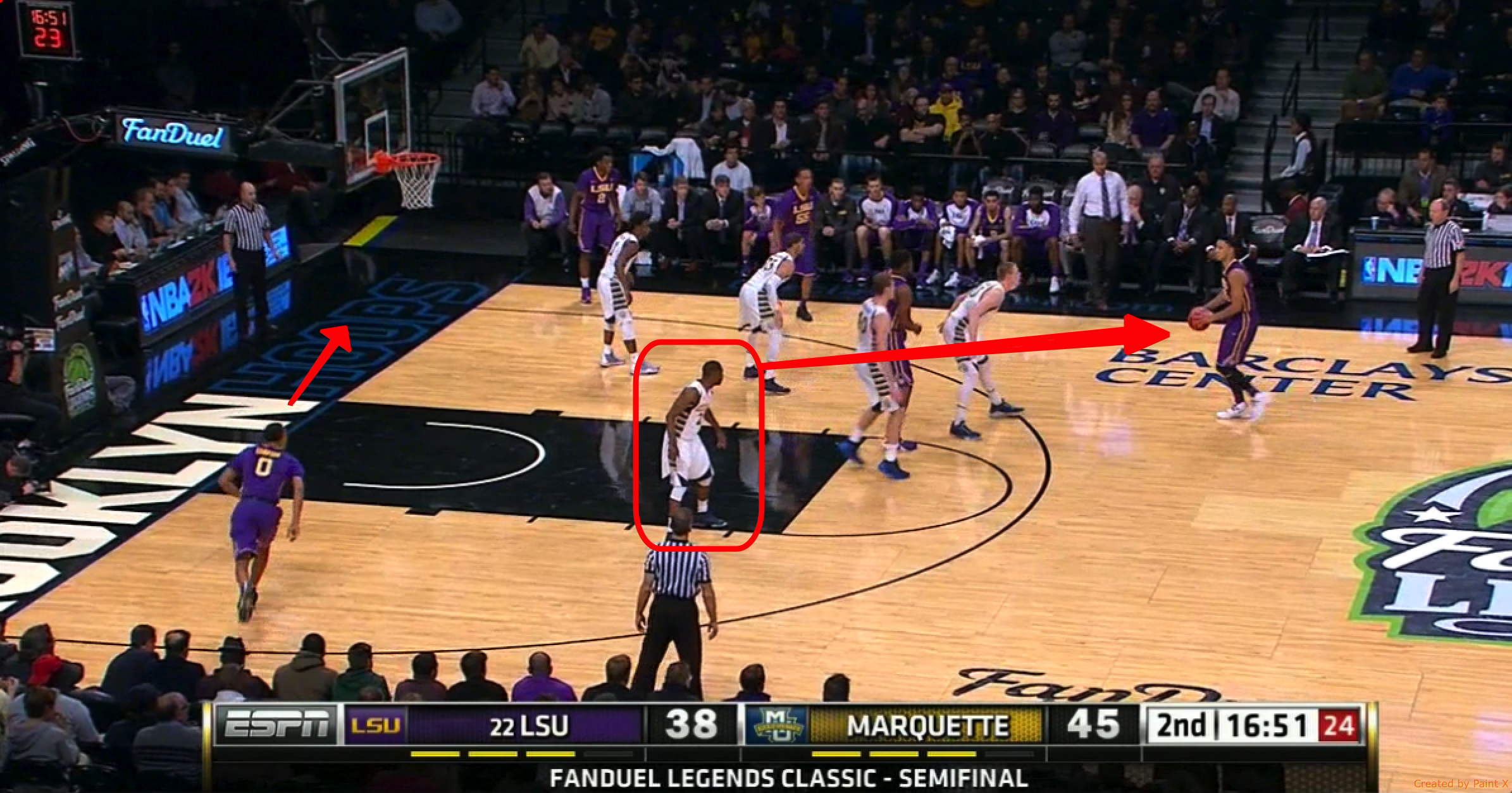 That's a direct result of the mismatches that he gets at the college level.
There are layers to this, too. The numbers you don't hear with Simmons: he hasn't even attempted a three-pointer this season. Through his first three games, he only shot five jump shots and missed all five. (Synergy's logs haven't been updated with last night's games yet.) He's shooting 81 percent from the line, so the stroke is there, but it has yet to manifest itself as part of his offensive repertoire.
Put it all together: NBA teams have guys that are big enough and quick enough to guard Simmons — especially if he doesn't become a consistent shooter from the NBA three-point line — and while his passing ability rivals LeBron's, he's not as quick, explosive or athletic.
In simpler terms, Simmons won't be exploiting mismatches in the NBA the way he can in college, and defenses won't have to sellout to slow him down. That's why I would rather see him compared to Lamar Odom, who, by the way, averaged 13.3 points, 8.4 boards and 3.7 assists in a 15-year career that produced two NBA titles and an appearance on a U.S. Olympic team.
He was damn good.
Comparing him to Odom is a compliment.
4. Tyler Ulis, Kentucky: The latest argument that seems to be clogging by mentions is whether or not Ulis or Dunn is the best point guard in the country. My take: Dunn is the best player in the country while Ulis is the best point guard in the country. While the two technically play the same position, the role they play is entirely different. Ulis is a facilitator, a pure point guard. Dunn is the prototype new-age lead guard, a guy built in the mold of Russell Westbrook, John Wall and MVP-era Derrick Rose.
Ulis has been OK in three of Kentucky's four games, but his performance in the win over Duke — 18 points, six assists, four rebounds, two steals, no turnovers — is what got him this high on this list.
5. Grayson Allen, Duke: Allen has been unbelievable in four of the five games he's played this season, including back-to-back 30-burgers as the Blue Devils beat VCU and Georgetown in the 2K Classic. Even with that putrid performance against Kentucky, his numbers look like this: 24.4 ppg, 4.4 rg, 3.2 apg and shooting splits of 52.2/53.6/89.7.
6. Tyrone Wallace, Cal: Only one player in college basketball averaged more than 20 points, five boards and five assists last season. This year, Wallace is averaging 20.3 points, 5.8 boards and 5.3 assists for a Cal team that could end up winning the Pac-12. He'll climb this list if his numbers look as good when the competition gets tougher.
7. Sheldon McClellan, Miami: Picking a player on Miami for this spot was tough, but I decided to go with McClellan for a couple of reason. One: He's Miami's leading scorer at 17.4 points. Two: his shooting splits are outrageous (61.7/52.4/94.7) meaning his efficiency numbers are outrageous as well. Three: he's the guy on that Miami roster that, if I was an opposing coach, I would build a game-plan around stopping.
8. Buddy Hield, Oklahoma: Hield was a first-team all-american entering the season and has scored 54 points in two games this year. He went for 30 in a win at Memphis. Not bad.
9. Domantas Sabonis, Gonzaga: Kyle Wiltjer was the guy that was on all the preseason all-american lists, but through two (And a half? Does Pitt still count?) games this season, Sabonis has been Gonzaga's best player. He's averaging 20.5 points and 10.5 boards, scoring on post-ups and offensive boards and shooting a robust 82.6 percent from the floor.
10. Evan Bradds, Belmont: There are a number of guys deserving consideration for this spot — Demetrius Jackson, Melo Trimble, Shaq Harrison, Josh Hart — but I'm going to give Bradds a little love here. Through five games, he's averaging 21.3 points, 8.6 boards and 2.4 assists while shooting 76.2 percent from the floor. He had 24 points and nine rebounds in Belmont's win at Marquette and, in his last two games, is averaging 29 points and 10 boards while shooting 27-for-28 from the field. A run like that can't last, but while he's in the middle of it, we're going acknowledge it.