PLAYER OF THE WEEK: Denzel Valentine, Michigan State
Through three games this season, these are Valentine's numbers: 16.3 points, 10.7 assists and 9.0 boards while turning the ball over just six times. The seven points, seven boards and 11 assists he had in a blow-out win over Arkansas-Pine Bluff on Saturday was the second-best stat-line he had this week.
The best?
Those 29 points, 12 boards and 12 assists that he had as No. 13 Michigan State stormed back from a double-digit deficit late in the second half to knock off No. 4 Kansas in the Champions Classic. It was dominant, quite possibly the best all-around performance that we are going to see from anyone at any point this season. He scored or assisted on 22 of Michigan State's 28 baskets, and only turned the ball over once in those 38 minutes.
[MORE: Draymond Green's texts inspire Valentine]
Valentine was a popular pick as an All-American in the preseason, and he looks every bit the part through the first two weeks of the year,
THE 'ALL THEY WERE GOOD, TOO' TEAM
Grayson Allen, Duke: Allen was sensational in New York this weekend, averaging 31.0 points, 5.5 boards and 3.5 assists in wins over VCU and Georgetown to take home the Legends Classic title. He'd be a shoo-in for Player of the Week again if it wasn't for that six-point, four-turnover performance against Kentucky on Tuesday night. I told you it was too early to write them off.
Patricio Garino, George Washington: The man they call 'Pato' was the best player on the floor as the Colonials knocked off No. 6 Virginia at home on Monday night, going for 18 points and five boards. He followed that up with 18 points in wins over Army and at South Florida.
Shaquille Harrison, Tulsa: Harrison was terrific in Tulsa's two games in the Paradise Jam, sparking come-from-behind wins over Ohio and Indiana State by averaging 27.5 points, 6.5 boards, 3.5 assists and 3.0 steals. And that came after he went for 20 in Tulsa's win over No. 9 Wichita State.
Tyler Ulis, Kentucky: Ulis has been Kentucky's best player through the first week and change of the college basketball season, and it was on display in his 18-point, six-assists, four-rebound performance in the win over Duke.
Wes Washpun, Northern Iowa: Washpun was the best player on the floor for the Panthers as they knocked off No. 1 North Carolina on Saturday afternoon, finishing with 21 points and eight assists.
BENCH: Jakob Poeltl (Utah), Buddy Hield (Oklahoma), Evan Bradds (Belmont)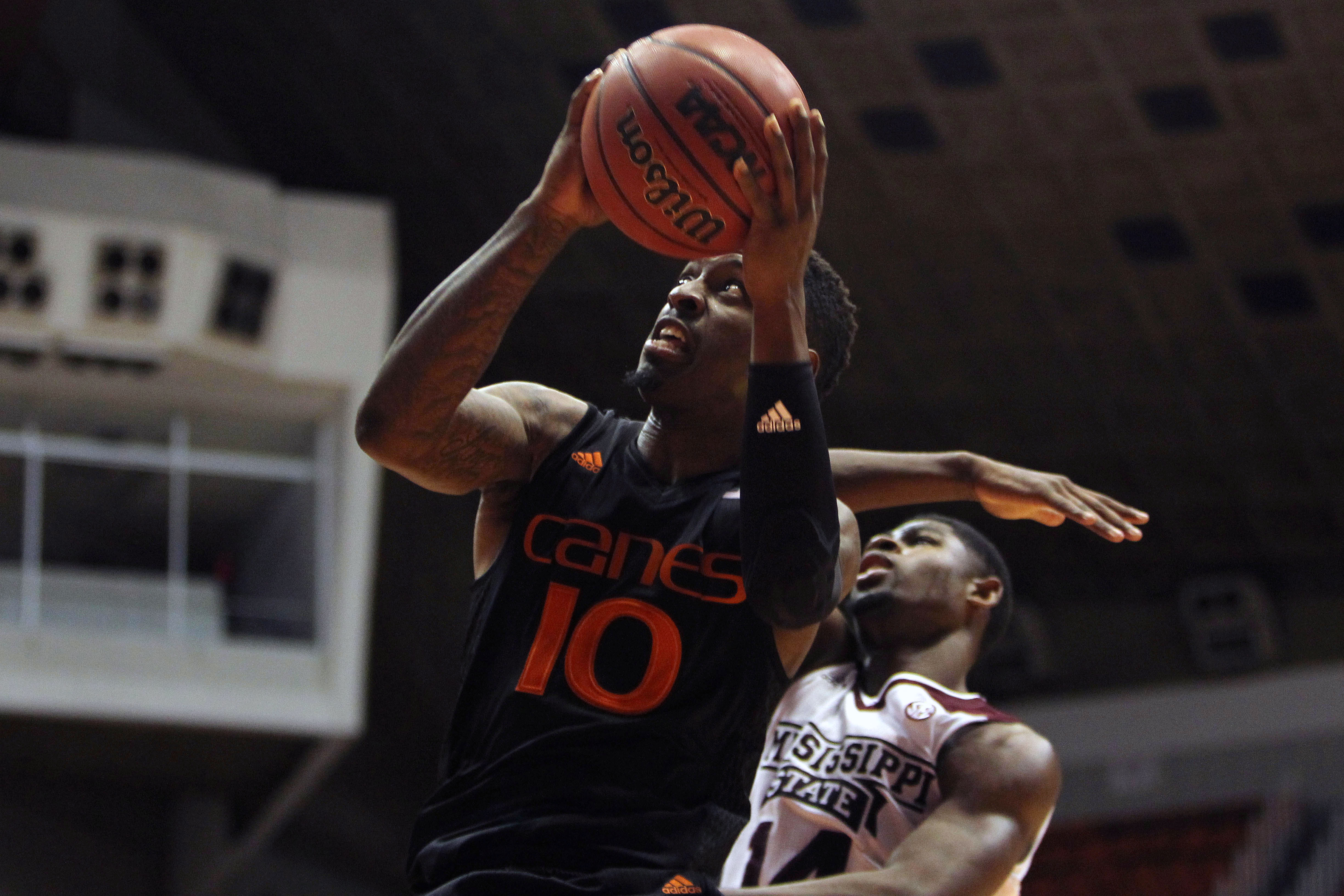 TEAMS OF THE WEEK: Purdue and Miami
No two teams in the country made as much of a statement as the Boilermakers and the Hurricanes did this week.
We kind of saw it coming with Purdue. The Boilermakers shot the ball incredibly well from three during the season's first weekend, overpowered teams with their front court and did so before A.J. Hammons was able to play. Throw in the fact that Caleb Swanigan has been excellent in his role at the four and it was really not a surprise that this group rolled over Old Dominion and Florida in the Hall of Fame Classic at Mohegan Sun this weekend. Purdue's ranking probably isn't going to skyrocket — they're currently No. 21 — because they didn't beat anyone all that impressive, but it's easy to watch this team and know just how good they are.
Miami, on the other hand, will likely go from unranked to the top 15, if not the top ten. That's what happens when you spend a weekend steamrolling Mississippi State (who stinks), No. 16 Utah and No. 22 Butler (who don't stink). This group reminds me quite a bit of the 2013 Miami team that won the ACC: They have tough, veteran guards and a slew of high-motor bigs, all of whom are totally bought into what head coach Jim Larrañaga wants from them. There hasn't been a consistently more impressive team in the country this season.
I wrote a column on Saturday about how wide-open this season is and why it is that way, and that's very much the case in the Big Ten and the ACC. As a result, while it is still early, I'm willing to say that both of these teams will be in the mix for their respective regular season titles. That's how impressive they've been.
THEY WERE GOOD, TOO
Xavier: The Musketeers woke up a lot of people on Friday night as they went into Ann Arbor and knocked off No. 24 Michigan by 16 points. The Big East race looks like it is going to be a fun one, and at this point, it's tough to imagine Xavier not finding a way to be relevant in that race.
Northern Iowa: The Panthers picked off a good Stephen F. Austin team during the Tip-Off Marathon and followed that up by knocking off North Carolina, the No. 1 team in the country, over the weekend.
George Washington: The Colonials picked up a huge win on Monday night at home over No. 6 Virginia, one that could very well have locked up their NCAA tournament chances, assuming they do the things they're supposed to do this season.
Tulsa: The Golden Hurricane landed a key win over No. 9 Wichita State on Tuesday night, an impressive win that they followed up with two come-from-behind wins in the Paradise Jam.
Oregon: The Ducks have now beaten No. 20 Baylor and one of the nation's best mid-major, Valparaiso, without their best big man and their senior point guard.
SET YOUR DVR
These are the tournaments to keep an eye on this week:
11/23-11/25: Maui Invitational, featuring Indiana, Kansas, UCLA and UNLV
11/25-11/27: Battle 4 Atlantis, featuring Gonzaga, Washington, UConn and Michigan
11/26-11/29: Advocare Invitation, featuring Wichita State and Notre Dame
11/26-11/29: Wooden Legacy, featuring Arizona and Michigan State