Today, Braeden Anderson is the NCAA's poster boy, everything they could dream a student-athlete to be.
He finished his undergraduate degree with two years of eligibility remaining, transferring from Fresno State to Seton Hall so he can use scholarship money to pay for his first two years of law school. He did that despite being uprooted from his first school midway through freshman year. He did that despite being in a car accident that should have left him paralyzed.
Today, Braeden Anderson is talking to the media about the importance of student-athletes being, yanno, students. He's trumpeting the value of an education. He's pleading with his basketball and football-playing peers to take advantage of the scholarship that's put in front of them.
"The benefit that you're getting, the reason that schools are able to make millions off of you, is because you're getting an education," he says, as if reading off of a notecard that Mark Emmert slipped him before answering a call from NBCSports.com. "You better be actually taking advantage of that education. That's what you're getting paid with!"
But four years ago, an NCAA ruling made it clear that the association did not believe that he would be capable of handling the rigors of a college classroom. Shortly thereafter, a Big 12 ruling forbid him from taking advantage of the scholarship that he had been given by Kansas head coach Bill Self. He wasn't, they said, enough of a student to be an athlete in the NCAA.
My oh my, how time flies.
—————————-
Tacko Fall was the latest social media cause célèbre in the fight against the NCAA, a battle that was won by the masses on Friday. Braeden Anderson knows all too well about the fight that Fall had on his hands.
Fall is a freshman at Central Florida, a 7-foot-6 center from Senegal that is getting As and Bs in Calculus, Chemistry and Engineering classes as we speak, yet the NCAA, last week, told Fall that he was no longer allowed to practice. According to the NCAA, Fall was not prepared to handle the academic rigors of a college curriculum.
Laughable, I know.
It all stems from some bad advice that Fall got when he first arrived in this country in 2012. He spent a year bouncing between sketchy prep schools before finally landing at Liberty Christian, a school that is under extended evaluation by the NCAA. He spent two years there, which is part of the reason the NCAA initially only accepted 7.5 core credits.
It's not that Fall didn't do the work, it's that the NCAA does not trust the school he did the work at, a school he probably never should have been at in the first place.
The good news? The NCAA reversed course and cleared Fall to play this season.
Anderson, however, was nowhere near as lucky.
Despite getting a 1450 on his SATs and earning two As in summer school classes when he first arrived at Kansas, Anderson was ruled a partial qualifier by the NCAA. He was allowed to go to school and practice with the team, but he was not allowed to suit up on game day. An academic redshirt, if you will. The Big 12, however, decided against allowing him to receive his scholarship, and Anderson, as a result, was forced to leave the school that September, transferring to Fresno State, because he could not afford to pay his own tuition. He sat out the 2011-12 season and was forced to miss the first 20 games of the 2012-13 campaign.
A member of the high school Class of 2011, Anderson didn't see his first minutes on a college court until February 6th, 2013.
That initial eligibility ruling?
It essentially cost Anderson two years.
And like Fall, it all stemmed from some bad advice Anderson, a native Canadian, received when he came to this country. Anderson followed his AAU coach — Ro Russell, who founded the Grassroots Canada program — to North Carolina with the intention of attending Christian Faith Center Academy. This was back in 2009, before Canadians like Andrew Wiggins and Tristan Thompson made our neighbors to the north the latest recruiting hotbed. "I was really, really good over there," Anderson, who was averaging 30 points and 15 boards as a 14 year old, "but I couldn't get any exposure. It wasn't like it is now."
But Russell's promises never came to fruition, and it's unclear if the school, as Russell described it, ever actually existed. According to an investigation by the CBC's Fifth Estate — Canada's equivalent to Dateline NBC — the 11 players that Russell brought to North Carolina weren't enrolled at CFCA. Instead, they were in a school with a similar name that was owned by Russell. They practiced at CFCA's gym and, as Anderson put it back in 2011, "our basketball jerseys said 'Christian Faith Center' on them," but they didn't attend class, according to Fifth Estate. They took online courses while their parents continued to send tuition money to Russell.
Whether this was a scam by Russell or simply a way for him to try and work around a delay in student visas is unclear. What is clear, however, is that it was those online courses that weren't accepted by the NCAA, and Anderson was far from the only player that got caught up in the wake of the scandal.
"I was not a bad student when I was ruled a partial," Anderson said. "I cared about education more than most kids."
The irony here is that Anderson is actually thankful for the opportunity that Russell provided him, even though the mess Russell created at CFCA cost Anderson a chance to play at Kansas, even though he went 20 months between his first college class and his first college game. The school may not have been real, but the exposure was. The recruiting letters and scholarship offers were, and Anderson firmly believes that, were it not for that school year, he would not be in a position today to be receive an athletic scholarship to attend law school.
"Am I mad at him? Of course not," Anderson said. "If it wasn't for him giving me that first shot, I wouldn't have had all the other opportunities that came after that."
"At that point I had options I didn't have before. Basketball-wise, it was great. The legal, technical stuff, that was a mess."
That mess may have damaged Anderson's basketball career, but it couldn't put a dent in his spirit.
—————————-
The a typical day for a first-year law student that plays college basketball in the Big East begins at roughly 6:00 a.m. That's when Braeden Anderson gets out of bed to make the protein shake that he drinks every morning while reading over the roughly 100 pages of notes that he took for class that day.
He's in class by 7:30 most mornings, although a couple days a week he has the luxury of waiting until 8:30 before the learning commences. He'll be in class until 12:30, when he has a chance to head back to his apartment to get some food before practice. He's usually there more than an hour early so he can get treatment, watch film and maybe get a quick lift in — his morning classes mean that he's not there for Seton Hall's individual workouts, team lifts or film sessions — before practice, which normally lasts until about 6:00 p.m.
After he gets dinner, Anderson's night consists of … studying. He'll read, take notes and prep for the next morning's rigorous course load.
"Law school is different from normal school in the sense that they're not there to teach you what the law is. They're not there to teach you what you need to know," he said. "Your job is to go home and teach yourself the law through what you read, and when you come to class you need to be prepared to solve problems with the tools that you learned on your own time."
He's normally in bed by 1:00 a.m., giving him a full five hours of sleep on a good night.
"I could do a half-assed job and get to bed by 10, but I want to be doing my best. I want to really understand everything and I've done everything that I'm expected to do," he said. He wants to get the most out of that $90,000-a-year law school education. "Sleep is not one of the luxuries I have at the moment."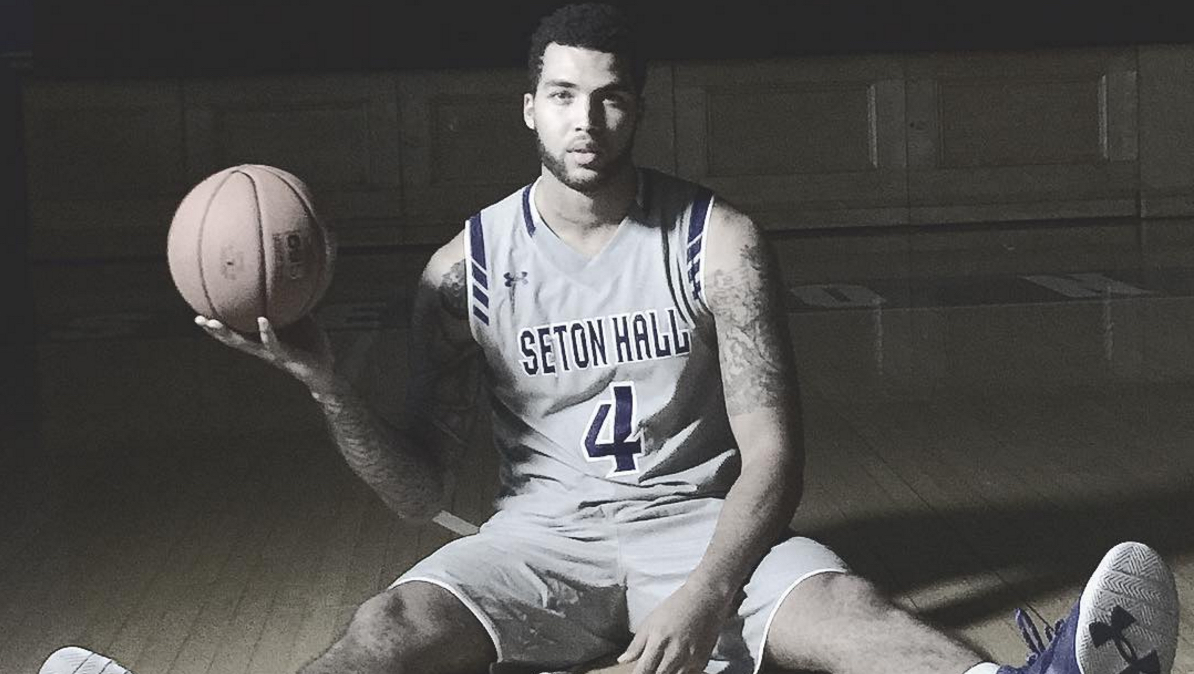 "He's a very determined young man," said head coach Kevin Willard, who recruited Anderson knowing exactly what he would be doing this season. Anderson's official visit dealt more with law school than it did with basketball. "He's very smart and very opinionated, which will probably make him a good lawyer."
"He has a very mature presence about him, which is really nice in the locker room," Willard continued. "That's what I've seen, that some of the grab-ass that my younger guys used to do [has ended]."
That's the result, Willard believes, of just how much Anderson has been through in his life. Because forget moving to a new country at age 15. Forget having to wait 20 months to play college basketball. Both of those pale in comparison to the fight Anderson had on his hands after the car accident that should have ended his career.
It happened on September 3rd, 2013. Anderson was a passenger in a car driven by a Fresno State walk-on Kyle Jackson. Two other teammates were in the car when it was involved in a wreck caused by a drunk driver. One person died in the accident No one else in Anderson's car was injured, but Anderson's neck hit the ceiling of the vehicle that he was in. He fractured and displaced his C5 and C6 vertebrae, an injury that surgeons told him had a 0.4 percent chance at a full recovery. He had multiple surgeries. He spent a month and a half in the hospital, losing 60 pounds while spending his days getting poked and prodded with so many needles — getting blood drawn, getting morphine pumped into his veins — that his veins turned rock hard.
"They call them heroin veins," Anderson said. "one nurse came in and tried to do an IV and asked me if I was a drug addict because my veins were so bad."
"I didn't know what pain was until I went through this experience," he continued. "I kind of wanted to die. In a lot of instances, it was like, 'OK, I lived long enough.' It was that bad. You can't sleep for days at a time because of the pain, and all you can think of is pain, for days on end. There goes a point where you're like, 'Hey, I've lived a pretty good life, I've accomplished some things. I'm a good person. You know what? Just take me.'"
He missed the entire 2013-14 season as he recovered.
To look at it another way, Anderson's first full season of college basketball came in 2014-15, when he should have been a senior.
Those NBA dreams he had when he committed to Kansas four years? They were more or less dashed, and as disappointing as that was, it reinforced Anderson's belief in the educational system. It opened his eyes to how the value and the importance of the scholarship that he was receiving. That will happen when your basketball career — your ability to walk, your life — is dangled in front of you.
"Not to be dark about it, but let's be honest, the basketball stops bouncing very, very shortly after college," he said.
And not just for him.
For the overwhelming majority of college athletes as well.
That's why he's speaking out.
"I have a problem with what's going on right now with college athletics and with my peers and my fellow student-athletes," Anderson said. "I don't want to pigeon hole football and basketball into a corner here, but it's mostly those guys that I want to talk to and want to set an example for."
"When you're a college athlete, and the NCAA wants to say, 'hey, you're an amateur, you're a student-athlete', that's what you are! The benefit that you're getting. The reason that schools are able to make millions off of you, is because you're getting an education. You better be actually taking advantage of that education. That's what you're getting paid with right now. And that's something that's overlooked by so many student-athletes."
He's not saying college athletes don't deserve more. He believes they should.
So don't get it twisted.
But even with cost of attendance scholarships, even with stipends and money for books and unlimited per diem, Anderson has has a message he believes college athletes need to hear.
"Find a major. Find a degree that actually falls in line with something you might want to do when you're done playing ball. Research. Make [education] something that's important. Think about [your] future after [you]'re done playing the sport. You play pro, great, but you still gotta have skills to fall back on after you're done playing."
—————————-
The root cause of the NCAA's need for academic regulation and initial eligibility testing is tied to the idea of amateurism and the student-athlete. They need to keep up the facade lest they admit that the athletes whose performance generates billions of dollars for the school and the association are, in fact, professionals and do, indeed, deserve a bigger cut of the profits.
They'll sell you on the idea that the existence of the NCAA Eligibility Center is to create a level playing field, that it is to ensure that the athletes that are accepted into, say, Auburn have an academic background that is as legitimate as the athletes that can get accepted by Vanderbilt.
But that's not really the case.
The truth is that the Eligibility Center exists so that the NCAA can say they are doing everything they can to ensure that the athletes accepting those scholarships are capable of utilizing them. It's the association's way of testing the academic aptitude of incoming athletes, making sure that they're functionally ready for college courses. It's their way of saying these kids are going to be able to reap the benefits of the compensation they're receiving for playing their sport.
There are a myriad of lawsuits that the NCAA is facing that could change the system entirely. The charade can't end now.
The issue is that the current process for determining initial eligibility doesn't measure an athlete's ability to handle a college classroom moving forward, it evaluates the decisions they've made in the past; decisions that, more often than not, were made by an advisor that shouldn't have been trusted. Did the kid with a sketchy transcript pick the right diploma mill to attend, the one that the NCAA has deemed worthy enough to accept kids from? Did they take the right online courses? Were they able to obtain an accurate transcript from their school in another country or from the public school they attended early in their high school career in a school district that can barely afford to pay their teachers?
The NCAA has reportedly requested the sixth-grade transcripts of Kansas freshman Cheick Diallo, who has yet to be cleared to play this season. Diallo came to America from Mali when he was in ninth grade, completed his summer school classes at Kansas and is well past the midway point of a full load of courses for the fall semester.
But the NCAA needs evidence from when he was 12 years old to determine if he can handle the college courses currently enrolled in? The classes he's already completed?
And that is the fatal flaw in the initial eligibility process.
A year at a shady prep school run by a con man made the NCAA believe that Braeden Anderson couldn't handle being a college student. They ignored his SAT score. They ignored the As he had already received in college classes. But they can't ignore that he's graduated early, and they can't ignore that he's currently enrolled in law school while still playing college basketball.
If that isn't proof that the initial eligibility process is broken, then I don't know what is.