While the conversation of who is the best player in college basketball can be rather straightforward most years, as many have focused on Providence's Kris Dunn and LSU's Ben Simmons ahead of this season, determining who are the most important players in college basketball is a different matter. For some that may mean that they're the primary scorer, while the importance of other players may best be measured in areas such as defense and leadership.
Below are ten of the nation's most important players heading into the 2015-16 campaign.
1. Kris Dunn, Providence: Say what you want about the Friars' chances of reaching the NCAA tournament for a third consecutive season, but there's no denying just how important the redshirt junior point guard is to his team. Last season Dunn averaged 15.6 points, 5.5 rebounds, 7.5 assists and 2.7 steals per game, emerging as one of the nation's best point guards. Now expected to be the best player in the country, Dunn has to lead a team that lost three of its top four scorers from a season ago. His skill level and leadership will be critical for Ed Cooley's team.
2. Tyler Ulis, Kentucky: Sure the future professional prospects of players such as Jamal Murray and Skal Labissiere are bound to receive attention, but no player may be of greater importance to the Wildcats than their sophomore point guard. Ulis played in a reserve role on last year's 38-1 team, and given the overall youth of this group his ability to lead will be of great importance to John Calipari's team. While Kentucky does have some experienced players, the best of that bunch is either returning from injury (Alex Poythress) or getting used to a more prominent role (Marcus Lee).
3. Melo Trimble, Maryland: Trimble met (and some would argue, exceeded) the hype in College Park as a freshman, accounting for 16.2 points, 3.9 rebounds and 3.0 assists per game. Also one of the nation's best at getting to the foul line, Trimble was a key factor in the Terrapins' turnaround in 2014-15. Now with Mark Turgeon's team being labeled as a national title contender, Trimble's strides as a leader will be key for a group that isn't short on talent by any stretch of the imagination. How will this group deals with those expectations will depend largely upon the play of their point guard.
4. Marcus Paige, North Carolina: Paige is currently sidelined with a broken bone on his non-shooting hand, with the expectation being that he'll miss between three and four weeks. While that provides some of his teammates with opportunities to step forward, that doesn't mask just how important the senior guard is to North Carolina's national title hopes. Paige (14.1 ppg, 4.5 apg) was UNC's best distributor and scorer a season ago, and he was also by far their best perimeter shooter. He's the biggest key for a team expected to contend for a national title.
5. Tyrone Wallace, California: We've discussed Wallace's role on here during our preseason coverage and with good reason. The left-handed senior was a Bob Cousy Award finalist last season and will once again run the show for Cuonzo Martin's Golden Bears. But the circumstances are much different this time around, with Cal being a team expected to both contend in the Pac-12 and be a factor nationally. None of that happens if Wallace, who averaged 17.1 points, 7.1 rebounds and 4.0 assists per game as a junior, doesn't lead.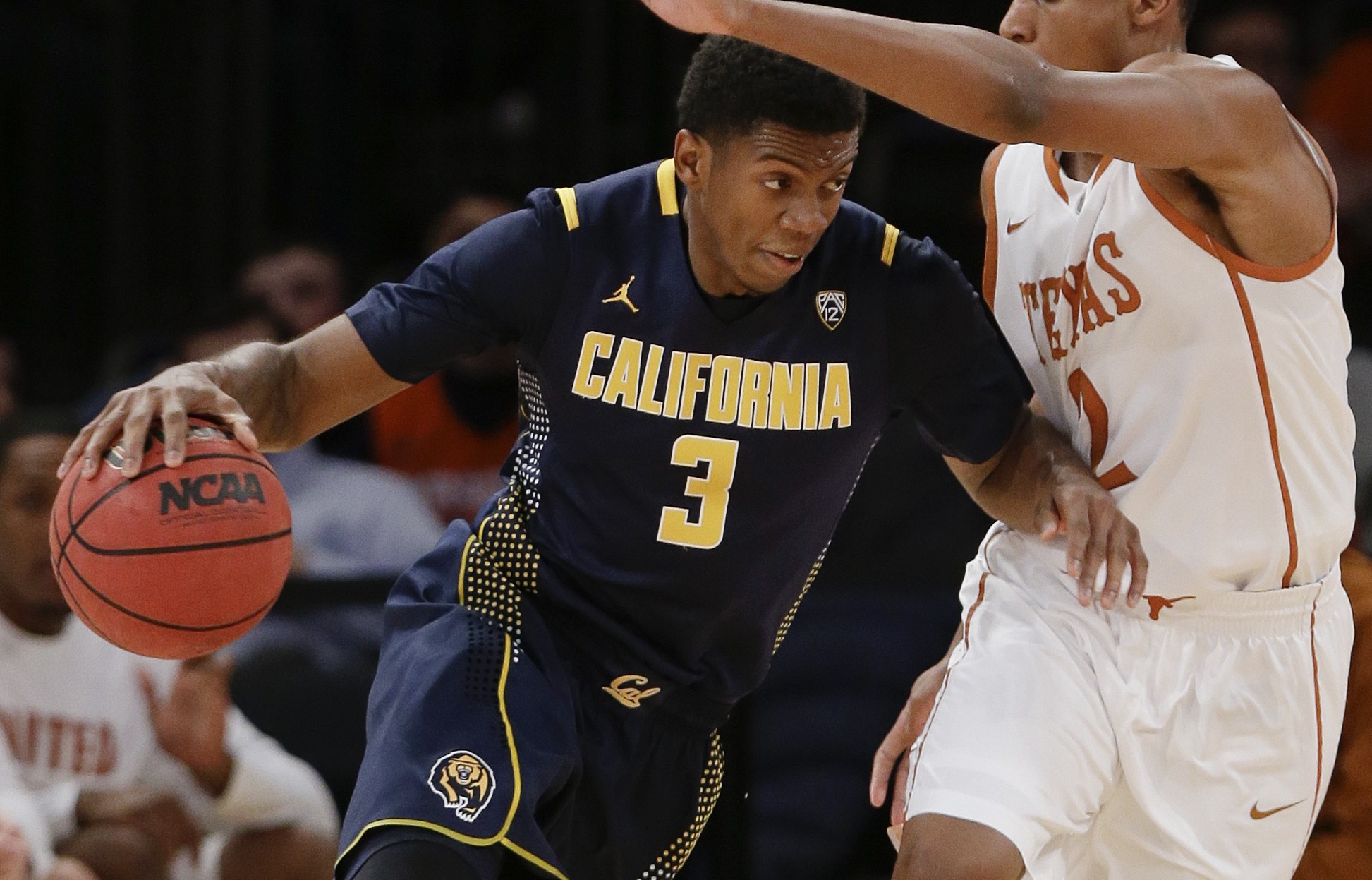 6. Denzel Valentine, Michigan State: The Spartans lost two key contributors from last year's Final Four team in Travis Trice and Branden Dawson, but they have enough talent to make a return trip. One of those players is Valentine, a senior whose versatility is matched by few in college basketball. Valentine can play any position on the perimeter, and after averaging 14.5 points, 6.3 rebounds and 4.3 assists per game as a junior he's capable of taking another step forward in 2015-16.
7. Monté Morris, Iowa State: Morris took a significant step forward as a sophomore, averaging 11.9 points, 3.4 rebounds and 5.2 assists per game on a team that won its second consecutive Big 12 tournament crown. But that team was one and done in the NCAA tournament, and with a new head coach in Steve Prohm at the helm a team with national title desires will have to adjust to a different style. At the forefront is Morris, and given how point guards who have played for Prohm in recent years (Isaiah Canaan, Cameron Payne) have flourished this could be a big year for the junior. While the front court has talent and experience, how well Morris runs the show will have the greatest impact on the Cyclones.
8. Ben Simmons, LSU: Simmons arrived in Baton Rouge amidst much fanfare and with good reason, as he's considered to be the top prospect heading towards next June's NBA Draft. At 6-foot-10 the Australian has the size and athleticism needed to make an immediate impact for a team that lost Jarell Martin and Jordan Mickey, and his skill set is such at he'll serve as a point forward for Johnny Jones' Tigers. How Simmons navigates the balance between scorer and table-setter will be key for a team looking to rebound from their disappointing NCAA tournament loss to NC State.
9. Brandon Ingram, Duke: The reigning national champions have a lot to replace from last season's team, with three first-round picks (Jahlil Okafor, Justise Winslow and Tyus Jones) and senior leader Quinn Cook all having moved on to the professional ranks. Adding another top-ranked recruiting class to the ranks helps with the adjustment process, with the crown jewel being the 6-foot-8 Ingram. Slender of build, Ingram has the skill set needed to play any of the three perimeter positions in Duke's offense and there's a good chance he'll be asked to do so. While Grayson Allen's expected to make a sizable jump as a sophomore, Ingram's production could be the key to a run at a sixth title for Coach K.
10. Wayne Selden Jr., Kansas: How far Bill Self's loaded team goes this season may rest on the shoulder of the junior off-guard. And how ready Selden is to shepherd this group will depend largely upon his mindset entering the season. Does Selden play as the sometimes deferential player he was in his first two seasons in Lawrence? Or does he play in the "attack mode" shown at the World University Games in South Korea this summer? If Selden is the former, Kansas risks not reaching their full potential even with the talent they have on the perimeter (Frank Mason III, Devonté Graham, etc.) and in the post (Perry Ellis, Carlton Bragg, Cheick Diallo if cleared, etc.).
AND TEN MORE
11. Yogi Ferrell, Indiana: The last standing member of "The Movement" that was supposed to change Indiana basketball, Ferrell will have to lead the way for a talented team facing high expectations.
12. Buddy Hield, Oklahoma: While Iowa State has received a lot of attention as Kansas' biggest threat in the Big 12, do not overlook Oklahoma with the reigning Big 12 POY being a key reason why.
13. Fred VanVleet, Wichita State: The tandem of VanVleet and Ron Baker has accomplished a great deal to this point in their college careers. VanVleet will look to lead the Shockers to their second Final Four appearance from the point, and don't be shocked if he pulls it off.
14. Daniel Ochefu, Villanova: The Wildcats are loaded with perimeter talent, but do not overlook the importance of their defensive anchor.
15. Caris LeVert, Michigan: Healthy after playing just 18 games due to a foot injury, the versatile LeVert is a key component for a Michigan team more than capable of rebounding from last year's 16-16 record.
16. Demetrius Jackson, Notre Dame: With Jerian Grant moving on Jackson will run the show for Mike Brey's Fighting Irish. Expected by many to make a considerable jump as a junior, Jackson is the kind of talent who can make Notre Dame a contender in the ACC.
17. Ryan Anderson, Arizona: The Wildcats' closest thing to a proven scorer at this level, the Boston College transfer will need to be that guy for a team looking to mesh a lot of new pieces with holdovers who played in supplementary roles the last couple years.
18. Taurean Waller-Prince, Baylor: As a key cog in one of the nation's top front courts, the 6-foot-8 senior has the ability to score at all three levels. That will be key for a Baylor team with perimeter questions to answer.
19. Xavier Rathan-Mayes, Florida State: Rathan-Mayes' scoring abilities aren't be questioned based upon what he did as a freshman on a team lacking scoring options. Now with the Seminoles loaded with talent, his role as a distributor will be key for a team that can be a sleeper in the ACC.
20. Bronson Koenig, Wisconsin: Given how much the Badgers lost from last season's national runner-up team, both Koenig and Nigel Hayes will be key players. The pick for most important is Koenig, as he'll be the one with the ball in his hands at the point.