Here are 12 things to keep a close eye on this year, as they are the x-factors that could eventually end up shaping the college hoops season:
Cheick Diallo's eligibility
This is the most obvious one, right? Not only is Diallo — who is still waiting to be cleared by the NCAA due to issues with his high school transcript — a top ten recruit on a top five team, but he's the one piece that the talented and deep Jayhawks are missing. They've got the quality guard play, they've got weapons on the wing and they have both big bodies and versatile scorers in their front court. What they don't have, however, is a player that can do the things that Diallo excels at. Diallo is raw. He doesn't have Jahlil Okafor's post game or Henry Ellenson's face-up game. He's not a guy that Bill Self can isolate 1-on-1 and expect positive results; that's what Perry Ellis and Carlton Bragg are for.
[MORE: Top 100 players | CBT Top 25]
But Diallo is 6-foot-9, athletic and aggressive. He'll run the floor in transition. He'll play tough, physical defense. He'll block shots and attack the glass on both ends. He brings an edge, an effort level and a toughness that the Jayhawks have been missing for a few years now. He's everything that Cliff Alexander was supposed to be last season, and his presence would put Kansas in the conversation as the best team in the country.
Thomas Bryant's defense
A couple of stats for you from last season. Indiana was ninth nationally in offensive efficiency, according to KenPom.com. They were 214th in overall defensive efficiency, 224th in effective field goal percentage defense, 330th in defensive turnover percentage, 188th in defensive rebound percentage, 283rd in in two-point field goal defense and 251st in block percentage. That's a really long-winded way of saying that IU could light it up offensively last season and, at the same time, would have let me get 20 against them.
Enter Bryant, a 6-foot-10 McDonald's All-American known for his motor, his defense and his ability to get on the glass. He's not going to solve all of Indiana's defensive issues — their perimeter is a sieve — but he will help erase shots at the rim and clean up the glass defensively. For perspective: Duke earned a No. 1 seed entering the tournament with an elite offense and a defense that ranked in the 60s. Notre Dame reached the Elite 8 with the nation's second-best offense and a defensive efficiency that ranked 102nd.
Michigan's health
Michigan's perimeter attack is absolutely loaded. Caris LeVert could end up being an all-american this season. Derrick Walton and Zak Irvin are both all-Big Ten-caliber talents. They also all have dealt with serious injuries in 2015. LeVert broke his foot for the second time in a 10 month span midway through last season. Walton saw his season ruined by a sprained toe that limited him for two months before he finally shut it down in late-January. Irvin had offseason back surgery. Even with the front court question marks, Michigan looks like a top 20 team entering the season. That's assuming their three best players can make it through the next five months without getting hurt.
RELATED: NBCSports All-Americans | Best Freshman | Breakout Stars
Cal's Jaylen Brown as Draymond Green
Cuonzo Martin has it rolling out in Berkeley right now, putting together the most talented team that he's ever had as a head coach. The Bears are loaded with perimeter talent, and while they have five-star freshman Ivan Rabb at center, they are limited with front court depth. Enter freshman Jaylen Brown, a top three player in the class. He's a physical, 6-foot-7 wing that has the athleticism and versatility to play a number of different roles, similar to another Bay Area combo-forward: Draymond Green's. Green's ability to defend fours, rebound and stretch the floor offensively is a major reason why Golden State has become the best team in the NBA. If Brown can find success playing the same way this season, Cal may be looking at a Pac-12 title come March.
North Carolina's point guard play
Perhaps the real question here is whether Marcus Paige can actually stay healthy once he returns from his broken hand, but assuming he does, the key for UNC is to be able to move him off the ball with a point guard that can hit open threes. Joel Berry II may be the best fit. The ideal role for Paige this season would be to play off the ball in transition and on the ball at the end of a clock, meaning that Berry will be asked to handle the point in transition situations while spacing the floor when Paige has the ball in his hands in the half court. If he can do that, the Tar Heels become a much more dangerous team offensively.
Marshall Plumlee as … Brian Zoubek?
This Duke team reminds me quite a bit of the 2010 team that won the national title. Question marks at the point, off-guards handling the ball, future first round pick on a wing and a front line rotation that had yet to be established. Midway through the season, Zoubek, a former McDonald's All-American that failed to live up to his hype for three and a half years, suddenly turned into a force of nature in the paint, blocking shots and dominating the glass on both ends. His emergence turned Duke into a team that could win the title. Could Plumlee have the same impact as a senior as Zoubek did? If this Duke team is missing anything, it's a veteran anchor in the paint.
Is Ryan Anderson Arizona's best player?
Who is going to be Arizona's leading scorer this season? Who is going to start at the point? Will Kaleb Tarzewski keep the starting center role over Dusan Ristic? Who gets minutes at the two? There are so many questions to be answered with an Arizona team that lost four starters this offseason, but the key may end up being just how good Anderson ends up being. He was productive despite his limited athleticism during his time at Boston College and sat out last season as a transfer. Now he's a redshirt senior at a new program that has yet to play a game for a team that was relevant nationally. If he's truly a 15-point, eight-rebound kind of guy, Arizona will have a real chance to win a Pac-12 title. If he's not, who knows.
Kentucky's role players
Specifically, I'm talking about Marcus Lee and Alex Poythress. Poythress has been snake-bit throughout his career with the Wildcats, being asked to play out of position as a three and tearing an ACL. He's a senior now and will finally have a chance to thrive as a purely effort guy at the four. That's his best role. And as for Lee, he's impressed in his limited minutes over the last two years, but playing well for spurts and proving to be a worthy starter on a team with national title aspirations are two very different things.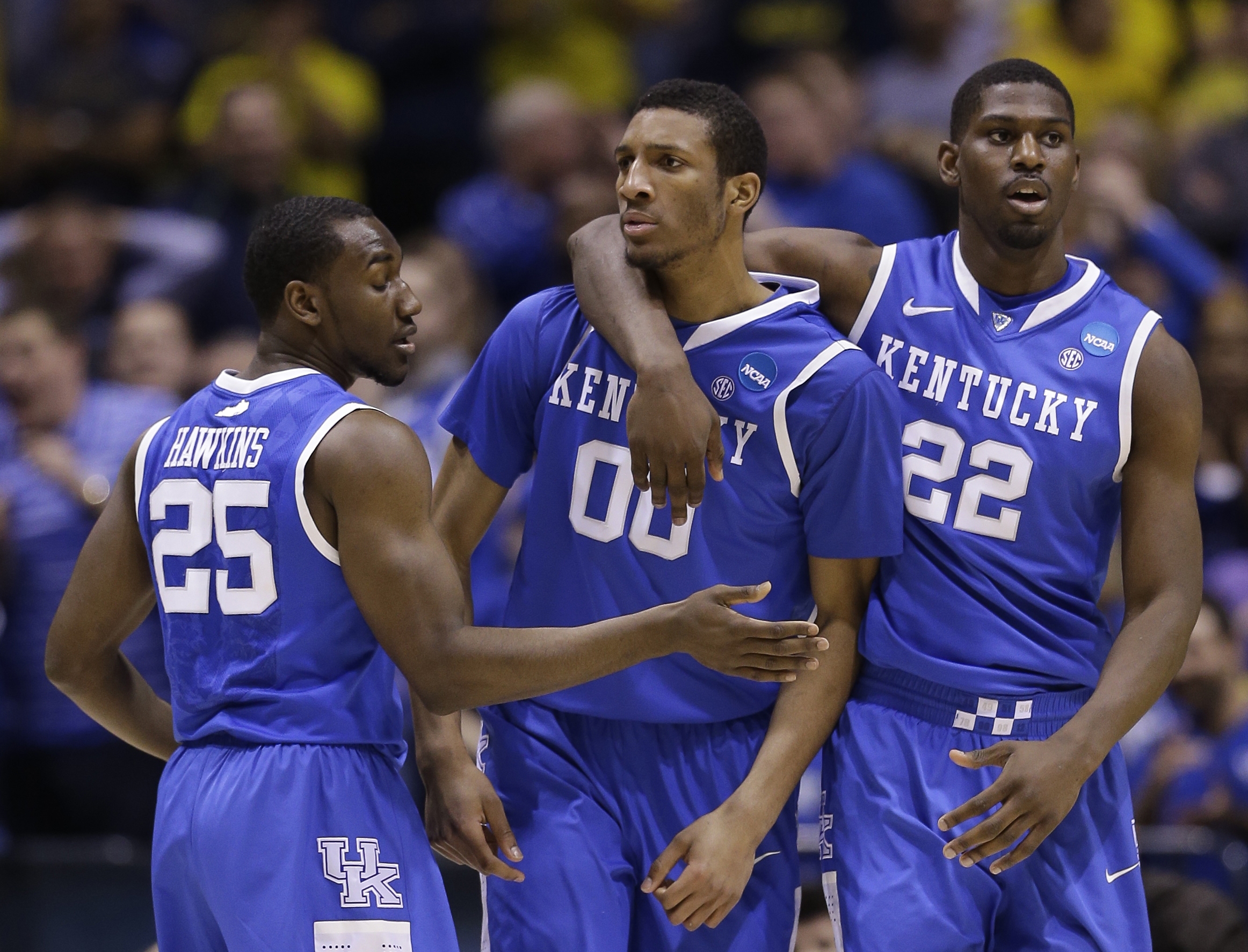 Charles Matthews and Isaiah Briscoe can also be lumped in here as well. Matthews has earned a rep for being a gritty, athletic wing defender that will fit will along side Tyler Ulis and Jamal Murray quite nicely. If the newly-slimmed down Isaiah Briscoe can embrace that role as well, it will make UK just that much more dangerous. I'm not as high on Briscoe as some others, but I love the idea of him being the fourth option in an offense.
MORE: Top leads guards | Top off guards | Top Wings | Top Bigs
Can Marial Shayok replace Justin Anderson?
Virginia returns quite a bit this season, namely all-american Malcolm Brogdon and head coach Tony Bennett, but the public is undervaluing just how much they're losing. Darion Atkins was an elite front court defender, one that will be tough to replace. But more notable is the loss of Anderson, who left a year early for the NBA. Anderson was the best shooter and perimeter defender on UVA's roster last season, and when he broke his thumb it changed the Cavs from a title contender to just another good team susceptible to getting picked off in the Round of 32. Sophomore Marial Shayok, as well as senior Evan Nolte, will be tasked with replacing him this season. They were not consistent in that role last year.
Rasheed Sulaimon the role player: Sulaimon was, more or less, kicked off of Duke because he struggled with the idea of buying into a role for the Blue Devils. They got awesome after he left. He's going to be asked to do the same thing with the Terps. Will he be OK with being the fourth, and sometimes the fifth, options on the offensive end of the floor? Is he truly volunteering to come off the bench? If he is, he's such a weapon for Mark Turgeon.
Purdue's shooting
Purdue's front line is awesome. A.J. Hammons, when he's dialed in, is as dominant at the five spot as anyone in the country, Isaac Haas looked really good in spurts last season and Caleb Swanigan may actually be the best of the three. Throw in guys like Vince Edwards and Rapheal Davis, and the Boilermakers are going to be able to overpower just about anyone in college basketball this season. The issue is going to be spacing. Is Swanigan skilled enough on the perimeter to create space for Hammons to operate, or will that force the freshman to play a role where he has less of an impact? Can Edwards and Davis shoot well enough from the perimeter to space the floor, or will Painter be forced to play guys like Ryan Cline and Kendall Stephens more minutes? How effective will Johnny Hill be? If it all comes together, Purdue has Final Four potential.
Rodney Bullock and Ben Bentil replacing 'Buckets'
The toughest job Ed Cooley will have this season is replacing LaDontae 'Buckets' Henton. Kris Dunn may be the best player in college basketball, but if he doesn't get any help from his supporting cast, what is the ceiling for this team? Fifth in the Big East? The Round of 32? Bentil was very good in spurts at the end of last season and Bullock enters this year with all the hype. Dunn needs them to be good if he's going to make any real impact this season.
EIGHT MORE X-FACTORS
Utah's point guard: Who replaces Delon Wright? Can Lorenzo Banum or Isaiah Wright take advantage of Jakob Poeltl's ability as a roll man in ball-screen actions? Delon made his teammates better. Does that mean we're overrating them this year?
Kelan Martin, Butler: Martin was promising as a freshman and should have a good sophomore season. But can his ability on the offensive end help make up for the loss of Kameron Woods' ability on the defensive end of the floor?
Texas freshmen: We know how good Isaiah Taylor is and we know how deep the Texas front line is. But if Kerwin Roach, Tevin Mack and Eric Davis can live up to the early hype, the Longhorns could end up being a top 25 team.
Kuran Iverson: The Rams are the most talented team in the Atlantic 10, but talent doesn't always win out at this level. Iverson, a 6-foot-9 wing, was at one point the No. 1 player in his high school class. He's that skilled. If he accepts his role on this team, they can be scary.
Josh Perkins at the point: Gonzaga's front line is huge, but people are forgetting that they are losing two four-year starters in the back court. In steps Perkins, who missed most of his freshman season with a broken jaw. Kevin Pangos left big shoes to fill.
Georgetown's big men: The Hoyas lost Josh Smith and Mikael Hopkins to graduation and Akoy Agau to a torn ACL. They've got the perimeter weapons and a handful of versatile four-men. But who plays the five — the Roy Hibbert, Henry Sims role — on this team, arguably the most important spot in JT III's offense?
Rashard Kelly's development: We know how good Ron Baker and Fred Van Vleet are but we don't know how good Wichita State's front line is going to be. Kelly, 6-foot-7 forward that had promising flashes as a freshman, is the guy some have pegged to take on a bigger role. Can he be that third option?