The point guard position has changed in recent years, evolving as basketball has become a more free-flowing, position-less game built around spacing and perimeter ability.
Look at the best of the best in the NBA: For every Chris Paul, there is a Russell Westbrook, or John Wall, or (healthy?) Derrick Rose. And that's impacted what NBA front offices look for in a point guard.
Tyus Jones slipped to the end of the first round in June's NBA Draft, with "new era" point guards such as D'Angelo Russell, Emmanuel Mudiay and Cameron Payne all getting snagged in the lottery.
That's why, even with his shooting percentages and turnover numbers, Providence's Kris Dunn is held in such high esteem by NBA types. Another player in that mold is California senior point guard Tyrone Wallace, who ranks among the best point guards in the country. But unlike Dunn, Wallace spent his first two seasons in college playing off the ball as Justin Cobbs ran the show for Mike Montgomery's teams.
That's what makes Wallace's first season as a full-time point guard at the college level all the more impressive.
Averaging 17.1 points, 7.1 rebounds and 4.0 assists per game, Wallace ranked in the top five in the Pac-12 in each of those categories. As a result he was not only a first team all-Pac-12 selection but a finalist for the Bob Cousy Award as well.
"The thing about his being a slasher is that it was the position he (played) in the previous system, and that's how they felt he fit into their program," California head coach Cuonzo Martin said when asked of Wallace's transition. "For us, he could already handle the ball so it's not like we had to teach him how to dribble. He had the handle and he could make plays off the dribble, that was his biggest strength."
"Now, the game has changed from a 'traditional' point guard in the last 15-20 years to a guy who can make plays, get to the rim, defend, score the ball, post up," Martin noted. "So there's a variety of things in being a point guard, it's not the traditional point that you're used to seeing. He fit that mold very well as far as attacking and making plays, and I thought his biggest adjustment was facilitating and getting guys involved within the offense.
"I think the thing he had to continue to learn was the ability to run the point at this level," Martin continued. "Because it's one thing to score, but now you have to facilitate and get other guys involved; you have to have eyes in the back of your head."
It isn't as if Wallace entered the 2014-15 without any experience in that kind of role. At the high school level Wallace was a standout at Bakersfield HS, setting a school record for career points and leaving ranked the 13th-best point guard in the Class of 2011 by Rivals.com. Wallace's athleticism, versatility and motor were some of the things that set him apart from the competition in high school.
RELATED: NBCSports.com's Pac-12 Season Preview
"When he came in as a freshman he was really long and skinny, but he was very competitive," Wallace's high school coach, Greg Burt, noted. "He had a motor that just wouldn't quit. He didn't play varsity as a freshman, but his JV team went undefeated that year. He just never quit. He played offense, defense, he rebounded. He could do it all. He was just so competitive, and with the motor he has he'd outwork people."
Wallace's versatility allowed him to fill multiple roles on both his high school and grassroots teams, so the adjustment process wasn't as difficult as it can be for a player making the move from a wing position to the point. And according to him, the process of improving his ability to play on the ball began back in middle school and he continues to see the benefits of learning multiple roles.
"It prepared me for any situation on the court," Wallace said. "Whether I'm on the ball or off of it I can stay on the floor (and have an impact). I don't have a set position that I have to play, and so I think that helped my skill set. Coach Burt prepared me well for college basketball, and now that I'm here I've constantly gotten better thanks to Coach Martin and the previous coaching staff."
Wallace's versatility has been a factor throughout his first three years at Cal, but there's also the leadership that will be critical for the Golden Bears this season. And while Wallace is the type of leader who more often than not sets the tone through actions as opposed to words, his behaviors have made him someone worth following according to his high school coach.
"Tyrone never really been a vocal leader, and I know that's something he's really worked hard on in college," Burt said. "But the one thing that he had was character. We like to say that 'character wins,' and he was an outstanding student, never had to worry about him missing class, he always did his homework and he never missed practice.
"He was just a guy that you could depend on every single day, and he was going to have a good attitude. He was more of a 'leader by example' kind of guy, but it was a great example."
Leadership was also something Wallace, who had the option of turning pro but decided to return to Berkeley for his senior season, has focused on during the offseason.
"I'm transitioning into being more vocal," Wallace said. "That's one thing Coach and me talked about, and that's something I've been working on this offseason. Whether it's been in weight training or workouts, just being that vocal leader on the court because when it comes down to it I have to be able to do that."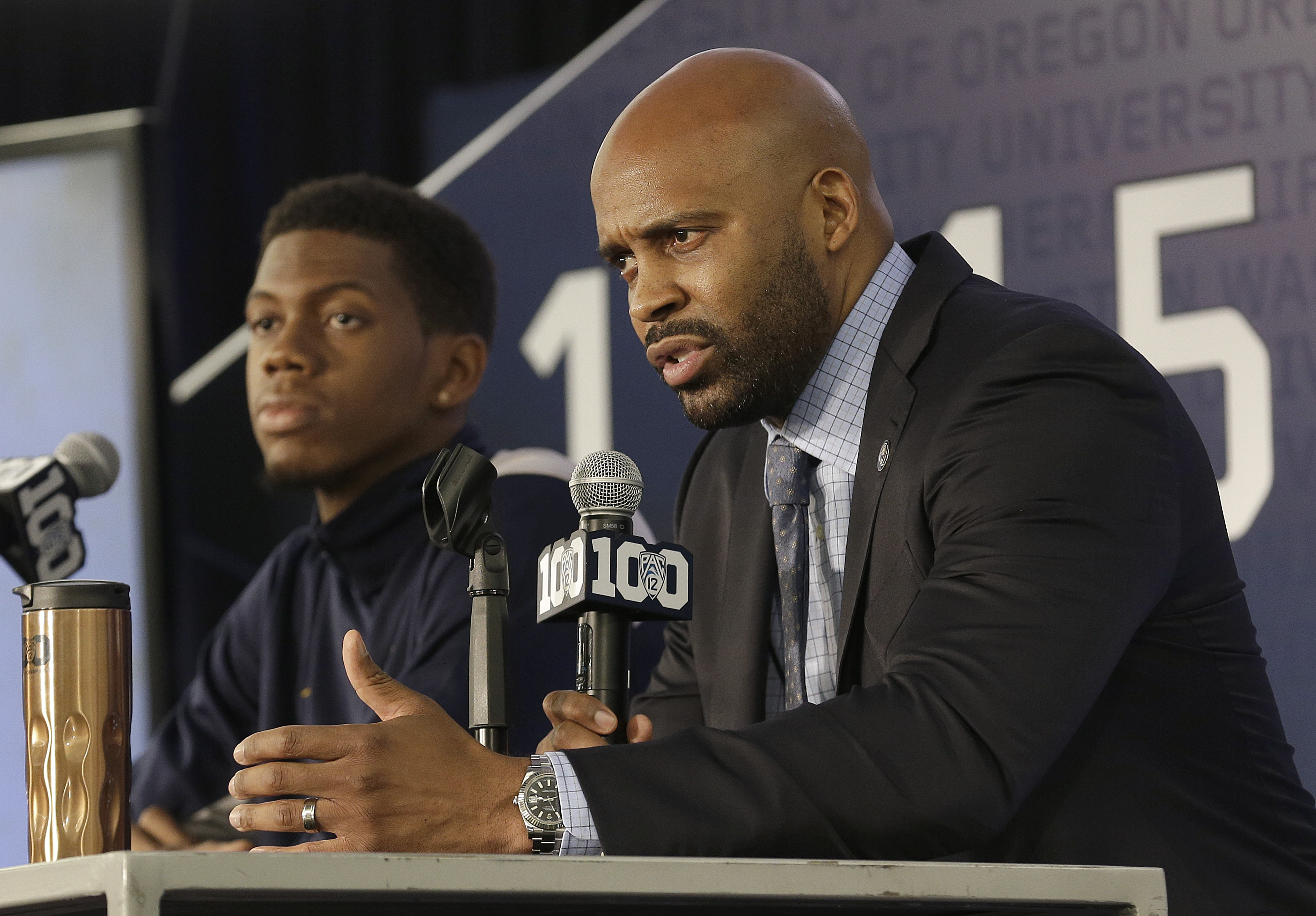 Wallace's leadership, whether it's vocal or through actions, will be critical for the Golden Bears this season. While he won't be the only experienced returnee in the rotation — guards Jordan Mathews, Sam Singer and Jabari Bird are all juniors and sophomores Kameron Rooks (coming off of a torn ACL) and Kingsley Okoroh return in the front court — Wallace runs the show for a revamped roster that faces raised expectations.
California put together one of the nation's top recruiting classes in the spring. Power forward and top ten prospect Ivan Rabb committed in April and top three recruit Jaylen Brown followed suit a month later. And with Georgetown transfer Stephen Domingo available after sitting out last season, many expect this group to not only contend in the Pac-12 but nationally as well.
But it's important to note that there are strides to be made, especially on the offensive end of the floor.
California won ten of their first 11 games last season before hosting eventual national runner-up Wisconsin in a game that presented the home team with another opportunity to make a statement nationally. Cal's 68-56 loss to the Badgers began a stretch in which they dropped eight of nine games, with offensive struggles being the biggest issue. Just twice during that period did Cal manage to score 60 points or shoot better than 40 percent from the field, turning a team with NCAA tournament aspirations into one fighting to remain above .500.
In conference games only, Oregon State (55.5 ppg) scored fewer points per game than Cal (65.2 ppg), which ranked 11th in the Pac-12 in free throw percentage and ninth in both overall field goal percentage and effective field goal percentage.
Given those stats, it's no surprise that Wallace was asked to carry the burden of both primary provider and primary scorer last season. This time around, Wallace won't have as much of a load to carry from a scoring standpoint.
At least that's the plan.
But does that mean Wallace turns back the clock and becomes a "traditional" point guard who looks at scoring as a last resort? No, and frankly that drastic of a move would be to the detriment of both Wallace individually and the Golden Bears collectively.
Martin wants his point guard to continue to be the attack-minded decision maker who is hailed as one of the nation's best. What helped in this process was the team's summer trip to Australia, which gave the coaches a good look at their personnel in a competitive setting and provided to players with valuable on-court time to establish chemistry within the flow of a game.
That's something that cannot always be replicated in the few hours during summer school that coaches get to work with players or in pickup games.
"You don't want to change [what he did last year]. You want him to keep being aggressive," Martin said. "When you add Ivan and Jaylen Brown, and also Stephen Domingo, I don't think it changes what Tyrone does for our team. He still has to facilitate, still has to score, make plays, defend, rebound.
"Now he doesn't have to carry such a load offensively, and that was really a need for us," Martin continued. "We need him to score in situations and force the action, but now he doesn't have to do that as much. But he still has to be aggressive."
And that aggression isn't just about Wallace's numbers. It's also about setting the example for his teammates, especially the soon-to-be stars that have yet to experience college basketball. The lone player on the roster to have experienced a win in the NCAA tournament, Wallace is now being asked to lead a team viewed as being capable of playing deep into March.
Actions are both great and necessary, but there will be times when Cal looks to Wallace to provide the words needed to reach their goals. Whether or not Wallace can rise to that particular challenge will determine just how far the Golden Bears go, and it's a responsibility he embraces.
"I definitely think it's necessary," Wallace said when asked about his increased vocal leadership. "With so little time to practice, when we're playing in games it's important that I be vocal because it's my fourth year and I've been through it before. Just to get guys in right spots, get their heads up, whatever it may be, just to constantly be talking and vocal with my teammates to help them."
After going 7-11 in conference play a season ago, California enters this season with lofty expectations. And while this group doesn't lack for the tangibles needed to reach their goals, the intangibles picked up by Wallace throughout his basketball career could determine just how far the Golden Bears go.