Beginning in October and running up through November 13th, the first day of the regular season, College Basketball Talk will be unveiling the 2015-2016 NBCSports.com college hoops preview package.
Today, we are previewing the American Athletic Conference.
The AAC is in for an awkward season as the league's best team — SMU — will likely be spending the majority of the season trying to win a yet-to-be-filed appeal with the NCAA that will allow them to participate in the NCAA tournament this season.
Then again, the AAC is one of those leagues whose existence still feels a bit awkward. The football-playing leftovers of the Old Big East, the AAC pairs some of the nation's top basketball programs — UConn, Memphis, Cincinnati, Temple — with some programs that make you wonder if you need to redefine if the AAC is truly a high-major conference — East Carolina, Tulane, UCF.
In recent years, there's been a clear-cut difference between the top of the conference and the bottom of the league. This year, with Houston and South Florida improving, that line may get a bit blurrier, but there is still a decided difference between the three or four real contenders — SMU, Tulsa, UConn and Cincinnati — and everyone else.
FIVE THINGS YOU NEED TO KNOW:
1. SMU could win the league but may not be postseason eligible: If you read this site than you're probably already aware of how I feel about the postseason ban the NCAA handed SMU. I hate it. I think it's morally wrong simply because the people that pay the ultimate price — seniors Nic Moore, Markus Kennedy and Jordan Tolbert — are the ones that are actually hurt here. Because this SMU roster, which also includes Keith Frazier (who earned them that ban), Ben Moore and Duke transfer Semi Ojeleye, is good enough to not only win the AAC regular season title, but they have the pieces — and the head coach — to make a Final Four run.
Here's to hoping that the appeal process takes six months. I want to see this team have a chance to play in March.
(UPDATE: Since this preview was published, SMU has announced that they will not appeal their postseason ban.)
2. This is the year for Tulsa to make their run: Frank Haith will never have a better chance than this to win the AAC. Looking beyond the fact that his backcourt of Shaq Harrison and James Woodard is as good as any in the league and that they are coming off of a season where they won 14 league games, the Golden Hurricane are about as old as you can get at the college level. They return their top seven scorers from last season — their first in the American and their first under Haith — and all seven of them are seniors. Tulsa's roster is stacked with enough talent to win the league, but it will also lose enough talent to ensure that Haith will have a significant rebuild on his hands beginning in 2016-17.
3. UConn's fifth-year seniors make the difference: Kevin Ollie has talent. There's no question about that. Daniel Hamilton has a shot at being the AAC Player of the Year. Rodney Purvis was a top 15 recruit. Amida Brimah is one of the nation's best shot-blockers. Jalen Adams is a stud. But the keys to this Husky team are going to be the fifth-year additions, Seton Hall transfer Sterling Gibbs and Cornell transfer Shonn Miller. Gibbs is exactly the kind of lead guard that has carried UConn in recent years, while Miller is exactly the kind of do-it-all four-man that the Huskies were missing last year.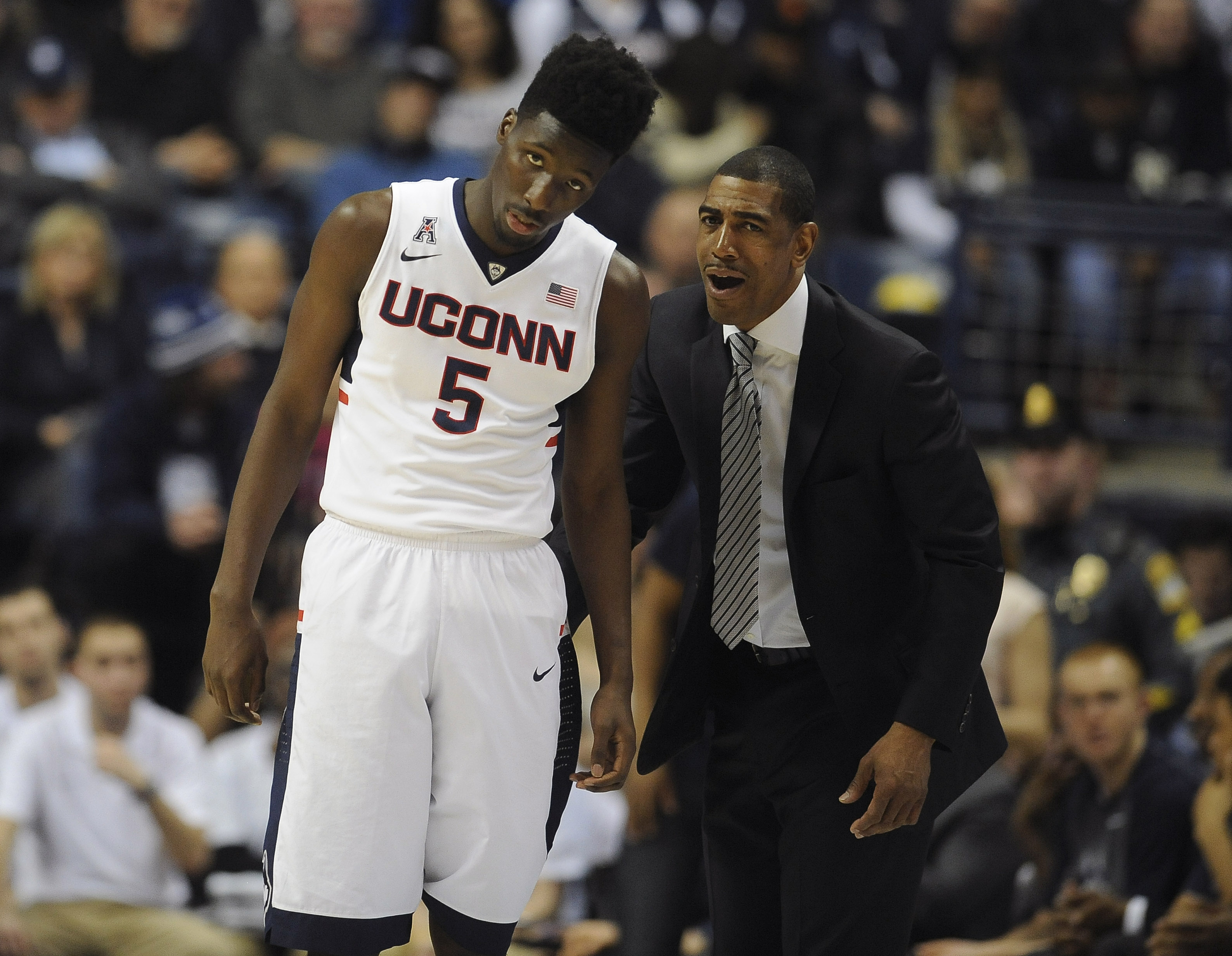 4. Memphis lost their best player: Josh Pastner really cannot catch a break. In July of this year, the Tiger head coach found out that Austin Nichols, who would have had a decent argument for being the Preseason Player of the Year, was leaving the program. The Tigers do add Dedric and K.J. Lawson, and Ricky Tarrant should theoretically help stabilize things at the point guard spot, but unless Kedren Johnson has magically turned into the guy he was three years ago at Vanderbilt or Shaq Goodwin has taken a giant step forward, the Tigers are probably the fifth-best team in the AAC, and that's being optimistic. Another year without a trip to the NCAA tournament could mean that Pastner's tenure in Memphis is over.
5. Don't forget about Cincinnati with Mick Cronin back: Cincinnati's fiery head coach Mick Cronin missed the majority of last season as he dealt with an unruptured aneurysm in his brain. He's back now, and he should have the pieces to make an NCAA tournament run. Troy Caupain is back to captain the squad, while the likes of Octavious Ellis and Gary Clark return inside. In fact, Cincinnati essentially returns everyone that matters from last year, but the x-factor this season could end up being the addition of Justin Jenifer, a pint-sized point guard that could fill a role Cincy was missing a year ago.
MORE: 2015-16 Season Preview Coverage | Conference Previews | Preview Schedule
COACH'S TAKE:
Favorite: "SMU. They are as good as anyone in the country, even with the ban. Nic Moore, the Player of the Year, is coming back, and they still have a guy like Markus Kennedy, who crushed us. When we played them we had control of the game until he went totally bonkers. We couldn't handle him."
Sleeper: "Houston. I think they will make a jump in what they were last year to this year. Kelvin Sampson is a really good coach and they add some kids (Ronnie Johnson, Damyean Dotson). They already had some players, too."
Best player: "This may be surprising, but I think Daniel Hamilton at UConn is a terrific, terrific player. He's one of the better players in the country and I think he's going to be in line to have a breakout year."
Most underrated player: "James Woodard at Tulsa. I'm sure people in the league realize he's a good player, but I think that he's one of the premier guards in the league. And I know how good some of the guards in the league are."
PRESEASON AMERICAN PLAYER OF THE YEAR: Nic Moore, SMU
Moore, the reigning AAC Player of the Year, has been sensational in his first two seasons with the Mustangs after transferring into the program from Illinois State. As a junior, he averaged 14.5 points, 5.1 assists and 2.3 boards while shooting 41.6 percent from three. He's the best guard in a league that's stocked with talented perimeter players, and it's a shame that his career looks like it's going to be remembered by a postseason ban and a game-losing goaltend.
THE REST OF THE AMERICAN FIRST TEAM:
Daniel Hamilton, UConn: Hamilton averaged 10.9 points as a freshman despite, at times, showing questionable shot selection and decision-making. Entering school with the rep of being a pure scorer, he also produced 7.2 boards and 3.7 assists a night.
Sterling Gibbs, UConn: Gibbs is a perfect piece for Kevin Ollie. A talented, veteran lead guard capable of taking over games and with the intestinal fortitude to take and make big shots. Hopefully, UConn fans forgive him for being related to Ashton.
James Woodard, Tulsa: Woodard's reputation is that of being a spot-up shooter, but he could very well end up being the best player on a team that will once again challenge for the regular season title.
Markus Kennedy, SMU: Kennedy's numbers as a junior were impacted after he was ineligible for the first semester last season. He's the best low-post player in the conference and a piece that can take over a game when he needs to.
FIVE MORE NAMES TO KNOW:
Shaquille Harrison, Tulsa
Amida Brimah, UConn
Troy Caupain, Cincinnati
Louis Dabney, Tulane
Quentin DeCosey, Temple
BREAKOUT STAR: Gary Clark, Cincinnati
Clark is a prototype Cincinnati front court player: long and athletic with a motor that doesn't stop running, and on a team that's built around toughness, defense and outworking their opponents, Clark is a perfect fit. The 6-foot-8 sophomore isn't going to put up huge numbers — he averaged 7.8 points, 7.2 boards and 1.3 blocks on a team that didn't have a double-figure scorer last season — but he's going to be an integral piece if the Bearcats make a run at a league title.
COACH UNDER PRESSURE: Josh Pastner, Memphis
This one is obvious. It feels like Pastner's job has been on the line since he took over for John Calipari. While the success he's had with the Tigers has been in line with just about every coach in the program's history, he had the misfortune of following in Cal's footsteps. The standards he has to live up to are overwhelming, and, needless to say, Pastner has not lived up to them. With Austin Nichols, arguably the best big man in the league last season, transferring out of the program this summer, Pastner is staring down the barrel of another season without an NCAA tournament trip. He better hope those Lawsons are the real deal.
ON SELECTION SUNDAY WE'LL BE SAYING … : SMU should not be sitting out of the NCAA tournament. They could have made the Final Four.
I'M MOST EXCITED ABOUT : The perimeter battles at the top of the league. Nic Moore and Keith Frazier vs. Sterling Gibbs and Daniel Hamilton vs. Jordan Woodard and Shaq Harrison.
FIVE NON-CONFERENCE GAMES TO CIRCLE ON YOUR CALENDAR:
Feb. 13, Gonzaga at SMU

Nov. 25, UConn vs. Michigan
Dec. 8, UConn vs. Maryland
Nov. 17, Wichita State at Tulsa
Dec. 12, Cincinnati vs. Xavier
ONE TWITTER FEED TO FOLLOW: @NoEscalators
PREDICTED FINISH
1. SMU: The best coach, the best point guard and the best big man. Whether or not they are eligible for the postseason, the Mustangs are the best team in the conference.
2.UConn: Landing Gibbs, Miller and Adams was key, but it will be the development of Hamilton, Purvis and Brimah that determines just how good the Huskies are this season.
3. Tulsa: A senior-laden squad, a talented backcourt and a year under their belt in a new league with a new coach. This is the season for the Golden Hurricane to make their run.
4. Cincinnati: It feels weird calling Cincinnati a sleeper, but that's what the Bearcats are this year. Nothing they do is going to be glamorous, but there are few coaches that thrive are better blue collar coaches than the now-healthy Mick Cronin.
5. Houston: The Cougars are the most intriguing team in the AAC this year. They have a roster stocked with big names and a coach in Kelvin Sampson that has already proven how good he is. But they also had quite a bit of talent on the roster last season and they finished 4-14 in the league. Ronnie Johnson, L.J. Rose, Damyean Dotson, Devonta Pollard and Chicken Knowles. That roster should be relevant.
6. Temple: Losing Will Cummings will hurt, Jaylen Bond and Quentin DeCosey should be able to anchor a roster that returns some promising young talent.
7. Memphis: Losing Austin Nichols was a brutal blow, but if either Johnson or Tarrant solidifies the point guard spot, the Tigers should have enough on their roster to make an NCAA tournament push.
8. South Florida: Corey Perry Jr. graduated, but Roddy Peters, a former top 25 recruit, should be able to replace that production.
9. Tulane: The Green Wave return Louis Dabney and add Washington transfer Jernard Jerreau to help bolster their front court.
10. East Carolina: B.J. Tyson has a chance to put up some impressive numbers this season. 'Wins' may not be one of those numbers.
11. UCF: Am I the only one hoping that Donnie Jones pairs 7-foot-6 Tacko Fall and 6-foot-9, 330 pound Justin McBride in his front court?