Beginning in October and running up through November 13th, the first day of the regular season, College Basketball Talk will be unveiling the 2015-2016 NBCSports.com college hoops preview package.
Today, we are previewing the Atlantic 10 Conference.
Last year, many people were reminded never to bet against Bob McKillop. The Davidson coach, in a new league for the first time in 23 years, took little time navigating his way to the top of the conference standings, leading the Wildcats to the Atlantic 10 regular season title.
Davidson graduated Tyler Kalinoski, the A-10 Player of the Year, but there's reason to believe the Wildcats can repeat in the A-10 this season. The back court is anchored by Jack Gibbs and Brian Sullivan, both of whom averaged double figures and finished top-3 in the league in assists. Jordan Barham, as 6-foot-4 senior who led Davidson is rebounding, adds another upperclassmen on the perimeter. The front court will build off of last year's experience with six forward logging 10 or more minutes, including Payton Aldridge and Jake Belford, who was missed all but six games last season.
The Wildcats may be a favorite to repeat, but no team in the A-10 has as much upside as Rhode Island. The Rams are coming off a 23-win season, bringing back all-conference selections E.C. Matthews and Hassan Martin, along sophomores Jared Terrell and Jarvis Garrett. The roster was bolstered by the additions of graduate transfer Four McGlynn, who will help with the Rams' deficiency behind the 3-point line, and Kuran Iverson, the ex-Memphis forward and former top 30 recruit, who will create matchup problems for opposing defenses.
The Dayton Flyers have become a team no one wants to be paired with on Selection Sunday. Archie Miller's team has won five games in the last two tournament appearances and is primed for another postseason appearance with Kendall Pollard, Scoochie Smith and Kyle Davis returning. James Madison transfer Charles Cooke and redshirt big man Steve McElvene could both make an immediate impact. At the moment, Dyshawn Pierre is not with the team. It's a blow to the roster, but remember, Miller was able to guide the Flyers to a 20-7 finish after dismissing two players last winter.
The major offeseason storyline in the Atlantic 10 occurred in April when Shaka Smart left for Texas. Chattanooga head coach and former VCU assistant Will Wade takes over a program dealing with the graduation of two of the program's all-time greats, Treveon Graham and Briante Weber, and departures of some of Smart's top recruits (Terry Larrier and 2015 commits Tevin Mack and Kenny Williams). However, Melvin Johnson, Mo Alie-Cox and JeQuan Lewis is a solid core to have in Wade's first season.
George Washington and Richmond headline a list of teams that could fight to round out the top fiver. The Colonials have one of the best starting fives in the league, but depth could be a concern. The Spiders return Terry Allen and T.J. Cline, but lose Kendall Anthony. ShawnDre' Jones will step into that role after earning A-10 Sixth Man of the Year honors.
FIVE THINGS YOU NEED TO KNOW:
1. Shaka Smart gone, Havoc remains: Texas was able to uproot Shaka Smart from VCU this spring. VCU was quick to hire Smart's former assistant, Will Wade, who had built Chattanooga into a Southern Conference contender in just two seasons. In Wade's introductory press conference, he made it clear, "Havoc still lives here." Wade served on Smart's staff for four years, which included the 2011 Final Four run.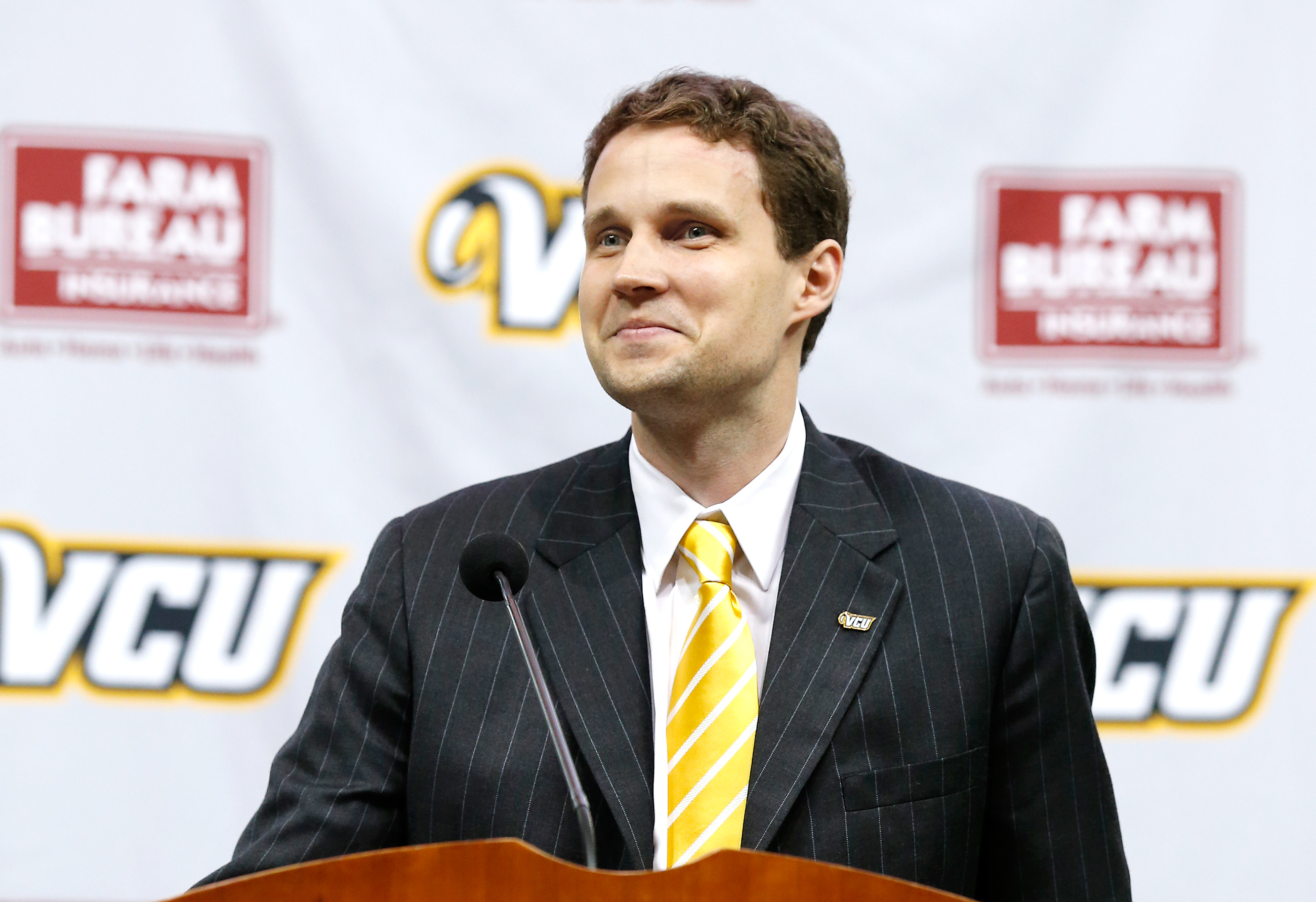 2. Dyshawn Pierre suspended: The 6-foot-6 senior forward was suspended for the entire fall semester back in September. He was the team's top returning scorer and rebounder at 12.7 points and 8.1 boards per game. The Flyers could be without the versatile forward for marquee non-conference games against Vanderbilt and at the AdvoCare Invitation in Orlando, which includes potential matchups against Notre Dame and Wichita State/Xavier. He is currently fighting this suspension.
3. Rhody rising: The fourth year of Dan Hurley's tenure in Kingstown is expected to end with the Rams first NCAA tournament appearance since 1999. Rhode Island finished third in the A-10 standings last year, but settled for an NIT bid. Rhode Island has the most talent in the league, bringing back E.C. Matthews, Hassan Martin, Jared Terrell and Jarvis Garett, while adding transfers Kuran Iverson and Four McGlynn, both of whom immediately eligible. Is that enough to dethrone Davidson and stave off Dayton and VCU?
4. Coming off a 'down year?': Following back-to-back seasons in which the league earned five and six NCAA tournament bids, the A-10 sent just three (Davidson, Dayton and VCU) to the Big Dance in March. Entering this season, you'd expect all Davidson, Dayton, Rhode Island and VCU to be in the conversation.
5. A big slate on NBCSN: Twenty-four Atlantic 10 Conference games, in addition to two rounds of the Atlantic 10 Tournament, will be aired on the NBC Sports Network.
MORE: 2015-16 Season Preview Coverage | Conference Previews | Preview Schedule
COACH'S TAKE:
Favorite: "I think someone has to prove that they're better than Davidson. I know they lost a good player, but their style of play is never predicated on a star system or on a single player. I'd have to go with Davidson until someone proves otherwise."
Sleeper: "I'd say George Washington or Richmond. Those are two teams I'd really keep my eye on."
Best player:

"DeAndre Bembry. When people use the phrase, 'he does everything,' it's usually exaggerated. It's not exaggerated in his case. He's outstanding at just about every area of basketball. He can rebound, he can defend, he can pass, he obviously can score, he can make threes, he can finish. … I really think he's a great NBA prospect."
"Bembry. He can shoot the three, he post up, he can get offensive rebound. I think he can do it all. I think he's the complete package. He's too big for most small forwards to guard him and he's too versatile and skilled for power forwards."

Most underrated player:

"I think Kendall Pollard should have been all-league. I don't know how underrated he is, but I think a guy who doesn't get as much attention is Hassan Martin at Rhode Island. I think he's terrific."
"Probably, [Patricio] Garino. Are people talking about him? I think he's gotten better every year. He had a great summer against a high-level of competition."
PRESEASON ATLANTIC 10 PLAYER OF THE YEAR: DeAndre Bembry, Saint Joseph's
Giving a guy on a sub-.500 team player of the years honors is a tough sell. Perhaps that's why Bembry wasn't named Atlantic 10 Player of the Year as a sophomore. No player in the Atlantic 10 has more of an impact on his team than 6-foot-6 forward. Bembry logged a ridiculous 38.6 minutes per game (tops in Division I) and won the A-10 scoring title at 17.7 points per game. He finished in the top-10 in points, rebounds, assists and steals.
THE REST OF THE ATLANTIC 10 FIRST TEAM:
Jack Gibbs, Davidson: The junior point guard went for 20 or more six times (missed seven games to injury). He also led the A-10 in assists at 4.8 per game
Hassan Martin, Rhode Island: The 6-foot-7 forward was a second-team A-10 selection, corralling 7.7 boards and blocking 3.1 shots per game, sixth-best in the NCAA.
E.C. Matthews, Rhode Island: URI's top returning scorer averaged 16.9 points per game and like Martin second team A-10 selection
Jordan Price, La Salle: The redshirt junior was second in the Atlantic 10 in scoring at 17.2 points per game.
FIVE MORE NAMES TO KNOW:
Patrico Garino, George Washington
Melvin Johnson, VCU
Kuran Iverson, Rhode Island
Kendall Pollard, Dayton
ShawnDre' Jones, Richmond
BREAKOUT STAR: Donte Clark, UMass
The 6-foot-4 freshman was inserted into the starting lineup in early January. He had his ups-and-downs scoring, but ending the season averaging 14.4 points per game in the last five games. Clark could be a big part of UMass' future, one that has one of conference's top recruiting classes coming in.
COACH UNDER PRESSURE: Jim Ferry, Duquesne
Ferry received a contract extension at the end of June despite failing to finish better than 10th in the A-10 standings in three seasons at the helm. While he doesn't appear to be on the hot seat, that act of good faith comes with the expectations that the Dukes will improve this upcoming season.
ON SELECTION SUNDAY WE'LL BE SAYING … : The same old same old, arguing about the A-10 getting too many bids, or not enough bids
I'M MOST EXCITED ABOUT : Is there another surprising team?
Last season, newcomer Davidson was slotted 12th in the preseason before winning the regular season title. In 2013, George Washington, picked 10th in the preseason, reached the program's first tournament in seven years. From the coaches' quotes above, George Washington and Richmond will be in the conversation. But what about that next tier of teams? St. Joe's and La Salle both benefit by having two of the top scorers in the league, while St. Bonaventure and Duquesne each have experienced lineups. Will any of those teams defy preseason projections?
FIVE NON-CONFERENCE GAMES TO CIRCLE ON YOUR CALENDAR:
Nov. 16, Virginia at George Washington
Nov. 20, VCU vs. Duke (in New York)

Nov. 26, Dayton vs. Iowa (in Orlando)*
Dec. 5, Providence at Rhode Island
Dec. 6, Davidson at North Carolina
*Dayton could renew a rivalry with Xavier at the AdvoCare Invitational
ONE TWITTER FEED TO FOLLOW: @CDiSano44
PREDICTED FINISH
1. Davidson: Yes, Tyler Kalinoski is gone, but Bob McKillop returns three guards who averaged double figures, including Jack Gibbs. Wildcats also have a experienced frontline.
2. Rhode Island: The Rams is the most talented team in the A-10 led by E.C. Matthews and Hassan Martin. But that February slate is brutal. URI is at VCU, at Davidson and at Dayton in three of their last six regular season games.
3. Dayton: The Flyers were expected to return four starters, but as of right now, the status of Dyshawn Pierre remains uncertain. Dayton still has the chemistry and depth to make a run at the A-10 title.
4. VCU: Depending on how graduate transfer Korey Billbury fits in to the offense alongside JeQuan Lewis, Melvin Johnson and Mo Alie-Cox, this could be a really good first year for Will Wade.
5. George Washington: A veteran lineup of brings back Joe McDonald, Patricio Garino and Kevin Larsen and adds 6-foot-10 transfer Tyler Cavanaugh. But do the Colonials have the depth to support a talented starting lineup?
6. Richmond: The loss of Kendall Anthony is tough, but the trio of ShawnDre' Jones, Terry Allen and T.J. Cline make the Spiders a real sleeper in the A-10 this season.
7. St. Bonaventure: The Bonnies could be another surprise team, returning Marcus Posley, Dion Wright and Jaylen Adams.
8. La Salle: The Explorers took an early foreign tour to Prague in May, hoping to jumpstart a 2015-16 campaign in which players are stepping into larger roles alongside the returning Jordan Price.
9. Duquesne: Derrick Colter and Micah Mason, two of the better 3-point shooters in the A-10, will have no issues putting up points, but the Dukes will need to focus on limiting points on the other end. Duquesne gave up the most points per game in the A-10 last season.
10. Saint Joseph's: The Hawks have arguably the best player in the conference, but DeAndre Bembry will need some help.
11. Saint Louis: Four starters back could lead the Billikens to a higher finish. In order to do so, Saint Louis will need to make major improvements to its offense, which ranked the worst in the conference.
12. UMass: A streak of three straight 20-win seasons was snapped in 2014-15. Despite a stable back court, Minutemen are likely enter a rebuilding season after losing Cady Lalanne, Maxie Esho and Derrick Gordon.
13. George Mason: A rebuilding effort begins under Dave Paulsen, who is taking over a program that will celebrate the 10th anniversary of its Final Four run this spring. The Patriots return three starters, including 6-foot-11 center Shevon Thompson, who averaged a double-double last season.
14. Fordham: Jeff Neubauer inherits a 10-win team that saw Eric Paschall, the 2015 Atlantic 10 Rookie of the Year, transfer to Villanova.