Beginning in October and running up through November 13th, the first day of the regular season, College Basketball Talk will be unveiling the 2015-2016 NBCSports.com college hoops preview package.
Today, we are previewing the West Coast Conference.
The West Coast Conference sent two teams to the NCAA tournament last season in Gonzaga, which fell to eventual national champion Duke in the Elite Eight, and BYU. Another multi-bid year seems likely in 2015-16, but there are some questions to be answered as well. Both of the league's marquee teams lose key contributors on the perimeter, and while there's room for optimism in Spokane and Provo, the same can be said for a Pepperdine team that returns all five starters. While the favorites seem clear, the WCC race could potentially offer up some surprises as well.
FIVE THINGS YOU NEED TO KNOW:
1. Gonzaga will have to replace a large portion of its perimeter rotation: The top three contributors from a backcourt that helped lead Mark Few's team to a school-record 35 wins have all moved on, as Kevin Pangos, Gary Bell Jr. and Byron Wesley are out of eligibility. Into those roles will step players such as seniors Eric McClellan and Kyle Dranginis, sophomore Silas Melson and redshirt freshman Josh Perkins. The good news for Gonzaga: they're loaded in the front court. The bad news: their three best players (Kyle Wiltjer, Domas Sabonis and Przemek Karnowski) likely cannot be on the floor at the same time.
2. BYU has to account for the graduation of Tyler Haws: The Cougars return three starters from last season's WCC runner-up squad, led by an NCAA record-holder (most career triple-doubles) in Kyle Collinsworth, and the front court's healthy after struggling with injuries. But Dave Rose will need to account for the loss of Tyler Haws, who left Provo as the program's all-time leading scorer. Among those who will look to fill that void are Chase Fischer and Nick Emery, the latter returning from a two-year LDS mission. Haws became of the best scorers in the country after taking his mission. Can Fischer or Emery follow in those footsteps?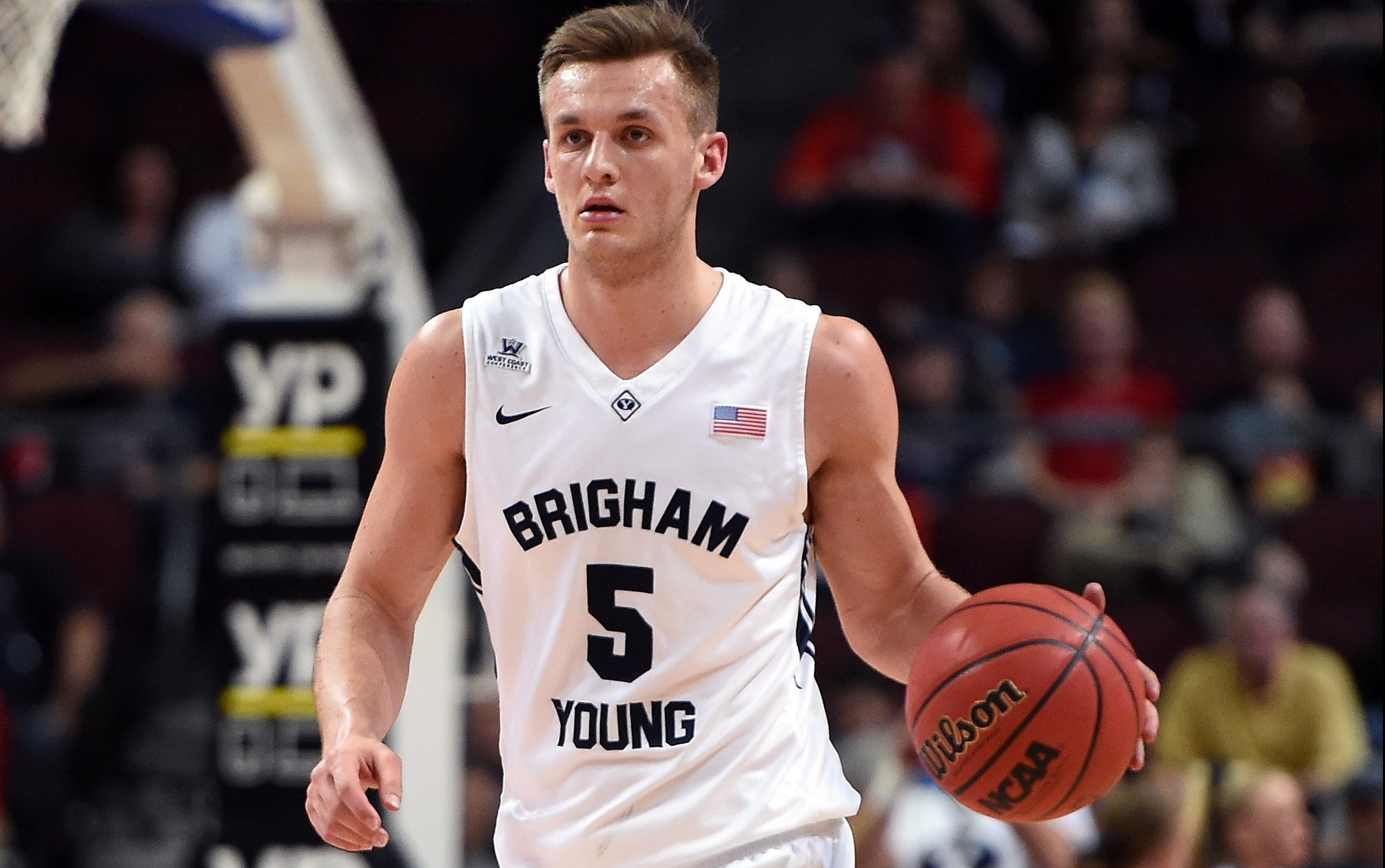 3. There's just one coaching change in the WCC: The lone change occurred at San Diego, where alum Lamont Smith has returned to take over following the firing of Bill Grier. Smith will have to account for the graduation of the program's all-time leaders in scoring (Johnny Dee), assists and steals (Christopher Anderson for both).
4. Saint Mary's has a lot to replace from last season: The Gaels returnees made a total of 16 starts last season (sophomore guard Emmett Naar had nine), and five of the team's top six scorers are gone. The most notable departure is forward Brad Waldow, a first team all-conference selection who led the team in points, rebounds and blocks. That's a lot of production for Randy Bennett to have to replace.
5. Pepperdine returns all five starters from last season: Head coach Marty Wilson has a talented group to work with, led by All-WCC forward Stacy Davis, and this could be the year in which they crack the Gonzaga/BYU/Saint Mary's triumvirate. With both depth and experience, and an emerging All-WCC caliber player in sophomore guard Shawn Olden, the Waves are a team to be respected.
MORE: 2015-16 Season Preview Coverage | Conference Previews | Preview Schedule
COACH'S TAKE:
Favorite: "It's Gonzaga. They're going to be young in the backcourt, but they've got a lot of talent and experience in the front court, and Mark's program has just been so consistent over the years."
Sleeper: "Everyone's going to tell you Pepperdine because they won 18 games last year and the whole team's back. That's the natural selection based on their success, the type of team they have and the fact that they're built around a potential Player of the Year candidate in Stacy Davis. When you have guys like that, guys that have been around, they certainly have the opportunity to take that step this year."
Best player: "I think it's a tossup between Kyle Wiltjer and Kyle Collinsworth. I would have voted for Wiltjer for Player of the Year last year but he wasn't on the ballot. But I'd say that one of those two is the best player in our league."
Most underrated player: "I don't know if you can call Sabonis underrated, but to me he's the guy who has the best chance to have the longest pro career based on his efficiency, his footwork and size. I think he's kinda caught behind two other good players in Wiltjer and Karnowski. But I think [the most underrated player] will show itself early, because there are plenty of opportunities for some of these guys to establish themselves."
PRESEASON WCC PLAYER OF THE YEAR: Kyle Wiltjer, Gonzaga
Wiltjer's first season on the court for Gonzaga was a highly productive one, as he was named the WCC's top newcomer and made some All-America lists as well. Wiltjer accounted for 16.8 points and 6.2 rebounds per game, shooting better than 54 percent from the field and 44.6 percent from three.
THE REST OF THE WCC FIRST TEAM:
Jared Brownridge, Santa Clara: Averaged 15.9 points per game as a sophomore, making 93 three-pointers (2nd in the WCC) as well.
Kyle Collinsworth, BYU: One of the nation's most versatile players, Collinsworth was second in the WCC in both rebounding (8.7 rpg) and assists (6.0 apg) last season.
Stacy Davis, Pepperdine: WCC Rookie of the Year as a freshman in 2012-13, Davis has been a first team All-WCC selection in each of the last two seasons.
Domas Sabonis, Gonzaga: Sabonis (9.7 ppg, 7.1 rpg) led the WCC in field goal percentage (66.8) as a freshman, and he'll see more playing time this year.
FIVE MORE NAMES TO KNOW:
Przemek Karnowski, Gonzaga
Alec Wintering, Portland
Emmett Naar, Saint Mary's
Chase Fischer, BYU
Tim Derksen, San Francisco
BREAKOUT STAR: Chase Fischer, BYU
After transferring in from Wake Forest, Fischer had a solid first season at BYU as he averaged 13.2 points per game. With Tyler Haws out of eligibility Fischer will have the opportunity to do even more offensively. During the team's trip to Spain this summer Fischer averaged a team-best 17.5 points per game.
COACH UNDER PRESSURE: Kerry Keating, Santa Clara
After winning the CBI in 2013, the Broncos have won 14 games in each of the last two seasons. Injuries have been an issue at times, but two winning seasons in eight at the helm may lead to fans asking some questions of the head coach. That being said, this year's group led by junior guard Jared Brownridge could be the ones who turn things around.
ON SELECTION SUNDAY WE'LL BE SAYING … : Does Gonzaga have the guard play needed to make a run deep into March?
I'M MOST EXCITED ABOUT : Seeing whether or not Pepperdine (or someone else) can crack the "big three" of Gonzaga, BYU and Saint Mary's.
FIVE NON-CONFERENCE GAMES TO CIRCLE ON YOUR CALENDAR:
December 5, Arizona at Gonzaga

December 2, BYU at Utah
November 19, Pepperdine at UCLA
December 12, Saint Mary's at California
December 5, Boise State at Portland
ONE TWITTER FEED TO FOLLOW: @WestCoastConvo
PREDICTED FINISH
1. Gonzaga: The front court is one of the nation's best. How far Few's Bulldogs go nationally will depend upon the progression of their backcourt.
2. BYU: No more Tyler Haws, but one of the nation's most versatile players (Kyle Collinsworth) returns to lead the way as a senior.
3. Pepperdine: After winning 18 games last season the Waves should be even better with one of the program's all-time greats in Davis leading the way.
4. Saint Mary's: The Gaels have finished in the top half of the WCC every year since 2003, but Randy Bennett has a lot to replace from last year's 21-win team.
5. Portland: Portland picked up some valuable postseason experience in the CIT, and the return of junior Alec Wintering and senior Bryce Pressley helps matters as well.
6. Santa Clara: The Broncos lost two of their top three scorers in Brandon Clark and Denzel Johnson, but Jared Brownridge returns to lead a young but talented crop of guards.
7. Pacific: Ron Verlin welcomes back three of his top four scorers from last season, led by junior guard T.J. Wallace. This should be the Tigers' most competitive team since they re-entered the WCC in 2013.
8. San Francisco: Tim Derksen and Devin Watson combined to average 21 points per game last season, but the Dons lost three productive starters and have a total of five returning letterwinners.
9. San Diego: Losing Anderson and Dee really hurts, but players such as Jito Kok and Duda Sanadze will help Lamont Smith in his coaching debut.
10. Loyola Marymount: Losing talented guard Evan Payne (transferred to Long Beach State) hurts for a team in need of offensive firepower.