Assistant coaches lay low and out of the spotlight most of the time, getting tireless amounts of work done to recruit and scout for upcoming games. This offseason saw a number of teams make nice additions to their staffs in the form of assistant coaches. While some guys on this list are connected recruiters, others are former head coaches who add a lot in player development, game planning or advance scouting. Here's ten programs who made impact assistant coaching moves this offseason.
Bob Simon, Alabama: With Avery Johnson being new to the college game, the hire of associate head coach Bob Simon was invaluable to the Crimson Tide. With over 20 years of college coaching experience, Simon has been apart of successful stints as an assistant coach at Providence, Fairfield and Toledo. An associate head coach under Ed Cooley at both Providence and Fairfield, Simon has coached and developed some very talented players.
Brian Merritt and Rashon Burno, Arizona State: While Bobby Hurley was smart to bring Levi Watkins with him from Buffalo, he finished out his assistant staff with the hiring of two noted recruiters. Merritt just spent the past five years as the right-hand man of legendary basketball coach and trainer John Lucas, so he brings deep national connections to Tempe including players like Thon Maker and Mario Kegler. Besides being strong on the recruiting trail, Burno should help Arizona State's guards develop much like he helped in previous stops at Florida and Manhattan.
Mark Phelps, Arizona: Although Arizona lost popular assistant Damon Stoudamire to Memphis, they replaced him with the experienced Phelps, who has been an assistant at places like Marquette, Missouri, Arizona State and N.C. State while also serving five years as head coach at Drake. Phelps knows how to recruit in the state of Arizona having been associate head coach for the Sun Devils at one point, and he should also aid Miller in every facet.
MORE: 2015-16 Season Preview Coverage | Conference Previews | Preview Schedule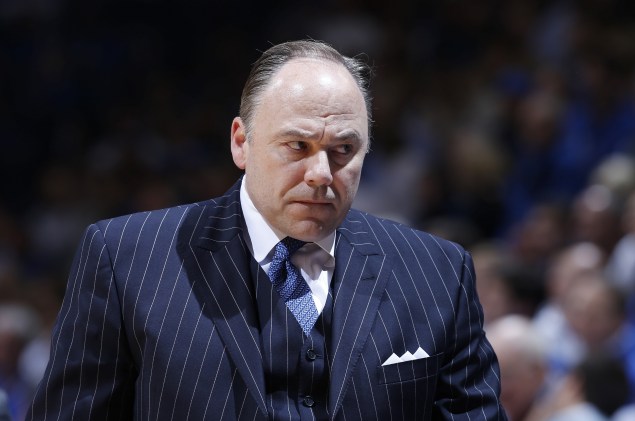 Barry "Slice" Rohrssen and Matt Abdelmassih, St. John's: The return of Chris Mullin is obviously the big news for St. John's fans this offseason, but the addition of two Brooklyn natives — and strong recruiters — on Mullin's staff should help the Red Storm quite a bit. Rohrssen, the associate head coach, brings over 20 years of coaching experience, including recent assistant stints at Kentucky and Pitt, as well as a head coaching stop at Manhattan. Abdelmassih is a St. John's alum who did well recruiting transfers at his previous stop as an assistant coach at Iowa State. Both should bring talent into St. John's and help with the rebuild.
T.J. Otzelberger, Iowa State: Steve Prohm has to be pleased that veteran Cyclone assistant T.J. Otzelberger decided to stay once Fred Hoiberg left for the Chicago Bulls. Otzelberger returns to Ames this season after a stint as associate head coach at Washington. Before leaving for Washington, Otzelberger spent seven seasons on the Iowa State bench as he was in charge of opponent scouting reports, game planning and recruiting some of the current roster before he left (Naz Long, Matt Thomas). Prohm's transition to the Big 12 will be smoother thanks to Otzelberger's experience with the program.
Damon Stoudamire, Memphis: Much like Otzelberger, former NBA Rookie of the Year Damon Stoudamire is returning to a familiar bench as he's back at Memphis after a stint at his alma mater of Arizona. The Tigers and head coach Josh Pastner are thrilled to have Stoudamire back because he has a strong pedigree working with guards — which Memphis could use help with — and he's popular with recruits because of his NBA background. Memphis has become a home to Stoudamire and his family because of his NBA career there so he'll be happy to return to Pastner.
Jamal Brunt, Miami: One of the most underrated hires of the spring was Richmond associate head coach Jamal Brunt moving to Miami as an assistant. Brunt moved from Richmond's director of operations up the ladder to associate head coach by recruiting high-caliber talent (Justin Harper) and coaching in a program that had a lot of success the last 10 years when he was there.
Chris Harriman, New Mexico: New Mexico was able to lure the Australian away from Nebraska as they gave Harriman the title of associate head coach. A noted recruiter with deep ties to Australia and New Zealand, Harriman worked under Rick Majerus at Saint Louis and Tim Miles at Nebraska, so he's seen some unique head coaches during his time.
Jeff Battle, Providence: A veteran assistant who spent 13 years as Wake Forest's associate head coach under three different coaches, Battle's addition to the Providence coaching staff is a welcomed one. Battle is a noted recruiter and has also been lauded for developing talented point guards (Chris Paul, Jeff Teague, Ish Smith) and wings (James Posey, Josh Howard). Battle has also spent time at Xavier, Loyola (Md.) and Delaware State. It'll be interesting to see Battle's work with Kris Dunn this season.
Will Conroy, Washington: The addition of Conroy, a popular former guard, means that Washington's recruiting fortress around Seattle only got stronger. A former pro in the NBA, D League and Europe, Conroy has a lot of recent pro experience and is young enough at age 32 to still be relatable to many players he's recruiting. Conroy grew up playing ball with many of Seattle's best hoopers (while also being impressive in his own right) and he's very connected in the local basketball community.