The way that college basketball coaches build their rosters has changed in recent years, as the explosion of the transfer market has opened up a new avenue to attract talent into a program. Some may love it and some may hate it, but it's not going away. Here are the 15 transfers that will have the biggest impact on the 2015-16 season:
THE TOP 15
1. Damion Lee (via Drexel) and Trey Lewis (via Cleveland State), Louisville
At the start of the offseason, Louisville's top returning scorer was Quentin Snider at 4.1 points per game, and that's after his scoring average jumped a full point following three straight double-digit outings in the NCAA tournament.
But head coach Rick Pitino tapped into the graduate transfer market and came out with the most-sought after transfer, Damion Lee. Before that he had grabbed a point guard and 3-point shooter in Trey Lewis. Those two fifth-year seniors joined a heralded incoming freshman class that included Donovan Mitchell, Ray Spalding and Deng Adel.
Lee missed almost all of the 2013-14 season with a torn ACL, but recovered to finish fifth in the nation in scoring last season at 21.4 points per game. Lewis will be able to play either guard spot and provides a deep threat, hitting 96 threes (42 percent) in 2014-15.
Lee and Lewis benefited from Louisville's foreign tour in Puerto Rico. The duo left their mark in the first game of the trip, combining for 49 points. Lee went for 36 points off 11-of-18 shooting. The two newcomers have also stepped up as leaders, according to members of the team.
2. Robert Carter Jr. (via Georgia Tech) and Rasheed Sulaimon (via Duke), Maryland
The Terrapins could very well open up the season as the No. 1 team in the nation. Part of that is Melo Trimble and Jake Layman spurning the NBA for another year in College Park, but another part of that high praise is the transfers who are coming into to fill spots in the starting lineup.
Robert Carter Jr. averaged 11.4 points and 8.4 rebounds for Georgia Tech before transferring to Maryland in 2014. The 6-foot-9 forward, who has reportedly dropped 20 pounds during his redshirt season, will help Maryland with low-post scoring, as will fellow newcomer Diamond Stone.
The Terrapins added a former rival in May, as Rasheed Sulaimon had committed to Maryland as a graduate transfer, giving him immediate eligibility. On paper, it's a good pickup for the two-guard spot, but this is the same player whose production went in both his sophomore and junior seasons. Mark Turgeon likely isn't looking for much offensively, he just needs Sulaimon to defend on a nightly basis.
3. Sterling Gibbs (via Seton Hall) and Shonn Miller (via Cornell), UConn
Kevin Ollie had a great spring, picking up two impact transfers for next season. With Ryan Boatright graduating, Gibbs, the ex-Seton Hall lead guard, can slide right into that role of scorer and facilitator. He's also someone who isn't afraid to take a big shot. Gibbs will run the show in a talented perimeter of Daniel Hamilton, Rodney Purvis, Sam Cassell Jr. and Jalen Adams. Gibbs averaged 16.3 points, 2.1 rebounds and 3.8 assists per game, shooting 43 percent from three for the Pirates last season.
Joining Gibbs is Shonn Miller, the all-Ivy League forward. The 6-foot-7 stuffed the statsheet, posting averages of 16.8 points, 8.5 rebounds, 1.0 assists, 1.8 blocks and 1.3 steals per game. Matched up with shot-blocker Amida Brimah, the Huskies will have two very good defenders on the frontline.
MORE: 2015-16 Season Preview Coverage | Conference Previews | Preview Schedule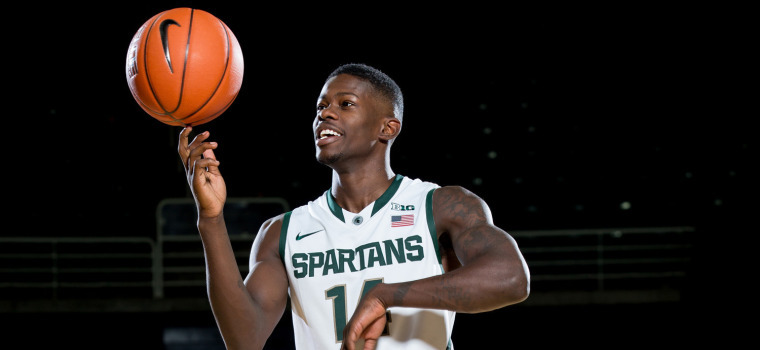 4. Eron Harris (via West Virginia), Michigan State
Tom Izzo scored big when he landed the former West Virginia guard back in 2014. The 6-foot-4 guard averaged 17.2 points per game and shooting 42 percent from beyond the arc for the Mountaineers during the 2013-14 season. Harris joins Denzel Valentine, Bryn Forbes and Tum Tum Nairn on the perimeter for the Spartans.
Although, he'll have to overcome a rocky start to his career in East Lansing, being suspended for the team's foreign trip in August.
5. Anton Grady (via Cleveland State) and Conner Frankamp (via Kansas), Wichita State
The 6-foot-8 forward averaged 14.3 points and 7.9 rebounds per game in his final season at Cleveland State. Electing to use his final year of eligibility as a role player to Ron Baker and Fred VanVleet, Grady will offer a different low-post presence, head coach Gregg Marshall said recently. While it's a different style than his predecessor, Grady helps fill the void left behind by the graduating Darius Carter.
Conner Frankamp, the former Kansas Jayhawk, becomes eligible in the second semester and will offer depth for the Shockers back court.
6. Ryan Anderson (via Boston College) and Mark Tollefsen (via San Francisco), Arizona
Anderson decided to use his final year of eligibility at Arizona after averaging 13.5 points per game through his first three seasons at Boston College. He'll bring experience to the starting five, sharing the front court with senior Kaleb Tarczewski, the only returning starter. Mark Tollefsen should also provide some contributions in his lone season with the Wildcats. The 6-foot-9 forward shot 38 percent from three for the Dons in 2014-15.
7. Cole Huff (via Nevada) and Mo Watson Jr. (via Boston University), Creighton
Creighton struggled in the first season of the post-Doug McDermott era. It would appear it would only get worse for the Bluejays after graduating five contributors this past spring. However, among all the new pieces are two key transfers in Watson and Huff.
During Creighton's foreign trip in Italy, the 6-foot-8 Huff led the team with 14.3 points per game. Watson averaged 6.7 assists per game with an assist-to-turnover ratio of 4:1
8. Terry Henderson (via West Virginia), NC State
The former Mountaineer guard will attempt to follow the success for previous transfers like Ralston Turner and Trevor Lacey. Henderson will slide into that role this season alongside Cat Barber. In 2013-14, Henderson averaged 11.7 points per game, shooting 38 percent from behind the arc.
9. Kuran Iverson (via Memphis), Rhode Island
The top-30 recruit in the Class of 2013 had an grand exit from Memphis. The versatile 6-foot-9 forward gets a new start at Rhode Island, where he will have the chance to fit in with the Rams' four returning starters.
10. Ricky Tarrant (via Alabama), Memphis
This has not been an easy offseason for Josh Pastner. But the one bright spot was landing Alabama's second-leading scorer Ricky Tarrant. The 6-foot-2 guard should be able to provide consistent production the Tigers guards could not do last season.
11. John Egbunu (via South Florida), Florida
The 6-foot-11 center averaged 7.4 points, 6.4 boards and 1.3 blocks per game in his freshman season at South Florida in 2013-14. Egbunu is reportedly down 11 pounds, which will only help in Mike White's uptempo system.
12. Rafael Maia (via Brown) and Sterling Smith (via Coppin State), Pittsburgh
Through his first three seasons, the 6-foot-9 Brown big man averaged 8.1 boards per game, leading the Ivy League in that category in each season. He can help a Pitt team that ranked tenth in the ACC in defensive rebounding percentage. As for Smith, who averaged 13.9 points per game at Coppin State, he provides depth behind James Robinson and Chris Jones.
13.Tyler Lewis (via NC State), Butler
The former McDonald's All-American takes over for Butler's leader the past few season, Alex Barlow. Lewis, who has a career 3:1 assist to turnover ratio, steps into a good spot alongside all-Big East caliber guards Kellen Dunham and Roosevelt Jones. Former St. Bonaventure guard Jordan Gathers joins the Butler back court as a graduate transfer.
14. Seth Allen (via Maryland), Virginia Tech
Allen, who averaged 13.4 points per game as a sophomore, before transferring from Maryland in 2014. He provide a scoring boost alongside Justin Bibbs and will share ball-handling duties with Devin Wilson.
15. Dylan Ennis (via Villanova), Oregon
The fifth-year senior started in all 36 games for the Big East champions, averaging 9.9 points, 3.7 rebounds and 3.5 assists in 28.1 minutes per game. He brings experience to a young back court, which is headlined by five-star recruit Tyler Dorsey.
HERE ARE THE REST OF THE NATION'S IMPACT TRANSFERS
Max Bielfeldt (via Michigan), Indiana: The former conference foe provides experience and depth to a young frontline.
Deonte Burton (via Marquette), and Hallice Cooke (via Oregon State) Iowa State: The former Marquette guard was pegged as a breakout star in 2014-15. After transferring mid-year Burton hopes to become the next successful transfer in Ames. Cooke had a successful freshman campaign at Oregon State, but spent much of last year recovering from a pair of hip surgeries.
Kareem Canty (via Marshall) and Tyler Harris (via Providence), Auburn: Canty was one of the prized transfers in 2014 after averaging 16.3 points per game in his only season at Marshall. This will be Harris' third school, and he will play in a front court alongside Cinmeon Bowers and freshmen Horace Spencer and Danjel Purifoy.
Tyler Cavanaugh (via Wake Forest), George Washington: The 6-foot-9 Cavanaugh should make an immediate impact in lineup that includes Patricio Garino, Kevin Larsen and Joe McDonald.
Charles Cooke (via James Madison), Dayton: Jordan Siebert graduated and Dyshawn Pierre suspended, the 6-foot-5 guard could play a key role for the A-10 contender.
Nick Faust (via Maryland) and Gabe Levin (via Loyola Marymount), Long Beach State: The 49ers lost all five starters. Faust, who averaged 9.3 points per game at Maryland, Levin, the 2013 WCC Rookie of the Year and Roschon Prince, a former top-100 recruit, are all eligible.
Johnny Hill (via Texas-Arlington), Purdue: This will be the third stop for the 6-foot-3 guard, who attempt to replicate the success Jon Octeus had in his lone season with the Boilermakers.
Khalid Lewis (via La Salle) and Mike Thorne Jr. (via Charlotte), Illinois: The late addition adds of Lewis helps combat Tracy Abrams season-ending injury. The 6-foot-10 Thorne a highly-sought after big man before picking the Illini.
Kamari Murphy (via Oklahoma State), Miami: Versatile big man should have a presence on the defensive end for the Hurricanes.
Sean Obi (via Rice), Duke: The big body post player recorded 11 double-doubles at Rice and was third in the nation in defensive rebounding percentage.
Semi Ojeyele (via Duke), SMU: The former McDonald's All-American has a chance to make an impact for the Mustangs when he becomes eligible midseason.
Duncan Robinson (via Williams College), Michigan: A healthy Caris LeVert and Zak Irvin will limit his minutes, but the ex-Division III hooper might be Michigan's top shooter.
Adam Smith (via Virginia Tech), Georgia Tech: The graduate transfer remains in the ACC and brings a deep shooting range to the conference's worst 3-point shooting team from a season ago.
Andrew White III (via Kansas), Nebraska: White couldn't find minutes in a crowded Kansas perimeter. The former four-star recruit has a chance to restart his college career playing alongside Shavon Shields.
Tim Williams (via Samford), New Mexico: The 6-foot-8 forward averaged 17.6 points per game in 2013-14.