For young athletes hoping to earn a Division I scholarship, there's no one set path to that goal. While many take the seemingly straightforward track from high school to college, the experiences on the way are anything but similar. And then there are those whose life experiences result in a more circuitous journey, with the need for positive influences and an unwillingness to give up being even greater.
That's been the case for Ar'Mond Davis, who dealt with tough situations throughout his time in high school. From dealing with a living situation that was at times uncertain and having his coaches pick him up at a local mall so as to keep his issues private, to now being the focus of many major college programs' recruiting efforts. It's safe to say that Ar'Mond Davis has come a long way.
——————————————————————————————————————–
While Davis' solid freshman season at the College of Southern Idaho led to his being selected to play in last month's JucoRecruiting.com Elite 80 West Showcase in Las Vegas, the journey began in Tacoma, Washington. Tacoma may not get the national pub that Seattle does but the city hasn't lacked for high-level basketball talent in recent years, with Isaiah Thomas and Avery Bradley being the most noteworthy products who have gone from Tacoma to the Division I level and then on to the professional ranks, where they currently play alongside each other in the Boston Celtics back court.
For Davis to keep his chances of joining that list alive, he had to overcome a set of circumstances that can derail a young person and make their dreams unreachable.
"Sometimes just having to worry about where I'd stay or what I was going to eat, stuff like that," Davis told NBC Sports during a phone interview, and it's understandable that a person would be a bit guarded, not wanting to reveal too much to outsiders when it comes to family hardships.
With the unpredictability of his life at the time, having a routine he could rely on was incredibly valuable to Davis and that was (and still is) something he could find in basketball. The security of being able to pick up a ball and work on his game aided Davis as a youngster, and that only strengthened with his move from Lincoln High School to Foss High School in the spring of his junior year. There he would play for coach Mike Cocke, who looked to provide both the encouragement and discipline his newest addition needed after spending the last couple of seasons working to find neutralize Davis one the court.
"He's an inner-city kid from a single-parent household with his mother raising him and his older brother being his role model," Cocke said. "The thing he lacked when he showed up at our school was discipline within the classroom. Some stuff at home probably could have been a little tighter than it was, and that hurt him a little bit.
"Because by the time he showed up at Foss, his dreams of playing Division I college basketball right after high school would have been pretty hard to achieve. My biggest thing was I knew the talent and the kind of kid he was; he was never a bad person, he just never had a male role model to instill some discipline in him and make him a better person on and off the floor."
Davis' time at Foss was successful on multiple levels. Not only was he a standout for the team there, but it also led to his joining the Portland-based I-5 Elite grassroots program in the summer prior to his senior year. Running the program was head coach Kumbeno Memory, who played against Cocke at the junior college level, and that connection ultimately led to the high school coach knowing that there was another mentor willing and able to provide Davis with the help he needed in basketball and beyond to reach his dreams.
"Cocke reached out to Beno and said that he had a kid who was looking for a positive situation," said I-5 Elite coach Chris Foss. "A situation where he could not only get some tough love but some guidance as well, which was something we were able to provide."
And it didn't take Davis, who originally played for the Team ACCESS program, very long to make an impression on his new I-5 Elite teammates. As a matter of fact, that would occur in Davis' first practice with the team.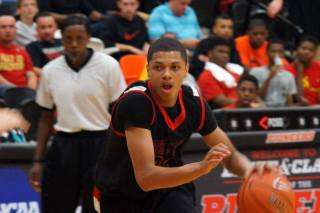 "I just remember that first day of practice he was kind of a quieter kid initially, a little more reserved and he let his actions speak for him," Foss noted. "We play a really fundamental brand of basketball but we don't have the high-flyers that everybody else has. That day, we don't normally do it, we started out with a "3-on-2, 2-on-1" drill; we normally do a lot out of the secondary break. They're going down, someone threw him a pass and he just elevated, cocked the ball back and 'BOOM.'
"We're really high on kids talking on the court, having a high IQ and a motor, which are traits that we've been able to have success with and have kids overachieve. At the start we're like, 'OK, real quiet kid,' and then he did that and it was like 'the gym's woken up.' This was a little bit different than what we were used to, but from day one he was willing to buy in to what we were trying to do and could just tell he was a really sincere kid."
While Davis flourished with his new program, there were also signs that his experiences weren't in line with those of the average child. With that in mind, coaches looked to do the best they could to ensure that Davis understood that they would be there to help him out whenever he needed assistance.
"To be honest, I wasn't as well-versed in what he was going through until we played in a tournament in Bellevue (Washington) to start the July live period," Foss noted. "We practiced in Portland the week before and went up there the following Thursday (the day before the event started) and he had us pick him up at the mall instead of going to pick him up at his house.
"Just kind of being private with everything he was going through at the time," Foss continued. "Just finding out as things went on, sitting down and having talks with him or hearing about it from Cocke or other people who were close to him, and we realized that he doesn't have it like everyone else does. And it kind of showed why he did some of the things that he did, but our immediate and only response has been to give him a ton of love."
After averaging just over 26 points per game as a senior at Foss High School, Davis went through the process of choosing a junior college that would best prepare him to make the jump to a four-year school not only athletically but academically as well. While there were initial thoughts of remaining close to home for junior college, Davis ultimately took the challenge of joining a College of Southern Idaho (CSI) program that annually ranks among the best in the country.
"In the recruiting process he was actually one of the easier guys to recruit," CSI assistant Brock Morris said. "And what I mean by that is, we get a lot of high-level guys here and a lot of guys need to hear what you can do for them. With Ar'Mond we were able to challenge him, ask if he's willing to compete with the best or not and he said he wanted to take on that opportunity. That, to me, stuck out.
"This isn't a guy shying away from [the competition]. He came off the bench last year, was our second-leading scorer and didn't complain at all. I think that translated back to his recruitment."
On a deep roster Davis made the most of his playing time in 2014-15, averaging 10.9 points and 3.9 rebounds per game in helping CSI win 31 games and make the trip to Hutchinson Junior College in Kansas that junior college programs aim for every season. There are multiple reasons why Davis was able to play as well as he did as a freshman. Of course, there's the talent and the desire to advance in his basketball career.
But in talking with Cocke, Foss and Morris there was a label that each felt fit Davis well: gym rat. And not the kind of self-proclaimed gym rat who sends out proclamations of "no days off" on social media, only for their in-game production to not be on par with that label. Davis has put in the work, with his coaches being witnesses to his development.
"Absolutely. He's always been that way," Cocke said. "It doesn't really matter what time of day it is, send him a text saying 'Hey, the gym's open' and he'll show up and work out. He always wants to play, and if he's not playing with us he's playing at a local gym by his apartment, or he's up in Seattle just trying to find a gym to work on his game or get a run in."
Those years of using basketball as both a way to forget about the hand life dealt him and a path to a better life have paid off for Davis, who's expected to be a leader for his CSI team as a sophomore. There's also the recruiting aspect, with programs such as Alabama, Penn State, Memphis (he'll visit there the second weekend in September), Missouri and Texas A&M either offering scholarships or in the case of A&M showing interest (A&M eventually did offer Davis).
With his ability to score at multiple levels and a desire to improve defensively as well, Davis can be an impact addition to a Division I program when he makes that move. Thanks to the combination of coaches who refused to let him quit and his own work ethic, Davis is well on his way to making strides as both an athlete and a young man.
"Coach Cocke was really helpful, because he'd help guide me and make sure I kept going in the right direction," Davis said. "My I-5 Elite coach was really helpful too. There would be times when I'd think about giving up, but they kept on me to make sure I kept working to be successful."