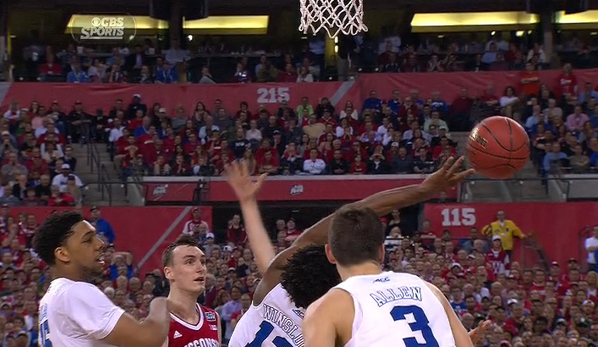 The most controversial call of the 2015 college basketball season just so happened to take place in the most important game.
With Duke up 63-58 over Wisconsin late in the national title game, Bronson Koenig and Justise Winslow went after a loose ball. It was unclear who touched the ball last, but after seeing it on replay, the ball clearly touched Winslow's finger on the way out of bounds.
The problem? The referees never saw that angle of the replay, meaning that instead of giving the ball to Wisconsin, they awarded it to Duke. On the ensuing possession, Tyus Jones hit one of his late, clutch threes, putting the Blue Devils up eight and, essentially, ending the game.
Wisconsin was not happy about the call, but time heals all wounds, it seems. Here is Sam Dekker with Winslow and Jones making light of it: