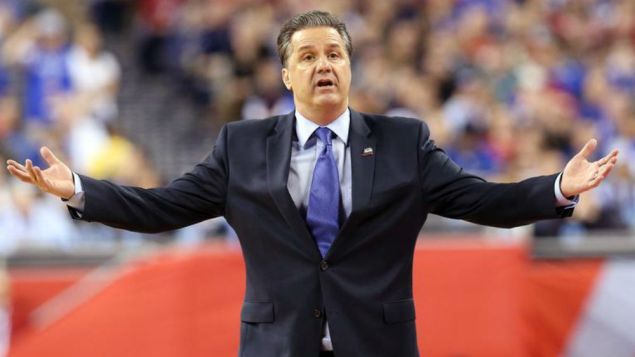 John Calipari was interviewed on FOX Sports South's show 'Halls of Fame' earlier this summer, and he had some interesting things to say about his team's loss to Wisconsin in the Final Four.
Not only did Cal say that he thought things would have been easier had his team lost a game during the season, he said his team was "relieved" in the locker room after they lost.
(UPDATE: We've found the full video of the interview. Here's Cal's quote in its entirety):
https://youtu.be/TtMDcwaAqio?t=10m47s
If you couldn't understand him, Cal said, "When we lost to Wisconsin, some guys were relieved in that locker room. When I walked in, I thought they'd be devastated. A few of them were relieved like, 'whew!'"
C'mon.
No way.
I'm going to assume that this quote is taken out of context. It's a 27 second twit-vid from a 30 minute show. He had to have been making a larger point here because I refuse to believe that anyone in that locker room — even the Harrison twins — were relieved that a shot at not only winning a National Title but turning in the greatest season in college basketball history had gone down the drain.
I went in the Kentucky locker room after that loss at the Final Four. It wasn't the worst I've ever seen — Wisconsin after their two Final Four losses was the worst — but the words I would use to describe it are shock and disbelief, like the idea of actually losing a game never crossed their mind. They were stunned as much as they were devastated, if that makes sense.
But there were kids in there that were absolutely crushed. In particular, I remember E.J. Floreal sobbing uncontrollably while sitting in his locker. I remember Tyler Ulis staring at the floor the entire time I was in the locker room, a shirt draped over his head so no one could see his eyes. And it was quite obvious by the red eyes that many of the kids had been crying.
UPDATE 1:25 p.m.: Cal must have sensed the angst among Big Blue Nation, because he posted this on his website this morning:
In the interview, I used the term relieved to describe what I saw in the locker room. It wasn't relief about wanting the season to end. That team wanted to win all 40 games – and thought they were going to. So did their coach.

When I walked in that locker room, I didn't know what to expect. When I looked around, a few of them looked like they were in a daze.

I was talking to Karl Towns about it and his comment was, "We were in shock. The response wasn't tears and anger. It was more of, 'What just happened, we're done playing.' "

I agree with Karl. They were in shock. A few were devastated, but what I saw more than anything when they settled in their seats was they were being reflective of the season and what had just happened.

If you have never been through what we went through, it would be hard to understand or describe. That's what I tried to do.