LAS VEGAS — While the focus of the annual recruiting cycle is on whether or not prospects can play the game well enough to merit a college scholarship, there are many different paths that prospects take to reach that point. Some may be highly regarded players who seem destined for little more than a pit stop in the college game before cashing in on their NBA dreams, many others have a longer road to travel as they look to achieve their dreams.
One such player is Frank Phillips College (Texas) forward Alize Johnson, who as a 6-foot-8 guard/forward harbors ambitions of not only receiving a Division I scholarship but eventually playing in the NBA.
Johnson's path began in Williamsport, Pennsylvania, a town of just over 29,000 people known more for the fact that Little League was founded there than anything accomplished on the basketball court. Johnson began his high school career as a 5-foot-9 point guard at St. John Neumann, and the time spent on the perimeter helped him as he moved forward (and ultimately reached 6-foot-4 as a high school senior) in his basketball career.
"I'd say my passing ability," Johnson told NBC Sports when asked about the strengths of his game. "I'm able to get out on the break and make plays. I was 5-foot-9 as a freshman and played point guard, and by my sophomore year I grew to 6-foot-4. [The growth spurt] has helped my game; I've been able to use my perimeter skills and height to my advantage in areas such as rebounding and post-up skills, along with handling the basketball."
That senior season at St. John Neumann proved to be Johnson's best, as he played well enough to earn Class A first team All-State honors alongside players such as Terry Larrier and Maverick Rowan. Yet while the perimeter skills have remained Johnson, who takes pride in his ability to set up teammates for scoring opportunities, has worked hard to improve as a rebounder and defender with an eye towards the Division I level.
And with that in mind having the influence of cousin Chevon Troutman, a tough forward who helped with Pittsburgh's resurgence under Ben Howland in the early-2000's and now plays professionally in Germany, has helped Johnson on the court. Troutman, a rugged forward who was also an adept passer during his time at Pitt, rebounds the ball at a level that Johnson is working hard to reach in his development as a basketball player.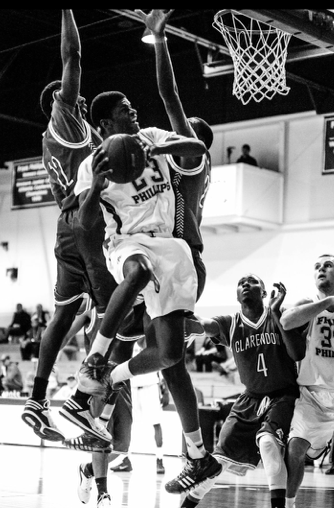 "He's a very good rebounder and competitor, a very strong and competitive guy," Johnson said of Troutman. "I realize I don't have the body structure that he has, but I try to take that part of his game and add it into mine. I think that's why I've improved as a rebounder. That's one of the biggest parts of the game, rebounding the basketball. I just feel that if there's a rebound, I have to get it."
The progress has been noted by college programs and scouts alike, especially in the aftermath of a freshman season that saw Johnson earn honorable mention all-conference honors in a conference that traditionally produces impact Division I products. And at the JucoRecruiting.com All-America Elite 80 West camp in Las Vegas this past weekend, Johnson improved throughout and earned a spot in the event's all-star game.
"It was a combination of things. He's skilled for his size and really gets out in transition well, and he excelled in that all weekend," Brad Winton of JucoRecruiting.com said of Johnson. "I thought in the Sunday morning game he was more physical than I've seen in the past and really mixed it up, and then he elevated it in the top 20 game.
"In that (top 20) game there's a high-level group of guys and a lot more size; there were four or five guys 6-foot-8 or taller, and he stood out there as well. He earned that spot with a really good set of games prior. He hit the glass really well, and was a bit of a matchup problem on the other end because of his ability to step out onto the perimeter."
The weekend in Las Vegas was a productive one for Johnson, and his improvement as a rebounder and defender will be key in his progression to the Division I level. Prior to the event Johnson was already on the receiving end of a lot of interest from Division I programs, with Iona, Kent State, Stephen F. Austin, Idaho and Towson among those who have offered and Murray State, Hofstra and Memphis showing interest.
Johnson plans on revealing his visit plans in the near future, and one of the factors he'll take into consideration is which coaching staff can best help him achieve the goal of playing professionally.
"Like every kid, my dream is to get to the NBA or play overseas," Johnson said. "The school that I pick, I want to be in the best position to get there. I just want to join a program where the staff can help me reach that dream."
Yet even with that goal, Johnson remains thankful for the support he receives from the people of Williamsport and the fact that he can serve as an example for the youngsters in his community. While Williamsport has produced basketball talent in the past, most notably Troutman, it isn't labeled as a basketball hotbed per se. Having examples like Johnson to follow can only help younger players in Williamsport moving forward.
"I want to be a role model for the kids in Williamsport, because a lot of them think that things aren't possible coming from a city like Williamsport," Johnson said. "Me being recruited is opening a lot of kids' eyes and making a lot of them want to attend my old high school. A lot of them look up to me, and I'm thankful for the support that everyone here shows for me."