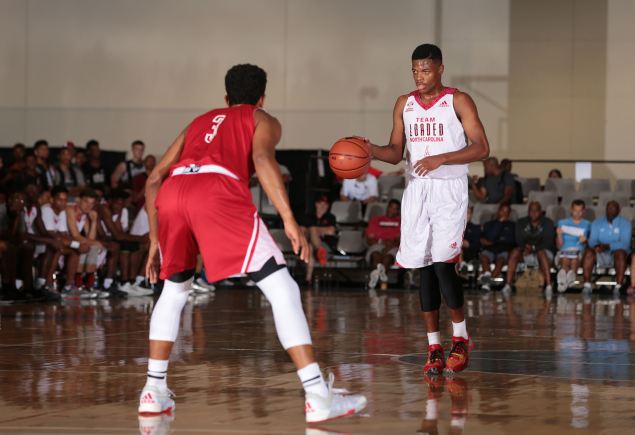 Creator's Cup ends with thrilling matchup between Dennis Smith and Frank Jackson: The adidas Uprising Summer Championships pulled off an intelligent scheduling maneuver in Las Vegas this week by putting two "Super Pools" in a mini eight-team tournament that constituted their matchups before the main tournament began. It meant a lot of games between five-star prospects in the Class of 2016 that started on Wednesday night and went well into Thursday.
After both advancing past the first round on the opening night, five-star point guards Dennis Smith (Team Loaded North Carolina) and Frank Jackson (Utah Prospects) both had tremendous outings in a fun back-and-forth contest on Thursday afternoon. Smith and his deeper Team Loaded squad ended up pulling out a 75-59 win as Smith had 26 points, four assists and zero turnovers on 10-for-17 shooting and 3-for-4 shooting from 3-point range. Jackson countered with 28 points on 10-for-18 shooting, but he didn't have the kind of help that Smith had from teammates like five-star big man Edrice Adebayo.
While both five-star lead guards were very good, Smith was absolutely brilliant at times. When the Prospects started icing Smith and forcing him to go baseline, he made adjustments in his pick-and-roll setup with Adebayo and flipped the big man some effortless pocket passes for easy elbow jumpers. Smith's ability to make reads and adjustments and operate in a number of different ways off of high ball screens is a big reason why he's considered the top guard in the country and he's been tremendous early this week.
"I love it. I love playing against anybody that they think is the best," Smith said of the high-profile matchups. "I get to come out here and show what I can do against those guys." (SP)
Five-star 2017 big man sure of at least one visit: 6-foot-10 power forward Wendell Carter Jr. has plenty of time before he has to make a college decision, as he's one of the top prospects in the Class of 2017. However that doesn't mean that schools can't make an impression on he and his family, which is the case for one SEC program in particular.
In speaking with Carter following the Georgia Stars' comfortable victory in their second game of the day at the Las Vegas Classic, he mentioned that Auburn will be a school that he'll definitely check out when he's able to take official visits (January 2016 at the earliest).
"I just know that Auburn's going to be my very first visit, my first official visit," Carter told NBC Sports when asked about possible visits in the future, and he had a simple reason as to why.
"My mom. She really likes the school."
Auburn head coach Bruce Pearl was one of the head coaches in the gym for Carter's game, with Kansas' Bill Self and Florida State's Leonard Hamilton also in attendance. (RJ)
Lonzo Ball makes a statement against "real" competition: If you follow recruiting Twitter at all, you've probably seen some debate erupt over the competition that five-star guard Lonzo Ball and his brothers faced during the spring and summer in independent AAU events. Because the UCLA commit and his Big Ballers VXT program — which is coached by his father — don't belong to a major shoe company, they haven't faced the caliber of competition often seen in shoe events.
It's led to some questioning Ball's commitment to facing real competition and if he's a legitimate five-star talent. With some strong games on Thursday against some of the best teams in the adidas Circuit, it's safe to say that Ball and his teammates put some of those questions to rest.
In wins over the Atlanta Celtics and New York Rens, the eldest Ball filled up the stat sheet, registering 36 points, 10 rebounds and nine assists against Kobi Simmons and the Celtics while notching the triple-double with 22 points, 16 assists and 12 rebounds against Mustapha Heron and the Rens. Simply put, Lonzo Ball does everything on the floor while he's out there and he has an exceptional basketball IQ and court vision that helps him make plays that others can't.
Ball's stats are a bit inflated because the Big Ballers play a pace similar to Grinnell — tons of quick shots, deep 3-pointers, home-run passes and traps at halfcourt on defense — but there is no questioning how talented he is as a basketball prospect. With younger brothers LiAngelo Ball (also a UCLA commit in the Class of 2017) and LiMelo Ball (a Class of 2019 prospect who is only 13 years old) also putting up good numbers for the Big Ballers, Lonzo Ball is happy to play on his small independent team with his family.
"It's definitely been the best tournament we've played in since the AAU [July] period," Ball said. "First day we came out a little lax so we got beat pretty bad but ever since then we got focused and picked some wins up." (SP)
Former Arizona State commit focusing on a Big East program: After verbally committing to Arizona State in late January, 6-foot-10 forward Lucas Siewert wound up reopening his recruitment in mid-May with the head coaching change from Herb Sendek to Bobby Hurley serving as the catalyst.
And with, according to Siewert, the new coaching staff having not reached out to him since the stretch four has begun looking at other possibilities. The most prominent one is Creighton, as the Bluejays have an offensive system that can take advantage of big men who are capable of scoring not just around the basket but on the perimeter as well. And in speaking with Siewert, a system in which he can be used in multiple areas is something he's looking for.
"I'm looking for a school where I can show my perimeter game," Siewert told NBC Sports. "I'm still working on my 'back to the basket' game, but I want to be able to bring [opposing] big men out on the perimeter."
In the Compton Magic's loss to the New England Playaz Thursday afternoon, Siewert displayed the ability to score away from the basket on multiple occasions. And in regards to Creighton, the native of Brazil expects to visit the campus this fall.
"Right now, the school that's been most active is Creighton," Siewert noted. "I'll be visiting in September." (RJ)
Hot-shooting Brandon Robinson open to expanding list: While Dennis Smith Jr. and Bam Adebayo have been the headliners for Team Loaded North Carolina, another standout for them at the adidas Uprising Summer Championships has been four-star shooting guard Brandon Robinson. Robinson trimmed his list of schools down to ten in early July, but his play has led to even more interest.
Thursday morning it was reported that Louisville has offered the 6-foot-5 Robinson, who's shooting with a great deal of confidence after going through a slump in the spring. And when it comes to Louisville their style of play is something that intrigues Robinson, who not only has displayed quality perimeter shooting but good athleticism as well.
"Yes, definitely," Robinson told NBC Sports when asked if Louisville is now under consideration. "That's a big-time program and they have a great history of basketball, and I like their style of play. So that's definitely a school I'm looking into."
Robinson also noted that the hope is to narrow his list even further at some point in August. (RJ)