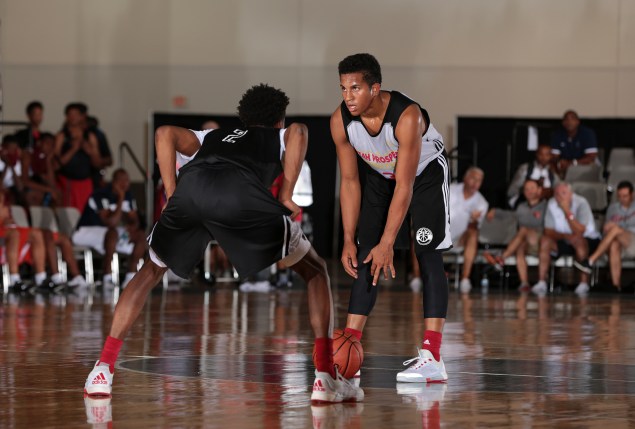 LAS VEGAS — The opening night of the third and final July live evaluation period kicked off with some fireworks, and we're not just talking Thon Maker's crossovers.
Dennis Smith Jr., Lonzo Ball face off on opening night: The debate as to who is the best lead guard in the Class of 2016 has been a spirited one, with multiple options being discussed. Two of those players are Dennis Smith Jr. and UCLA commit Lonzo Ball, and their respective teams played each other in the adidas Uprising Summer Championships opener for both.
With head coaches John Calipari (Kentucky), Mark Gottfried (NC State) and Danny Manning (Wake Forest) in attendance, Smith played well in relatively limited action since his team had a game at another event later in the evening. Per the adidas box score, Smith Jr. finished the game with 14 points, eight assists and one turnover. Ball (whose team's stats weren't posted for some reason) didn't shoot as well as he's capable of, but he did put together some solid passes in both the half and full-court.
With these two also having the opportunity to play Frank Jackson and Kobi Simmons later in the adidas Uprising Summer Championships, we'll learn a lot about the point guard debate this week. (RJ)
Frank Jackson and Kobi Simmons do battle: While adidas opened the night with a heavyweight point guard battle with the aforementioned Smith and Ball game, it wasn't the only enticing matchup on Wednesday night. Another battle of elite point guards went down as five-star Utah native Frank Jackson and five-star Atlanta native Kobi Simmons battled in a head-to-head matchup that saw Jackson — and his Utah Prospects team — get the best of it.
The 6-foot-2 Jackson was sensational at times in the first half, but slowed down in the second a bit as he finished with 20 points on 7-for-16 shooting. The 6-foot-5 Simmons erased a brutal first half by helping lead a second-half charge that got his Atlanta Celtics back into the game. Simmons tallied 22 points but was 6-for-17 from the floor and had eight turnovers. Also with a high turnover count of six, Jackson was more efficient with the ball in his hands and had a more complete game on Wednesday.
adidas set up the bracket in its "Creator's Cup" so that Ball and Simmons play each other and Smith and Jackson play each other during the first game of Thursday's action. It's a fun tool to see how some of these elite guards matchup with each other. (SP)
Payton Pritchard taking his time with college decision: 2016 point guard Payton Pritchard's recruitment took quite the turn earlier this month, as he de-committed from Oklahoma just before the start of the first evaluation period. Since then he's been on the receiving end of a lot of attention from high-major coaches, with the Sooners being joined by the likes of Michigan, Wisconsin, Kansas, Arizona State, California and Oregon.
In discussing his recruitment with NBC Sports Wednesday night after a 30-point win over Eric Gordon All-Stars, Pritchard (22 points on 9-for-13 shooting, six assists, one turnover) noted that he and his family simply want to be sure before making a decision as important as deciding where he'll attend college.
"I just want to look at [the entire situation] again and take all of my officials. I think I owe it to myself," Pritchard said when asked about the state of his recruitment. "Oklahoma's a great school, but as a family we just want to be 100 percent sure."
While the Oregon native has taken a number of unofficial visits, Oklahoma was the only school to host him for an official. With four such trips still at his disposal, Pritchard will have opportunities to thoroughly evaluate schools before making a choice this time around and he plans on taking advantage. (RJ)
Jarrett Allen dominates with some big names watching: Class of 2016 center Jarrett Allen is firmly planted as a five-star prospect at No. 17 in the Rivals 150, but he doesn't seem to get as much buzz as some of his classmates. The 6-foot-10 center did his best to make an impact on Wednesday night with a truly dominating performance in a win over the New York Rens.
Allen finished with 29 points, while going 13-for-14 from the field while adding seven rebounds. In helping Texas Pro defeat a very good New York Rens team by 20 points, there was simply no answer for slowing down Allen. He scored on hooks, advanced post moves and dunks in traffic. If he received a touch on Wednesday night, Allen was probably scoring or getting fouled.
It was an incredible opening night for Allen and he was watched by head coaches like John Calipari (Kentucky), Roy Williams (North Carolina) and Shaka Smart (Texas). After the contest, Allen told NBCSports.com that Baylor, Indiana, Kansas State, Kentucky, North Carolina, Texas and San Diego State are some schools involved in his recruitment, which is still very early in the process. (SP)
Multiple high-major head coaches watch 2016 PF De'Ron Davis: Davis was the headliner for a Colorado Hawks team that coasted to a win in its opener, and there were multiple high-major coaches in attendance to see him. Among the head coaches courtside were Sean Miller (Arizona), Bobby Hurley (Arizona State), Tom Crean (Indiana), Travis Ford (Oklahoma State) and Shaka Smart (Texas). Also in attendance were two Colorado assistants, with head coach Tad Boyle currently assisting Mark Few with the United States Pan-Am Games team.
Also playing well for the Hawks was Alpha Diallo, who finished the game with 16 points, ten rebounds and six assists. The 6-foot-5 small forward was able to make plays off the dribble throughout the contest, with Nevada and VCU among the schools that have offered him who were represented in the coaches' section. (RJ)