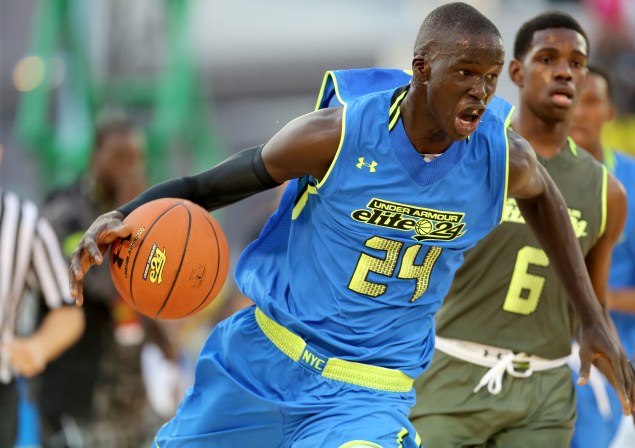 Wednesday at 5:00 p.m. marks the beginning of the second live period in the month of July, meaning that coaches can be on the road evaluating the player that they are or plan to recruit. 
Here are five events to keep an eye on over the next five days:
Nike Global Challenge: This is annually one of my favorite events, as Nike not only stocks the rosters of three American teams with some of the best players from Nike-affiliated programs but also brings in potential college players from around the world. The rosters for the event have yet to be released, but it's safe to assume that Harry Giles, Duke-commit Jayson Tatum, De'Aaron Fox, Malik Monk and Florida State-commit Jonathan Isaac will be among the biggest names there.
Under Armour Association Finals: The finals of Under Armour's grassroots circuit will take place at the Suwanee Sports Academy in Atlanta. The event will be headlined by Josh Jackson, arguably the No. 1 player in the Class of 2016, and DeAndre Ayton, the No. 1 player in the Class of 2017 whom many believe is the best prospect in all of high school basketball. Thon Maker has rejuvenated his stock this spring and summer, and he'll be at the tournament as well, along with five-star prospects like Trevon Duval, Markelle Fultz, Terrence Ferguson and Billy Preston.
adidas Uprising All-American Camp: A three-day event on Long Island, this camp will feature the best players in the 2016 and 2017 classes that play for adidas grassroots programs. Dennis Smith Jr., Bam Adebayo, Rawle Alkins, Kobe Simmons and Frank Jackson are just a few of the biggest names of what is a loaded roster of talent. NBCSports.com will have coverage from the camp on Wednesday and Thursday.
NY2LA Summer Jam: The Summer Jam is a massive tournament that will be held up in Wisconsin this week and weekend. Unlike the shoe company sponsored events, this will be open, so while there may not be as much high-end talent as, say, the Under Armour Association Finals, there will be a mass of prospects, from the Division III level all the way up to borderline high-major prospects. Events like this are where borderline Division I players will earn their scholarships.
JuCo Showcase Elite 80: Run by Brad Winton of JuCoRecruiting.com, this event highlights the best of the best in the Junior College ranks.