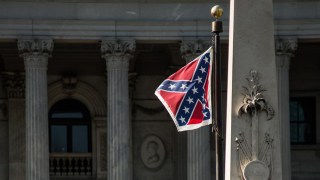 With the removal of the Confederate flag from South Carolina State House grounds on Friday, NCAA President Mark Emmert released a statement supporting the decision while also saying that the state can now bid for future pre-selected NCAA championships after a ban since 2001.
Here's Emmert's full statement:
"The NCAA strongly supports today's removal of the Confederate flag from the South Carolina State House grounds. This step sends an important message of respect for and dignity of every person. As a national association, the NCAA opposes this symbol of racism, and since 2001 we have demonstrated our opposition by not playing pre-selected championships in states where the flag was flown prominently. The removal of the Confederate flag now means that South Carolina can bid to host future NCAA championships."
In the world of college basketball, this statement from Emmert means the NCAA would now be willing to put the NCAA tournament in South Carolina, as well as other events like potential bowl games or conference baseball tournaments. This type of change with regards to the NCAA tournament won't come immediately for South Carolina, since sites have been selected through the 2018 tournaments, but it could mean the state has a good chance of hosting some March Madness action sometime in the next decade.