Wednesday is the opening day of the first of July's three five-day live periods. To get you prepped, here are 25 uncommitted players from the Class of 2016 and 10 uncommitted players from 2017 who you should keep track of over the next three weeks.
Class of 2016
1. Josh Jackson: In a loaded 2016 class, Jackson may actually be the best prospect. He's a 6-foot-8 two-guard that can score from all three levels that has proven to be elite as a defender and a rebounder. He's not as athletic as Paul George, but he has a similar skill-set.
2. Harry Giles: Giles was arguably the best player in the U19 World Championships despite playing two years above his age group. He's a powerful four man that can finish around the rim while being mobile and skilled enough on the perimeter to be a threat.
3. Jayson Tatum: A 6-foot-8 wing from Saint Louis, Tatum's ability to score seems effortlessly smooth. He's a high-IQ and versatile offensive talent — the kind of player that often gets labeled "soft" — but in the U19 tournament in Greece the last two weeks, he showed off some serious athleticism and toughness defensively.
4. Dennis Smith: Smith is the best point guard in the 2016 class. An athletic, 6-foot-2 native of North Carolina, Smith is at his best when he can get a head of steam going towards the rim. His jumper is improving, and he's athletic enough that he is an excellent defender when he wants to be.
5. Malik Monk: Monk can be streaky, but when he's cooking there is not a more entertaining player in high school. He's just 6-foot-3, but he has range well-beyond the NBA three-point line and is the kind of thrilling athlete that makes him a mixtape hero.
6. Ederice Adebayo: Adebayo is a powerfully athletic, somewhat-undersized four in the same mold as Montrezl Harrell and Cliff Alexander. Nicknamed 'Bam', his low-post game is developing but still a work in progress.
7. Kobi Simmons: A new-breed point guard with good size (6-foot-5) and athleticism, Simmons is in the running for top guard in the 2016 class. The Georgia native is one of the best in the country at attacking the basket and making plays for himself or others.
8. De'Aaron Fox: Fox is one of those players that qualifies as a lead guard. The 6-foot-3 Texas native looks to score first — and can put up buckets in a hurry — but he's at his best with the ball in his hands.
9. Frank Jackson: Jackson's rise over the course of the last few months has been meteoric. He's another big-time back court scorer from Lone Peak HS (Utah), but unlike some of his predecessors, he's a terrific athlete that plays on the ball.
10. Terrance Ferguson: Ferguson has Klay Thompson written all over him. A 6-foot-6 guard from Texas, Ferguson is a deadly three-point shooter with elite athleticism.
11. Marques Bolden: A big spring put the 6-foot-10 Bolden firmly into five-star territory and he's become a national recruit thanks to a good offensive post game and solid upside.
12. Rawle Alkins: A powerful and athletic wing, the 6-foot-4 Alkins is a terrific finisher around the rim and dangerous on straight-line drives as well as in transition. He's still learning how to use that strength and athleticism, however, especially defensively.
13. Jarrett Allen: With tremendous measurables (6-foot-10 with a long wingspan) and great upside, Allen is one of the better long-term prospects in the 2016 class. Allen can protect the rim, hunts putbacks and also displays good touch around the rim.
14. Mustapha Heron: Heron committed to Pitt while he was a sophomore, but reopened his recruitment. A strong, 6-foot-5 wing, Heron's most effective scoring the ball from 15-feet and in.
15. Tyus Battle: Battle's recruitment has become one of the most interesting in the Class of 2016. A 6-foot-5 combo-guard with three-point range, Battle seemed like a perfect fit to follow in the mold of Nik Stauskas and Caris LeVert at Michigan. But he recently decommitted from the Wolverines and took a visit to Syracuse.
16. Dewan Huell: A 6-foot-10 big man from Miami, Huell has the size, athleticism and motor that high-major programs look for. He's also able to knock down a perimeter jumper, making him capable of playing either the four or the five.
17. Markelle Fultz: Frank Jackson has been the biggest riser in the Class of 2016, but Fultz isn't far behind. He played JV as a sophomore and became a five-star recruit as a junior. At 6-foot-5, the DeMatha HS (Maryland) product can play either guard spot.
18. Miles Bridges: Bridges is big, strong, athletic and left-handed. The 6-foot-7, 230 pound combo-forward can beat smaller defenders in the paint and pull bigger defenders onto the perimeter. He's a good passer as well and has the potential to a playmaker on the wing.
19. Seventh Woods: Woods became a sensation after his freshman season, when a mixtape highlighting his athleticism went viral. He's still just as athletic, but at 6-foot, he's still learning how to be a pure point guard as opposed to a score-first lead-guard.
20. Udoka Azubuike: At 6-foot-10 and 275 pounds, Azubuike has the size, hands, coordination and athleticism to be a dominant center at the college level. But at this point, his offense is a result of his size and strength more than his skill.
21. De'Ron Davis: Davis played up on the 17U level as a rising sophomore and has continued to add to his considerable offensive arsenal. Not a great athlete at 6-foot-9, Davis makes up for it with a good enough IQ to make plays on both ends of the floor.
22. Tony Bradley: After slimming down from last season, Bradley is far more mobile and active and, at 6-foot-10, he's a pretty reliable post option on both ends of the floor.
23. Mario Kegler: A natural scorer with a well-rounded offensive game, the 6-foot-7 wing can get a little shot happy, but he's gifted as an offensive weapon.
24. Mamadi Diakite: A tremendous athlete for a front-court player, Diakite is an impact shot blocker who can also rebound out of his area. With an improving offensive game, Diakite is an intriguing long-term prospect.
25. Thon Maker: Is there a more intriguing prospect in the class than Maker? He's been on the national radar for what feels like a decade, but the 7-foot-1 center has officially decided to remain in the Class of 2016. He blocks shots, has three-point range and perimeter skills, and has drawn comparisons to Kevin Garnett, but he's old for his grade and had a disappointing high school season.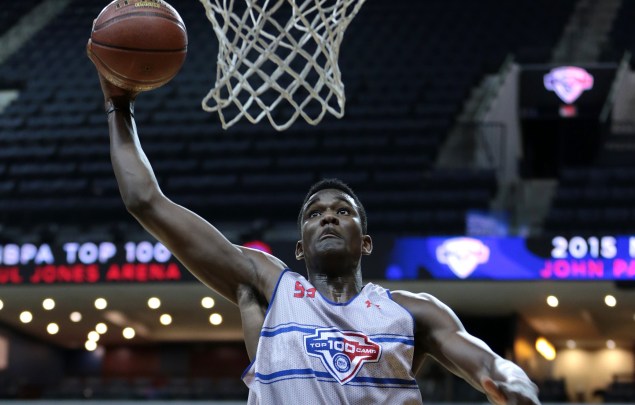 Class of 2017
1. DeAndre Ayton: There are many that believe this 7-foot Bahamian native is the best prospect that not currently on an NBA roster. He's rangy, he's athletic, he knocks down jump shots. Think Amare Stoudamire back when he was still good.
2. Michael Porter: At 6-foot-9, Porter is a freakishly athletic wing that has already graced Sportscenter. He needs to add weight and he needs to continue to develop his perimeter skills, but his physical tools are on another level.
3. Wendell Carter: A breakout spring has led Carter to a consensus top-5 ranking and getting pursued by some of the biggest programs in the country. He's an athletic shot-blocker with range to 15-feet and the ability to finish around the rim with both hands.
4. Mohamed Bamba: Another lanky, 6-foot-11 athlete that needs to add weight. Bamba had a terrific spring and has shot up recruiting rankings. His motor and aggressiveness overshadows the fact that his ball-skills are still developing.
5. Trevon Duval: Duval has consistently proven his ability to score against all levels of competition. He won Peach Jam prior to his sophomore season in high school. At 6-foot-3, he's likely a point guard at the highest level, meaning he needs to continue to develop his ability to create.
6. Billy Preston: After moving from California to Texas, Preston has upped his motor and maintained his complete scoring package. Also a solid rebounder, Preston, at 6-foot-9, is as naturally talented a front-court player as there is in the country.
7. Troy Brown: A do-it-all big point guard, Brown put together a very good spring playing up in the Nike EYBL and he's a potentially elite prospect.
8. Jarred Vanderbilt: A 6-foot-7, defensive dynamo who can guard multiple positions on switches, Vanderbilt is also a developing offensive player who is a plus passer and rebounder.
9. Nick Richards: Richards burst on the national scene this spring by putting together some good performances in the Nike EYBL. A developing big man who isn't scared to mix it up, Richards has had some jaw-dropping post moves that shows he's just scratching the surface of his vast potential.
10. Gary Trent Jr.: Trent, the sun of former NBA player Gary Trent, exploded on the national scene this spring with a handful of explosive scoring performances. The 6-foot-5 off-guard is what we call a 'bucket-getter'.