The first of three five-day July live evaluation period kicks off on Wednesday, which means that college basketball prospects from around the country will battle for the attention of college coaches and scholarship offers for the next three weeks. Each of the three periods are filled with high-level camps as well as traditional grassroots tournaments.
With the first week being incredibly important — players tend to be fresher and not worn down from the consecutive weeks of competition — here's a look at five events to keep an eye on this week.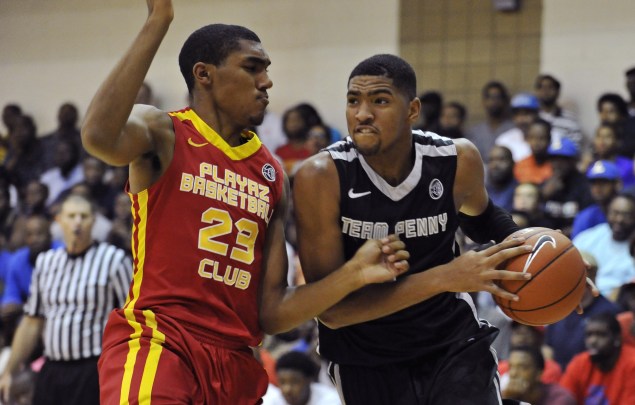 1. Nike Peach Jam
One of the biggest events in all of grassroots basketball, the 24-team event brings together the best teams from this spring in the Nike EYBL, which is the best grassroots league in America. The Peach Jam will be loaded with top players from the Nike circuit, including Class of 2016 five-star prospects like  wing Jayson Tatum, forward Harry Giles, guard De'Aaron Fox and  big man Marques Bolden. Plenty of Class of 2017 five-star prospects will also be in North Augusta, South Carolina, including 6-foot-8 Jarred Vanderbilt and centers Wendell Carter and Mohamed Bamba.
2. Under Armour All-America Camp
Under Armour is putting together its first All-America Camp this July — with adidas and Nike having their own camps next week — and it features a strong contingent of players. The No. 1 prospect in both the Class of 2016 (6-foot-7 wing Josh Jackson) and the Class of 2017 (center DeAndre Ayton) is expected to compete while Class of 2016 five-star prospects like 7-foot-1 Thon Maker, shooting guard Terrance Ferguson, forward Dewan Huell and shooting guard Markelle Fultz.
3. adidas Uprising Finale
Closing out its spring circuit, adidas is hosting its Uprising finale in Atlanta with the best teams from its two spring sessions. The battle for the best guard in the country will be hotly contested in Hotlanta as Class of 2016 five-star guards like Dennis Smith, Kobi Simmons and Frank Jackson are vying for the top spot. Some high-level shooting guards like Rawle Alkins, Mustapha Heron and Michigan State commit and  guard Josh Langford are also expected to compete and five-star forward Edrice "Bam" Adebayo is also coming off of a strong performance at the NBPA Top 100 Camp.
4. Hoop Seen's Best of the South
Another strong event in Atlanta will feature many top teams from the South as well as a smattering of EYBL teams who didn't make the Peach Jam. The Suwanee Sports Academy is one of the better facilities for tournaments in the country and the event will feature a lot of young talent in the 15U and 16U divisions as well.
5. Elite 100
A top event on the west coast taking place in Pomona-Pitzer's Rains Center, the Elite 100, which is powered by Under Armour, should have a lot of very good prospects, especially in the younger classes. The event will also draw some players from the other events as the weekend unfolds and Ryan Silver has done a nice job getting players that college coaches want to watch.