The NCAA's report on college basketball attendance is out, and surprisingly enough, Kentucky is not at the top of the list.
Syracuse is, having averaged 23,854 fans per game at the Carrier Dome, compared to the 23,572 that Kentucky drew to Rupp Arena. It's the second straight season that the Orange were atop the rankings, as they averaged 26,253 fans a season ago. This year, UK was chasing a perfect season up until the final weekend while Syracuse was in the midst of a year that would end with a postseason ban that kept them out of the NIT. (To be fair, Kentucky sold out every seat in Rupp for every game this season, while the capacity for the Carrier Dome is more than 30,000.)
Here are the top 50 schools in terms of attendance: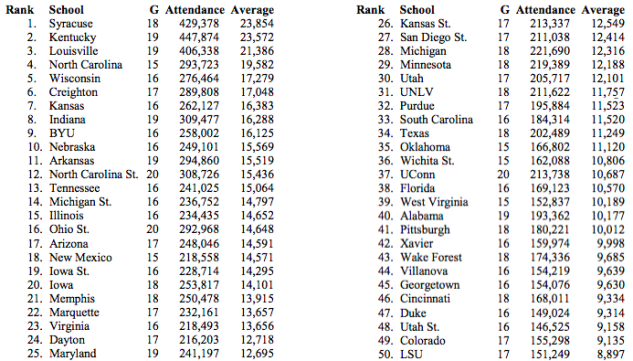 A more impressive streak was not broken, however, as the Big Ten drew the most fans per game of any league in the country for the 39th consecutive season! To put that into perspective, the last time the Big Ten did not lead the country in attendance was 1976, the year that Indiana went 32-0 and won the national title.
Here are the attendance numbers for the top ten leagues: