July's live recruiting period is right around the corner, meaning that the Class of 2016 will have a chance to truly prove themselves to the recruiters and the recruitniks around the country. Scholarships will be earned and rankings will be justified over the course of those three weekends in July.
But scholarship offers and rankings don't always tell us who the best players in a given class will end up being. Ask Steph Curry. Over the course of the coming weeks, we will be re-ranking eight recruiting classes, from 2004-2011, based on what they have done throughout their post-high school career. 
Here are the 25 best players from the Class of 2008, with their final Rivals Top 150 ranking in parentheses:
READ MORE: The complete Re-ranking the Classes series
1. Kawhi Leonard (No. 48): Leonard was a star in Southern California in high school but overlooked by the bigger programs in the state because he was a tweener — a power forward in a shooting guard's body. He ended up getting picked 15th in the 2011 draft after two seasons at San Diego State, quickly becoming a full-time starter and one of the NBA's best — and most underrated — players. And he just turned 24.
2. John Wall (No. 1): Wall's ascension came during the summer before his senior season in college, as he became the nation's top recruit, spending one season as Kentucky before going No. 1 overall in the 2010 draft. He's always been able to put up numbers, but it wasn't until the last two seasons where he was able to get the Wizards to the NBA Playoffs. This year, a broken wrist might have cost him a trip to the conference finals.
3. DeMarcus Cousins (No. 2): Cousins averaged 24.1 points, 12.7 boards, 3.6 assists and 1.7 blocks for the Kings last season. He's a top five talent in the NBA. He's also never played in a playoff game. I believe "enigmatic" is the PC word to use here.
4. Khris Middleton (No. 140): Middleton played three seasons at Texas A&M before heading off to the NBA. He was a second round pick that played 27 games with Detroit as a rookie. Then, after joining the Bucks, he found his groove, becoming a starting wing that averaged 13.4 points this past season. He just inked a deal with $70 million over the next five years.
5. Derrick Favors (No. 3): Favors has grown into being one of the better young power forwards in the NBA. Still just 23 years old, he averaged 16.0 points and 8.2 boards for the Jazz this past season. Favors was the No. 3 pick in the 2010 draft after playing one season at Georgia Tech.
RELATED: Re-ranking the classes 2004 | 2005 | 2006 | 2007 | 2008
6. Eric Bledsoe (No. 23): Bledsoe was impressive enough in his one season at Kentucky to get picked 11th in the 2010 NBA Draft. After three seasons backing up Chris Paul with the Clippers, he was traded to the Suns in the deal that brought J.J. Redick to LA. The last two years, he's averaged 17 points, six assists and five boards.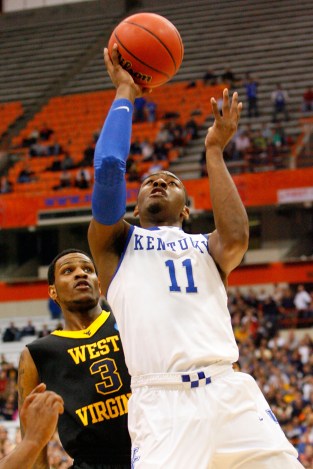 7. Avery Bradley (No. 4): Bradley was underwhelming during his one season at Texas, but it didn't keep the Celtics from snagging him with the 11th pick in the 2010 draft. He became a starter in his second season and has thrived under Brad Stevens, as he averaged 13.9 points this past season.
8. Mason Plumlee (No. 55): Plumlee was a four-year player at Duke, becoming an all-american during his senior season. He was picked 22nd in the 2013 draft and developed into a starting center for Brooklyn and a member of Team USA at the 2014 World Cup. He's since been traded to Portland in the deal that brought Steve Blake and Rondae Hollis-Jefferson to NYC.
9. Alec Burks (UR): Burks came out of nowhere to turn into a first round pick after two seasons with Colorado. He was averaging 13.9 points as a full-time starter with the Jazz this past year before a shoulder injury ended his season.
10. Lance Stephenson (No. 11): It took Born Ready a while to find a role above the high school level. He ended up at Cincinnati for his one-and-done season and was picked 40th in the 2010 draft. He was a bit player for two years with the Pacers before becoming a key piece during the 2013-14 season, averaging 13.8 points, 7.2 boards and 4.6 assists. He signed with Charlotte for this season, but had a disappointing year.
11. Hassan Whiteside (No. 87): Whiteside went one-and-done after his freshman season at Marshall, but was a second round pick. He played just 19 games with the Kings his first two seasons in the league, then spent two years overseas. But in 2014-15, he made his was back to the NBA and ended up as the starting center for the Miami Heat, averaging 11.8 points, 10.0 boards and 2.6 blocks. Was that a fluke-year?
12. C.J. McCollum (UR): McCollum had a sensational career at Lehigh, becoming an all-american sparking an upset of No. 2 seed Duke in the 2012 NCAA tournament. He was the No. 10 pick in the 2013 draft and has since found a role with the Blazers off the bench. He averaged 17.0 points for Portland in the playoffs this season.
13. Kelly Olynyk (UR): After two years in a bench role and a redshirt junior season, Olynyk exploded on the scene as an all-american in his fourth year at Gonzaga. He'd go on to become a lottery pick and a key piece for the Celtics as they reached the playoffs this season. He averaged 10.3 points and 4.7 boards in his second season in the league.
14. John Henson (No. 5): Henson spent three seasons at North Carolina before turning pro. He was the 14th pick in 2012 and has gone on to become a key front court piece on one of the more promising young teams in the NBA. This past season, he averaged 7.0 points, 4.7 boards and 2.0 blocks in just over 18 minutes.
15. Derrick Williams (UR): Williams went from under-recruited to an all-american in two seasons at Arizona, getting picked second in the 2011 NBA Draft. His career in the NBA has been less-than-stellar through four seasons, as he's never played for a winning team and has yet to average more than 12.0 points or 5.5 boards in a single season.
16. Thomas Robinson (No. 31): It took him three years to develop at Kansas, but as a junior, Robinson became a first-team all-american and the No. 5 pick in the 2012 draft. In the last three years, he's bounced around to a handful of teams and has yet to find his role in the NBA. He's still just 24 years old.
17. Isaiah Canaan (UR): After a two-year run as an all-american at Murray State, Canaan was a second round pick in 2013. He's last two years in the league, starting 21 games this past season. He was the piece Houston traded to Philly for K.J. McDaniels this season.
18. Solomon Hill (No. 27): Hill spent four seasons at Arizona before getting picked late in the first round by the Indiana Pacers. He ended up starting 78 games this past season, his second in the NBA.
19. Ryan Kelly (No. 20): It took a couple of seasons, but Kelly eventually blossomed into a productive player at the college level. It was his foot injury that played a major role in Duke's upset loss to No. 15 seed Lehigh in 2012. He's lasted two years in the NBA as a part-time starter with the Lakers.
20. Greg Smith (No. 93): A college teammate of Paul George at Fresno State, Smith has lasted four seasons in the league as a big body off the bench. He played 70 games in 2012-13 with Houston.
21. Hollis Thompson (No. 63): Thompson, who played three years at Georgetown before turning pro, has been a productive bench player for the last two seasons with Philly.
22. Jordan Hamilton (No. 6): Hamilton lasted two seasons at Texas before heading to the professional ranks. He's bounced between the NBA and the D-League for the last four years, latching on with the Clippers for 14 games in 2014-15.
23. Xavier Henry (No. 8): Henry was the No. 12 pick in the 2010 draft after spending one season at Kansas. His best season came in 2013-14 with the Lakers, when he averaged 10.0 points in 43 games.
24. Mike Muscala (UR): Muscala was a second round pick in 2013 after a terrific career at Bucknell, and while he's played just 60 games in two seasons in the NBA, he's seemingly found a role as a stretch-four for the Atlanta Hawks.
25. Royce White (No. 19): White has an insane amount of ability, as we saw in 2011-12 when he averaged 13.9 points, 9.3 boards and 5.0 assists for Iowa State, leading him to get picked 16th in the 2012 draft. That was the only season where he actually played a full year since leaving high school.
NOTABLES
Renardo Sidney (No. 16)
Demetrius Walker (No. 115)
John Jenkins (No. 15)
Tyler Haws (No. 145)
Peyton Siva (No. 39)
Daniel Orton (No. 22)
Michael Snaer (No. 7)
Cory Jefferson (No. 51)
Travis Wear (No. 60)
Jared Cunningham (N0. 76)
Darius Morris (No. 77)
Erik Murphy (No. 79)
Tim Frazier (No. 109)
Nate Wolters (UR)
Erick Green (UR)