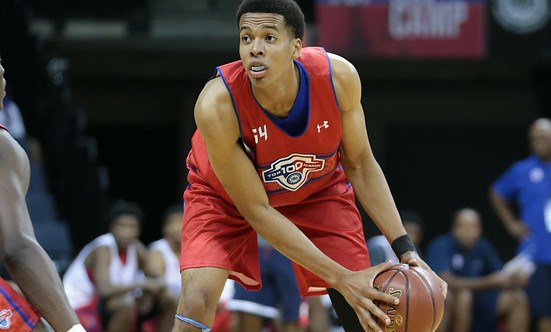 Skal Labissiere, Kentucky: Labissiere overtook Ben Simmons as the No. 1 prospect in the Class of 2015 this spring, and it's no surprise why. He's a seven-footer with a soft shooting touch, three-point range, a face-up post game and the ability to block shots at the rim. He'll draw comparisons to the likes of LaMarcus Aldridge, which should give you an idea of what his ceiling is.
Ben Simmons, LSU: Simmons was long considered the best player in the 2015 class, and while many outlets dropped him off of that top spot in their more recent rankings, he could still end up being the No. 1 pick in the 2016 BA Draft. A strong-bodied 6-foot-9 forward, Simmons is actually at his best with the ball in his hands, playing a point forward role. He has terrific vision and is tough to stay in front of off the dribble. He's a jumper away from being unguardable.
Kris Dunn, Providence: The Providence redshirt junior guard is a terrific story. He overcame two brutal shoulder injuries to become as all-american asa junior. He by passed the NBA Draft– and a possible spot in the lottery — after last season. He's a big, strong point guard and terrific creator that excels in ball-screen actions, but he needs to show an improved jumper and better ball control this season.
Jakob Poeltl, Utah: The seven-foot Austrian has all the tools in the world. He's mobile, he's athletic, he blocks shots, he runs the floor, he's got great hands. He needs to add some core strength and balance, not to mention a post game, but Poeltl was a first round pick had he left after his freshman season. The Utes were lucky to get another year with him.
Caris LeVert, Michigan: LeVert was considered by many to be a preseason all-american and potential lottery pick entering this season, but that went up in smoke when he broke his foot again. He's a big guard that can makes plays with the ball in his hands, but can he stay healthy?
Jaylen Brown, Cal: On a team loaded with perimeter talent, Brown is the best NBA prospect. He's a prototype power wing, an aggressive 6-foot-6 scorer that could have had a nice career as a tight end. Think Justise Winslow more than Stanley Johnson.
Malik Newman, Mississippi State: Newman can score. There is no question about that. The 6-foot-3 all-american, who doubles as the best guard prospect in the Class of 2015, will have ample opportunity to showcase that skill after picking the Bulldogs over Kentucky. He could average 20 next season — points and shot attempts per game.
Demetrius Jackson, Notre Dame: We got a glimpse of what Jackson is capable of during the NCAA tournament, and with Jerian Grant graduating, he'll be the next point guard Mike Brey builds his offense around. I think he's a preseason all-american, and asa hyper-athletic, 6-foot point guard,, I think he will be a lottery pick as well.
Malik Pope, San Diego State: Pope has all kinds of potential given his length, athleticism and ability to shoot. The problem? He's thin and he can't stay healthy. It will be interesting to see what he can produce if he can play an entire season.
Diamond Stone, Maryland: Outside of Labissiere, Stone is the most intriguing big man prospect in the 2015 class. He's 6-foot-10 with a strong frame and some low-post ability, but he's also skilled enough to play on the perimeter as a stretch four. He'll do that quite a bit this season playing alongside Robert Carter, the Georgia Tech transfer.
Domas Sabonis, Gonzaga: A strong four-man with terrific pedigree, a nose for the ball, a motor that doesn't stop running and some developing post moves? The Gonzaga sophomore is not a typical European prospect.
Jamal Murray, Kentucky: Murray may be the most interesting name on this list. He was ranked in the 30s in the Class of 2016 until he showed out for the World team in the Nike Hoop Summit. A 6-foot-5 combo-guard that doubles as a terrific shooter is always tantalizing, but is he being overhyped off of his play in one game?