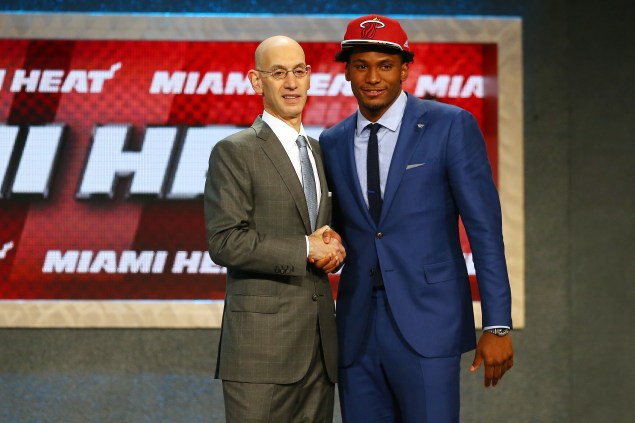 Denver Nuggets: The Nuggets were arguably the biggest winners in the 2015 NBA Draft, has they had Emmanuel Mudiay fall to then at No. 7. Mudiay's story is well known by now. The best guard prospect in the Class of 2014, he bypassed college at SMU to play professionally in China. He played in 12 games abroad — limited due to an injury — but the lack of exposure he got hurt his stock. He's still a big, powerful point guard that excels in ball-screens and owns a developing jumper. He's got all-star potential.
Miami Heat: Justise Winslow was projected as a potential top five pick and fell all the way to Miami at No. 10, after fellow power wing Stanley Johnson. I love this pick for the Heat. I think Winslow has a chance to play a Draymond Green-esque role in the league, and he should be able to fill a role immediately on a team that already has the pieces to make a run to the playoffs.
Utah Jazz: Outside of Karl Anthony-Towns, I think Lyles has the most upside when it comes to NBA potential. The versatile 6-foot-10 power forward was forced to play out of position for Kentucky last season, sliding in at the three spot. He's a matchup problem when he's a four. He's on the wrong end of being a mismatch as a three, particularly when he can't use his size in the post.
Chicago Bulls: Bobby Portis falling to No. 22 was an incredible stroke of luck for Chicago and new head coach Fred Hoiberg. He's a lottery-level talent, a 6-foot-11 forward that plays hard, can score on the perimeter and is a mobile defender. He can be another Taj Gibson, only he's more skilled offensively.
New York Knicks: I'm not going to sit here and claim to have all the answers when it comes to Kristaps Porzingis, but those in the know seem to believe he's the guy to break the Euro-bust trend. I'll believe them. What I do know is that Jerian Grant is one of the most underrated point guards in this draft. He's sensational in ball-screens actions and understands how to create shots for his teammates. He's also got great size for a point guard. But can he operate in the triangle offense?
Milwaukee Bucks: I'm not sure how good Rashad Vaughn will ever be on the defensive end of the floor, but I do know this: the kid can flat out score. He's what basketball folks call a bucket-getter. He's an athletic, 6-foot-5 scoring guard that can score from range and can play off the bounce. His numbers and profile at the college level took a hit because of an injury he suffered while playing on a team that missed the NCAA tournament.
Minnesota Timberwolves: To start, the T-Wolves didn't do anything stupid with the No. 1 pick, taking Karl-Anthony Towns. They followed that up by working a trade to get Tyus Jones with the 24th pick. I think Jones' limited athleticism means that he's likely a career back-up, but he landed in one hell of a place to make a future for himself in the league. He's a guy who's strengths are facilitating, distributing, protecting the ball and hitting big shots, and he's thrown onto a team with the likes of Towns, Andrew Wiggins, Zach LaVine, Anthony Bennett and Shabazz Muhammad? I don't know how good the T-Wolves are going to be next season, but A) their future is bright with this young core and B) they are going to be awfully entertaining to watch in the coming years.