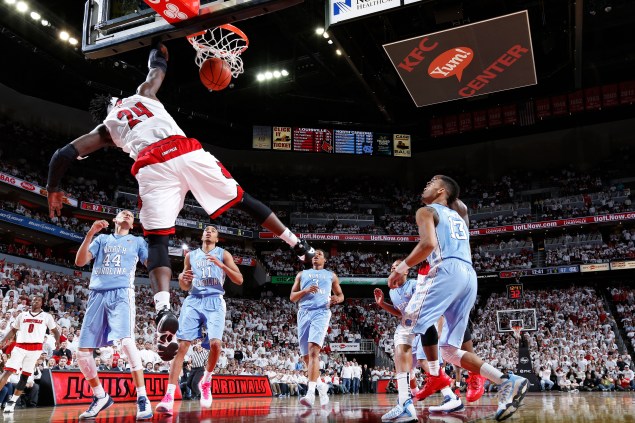 Pat Connaughton: If Brown is a good value at 34th, Connaughton is a great value at 41st for the Blazers, who acquired him in a trade with Brooklyn. There may not be a tougher player in this year's NBA Draft, and while Connaughton is a lethal spot-up shooter he also had the highest vertical at the NBA Draft Combine (44 inches) and used his wingspan and strength to turn himself into the best rebounding guard in college basketball. He's got 3-and-D potential, but his play as an undersized power forward is what allowed Notre Dame to play small ball last season. Will there be value there as the NBA goes through a small-ball revolution?
The big question with Connaughton is which sport he is going to pick. He may have a brighter future as a pitcher than he does as a basketball player.
Montrezl Harrell: The Rockets actually had themselves a pretty successful draft, as they were able to land Sam Dekker with the 18th pick and Harrell at 32. To be honest, I think Harrell has been a bit overrated as an NBA prospect — he was never a lottery pick — but I love him at 32nd. He's always going to defend, he's always going to rebound and, most importantly, he's always going to play hard. He's a terrific pickup in the second round.
Anthony Brown: Brown fits a mold that is trendy in the NBA these days. He's a 6-foot-8 wing that is a sniper from long range. Whether or not he's the kind of defender that will be able to thrive in a 3-and-D role is yet to be seen, but at the very least the Lakers picked up a guy that is going to be able to spread the floor and has the tools to play a role. That's good value at the 34th pick.
Joseph Young: The Pacers picked up Young at No. 43. He's undersized as an off-guard and his score-first mentality limits his potential as a point guard, but Young is a bucket-getter. He can flat out score, and I think there's a spot for him in the NBA as an instant-offense guy off the bench. The question which draft prospects outside of the elite are how they will fill a role, and Young can fill a role.
Jordan Mickey: I actually like Mickey more as a prospect than his LSU front court mate Jarell Martin. Mickey is a bit undersized as a four — meaning I don't think his shot-blocking will translate to the NBA — but he's a tremendous athlete and a proven producer. If he buys into a role of being a rebounder, defender, effort guy, he's a guy I think can hang around the NBA for a decade.
Tyler Harvey: I get the knocks on Harvey. Defensive issues, strength issues, he won't have the ball in his hands as much in the NBA. But this is a kid that went from having zero Division I scholarship offers — he ended up at Eastern Washington because the D-III coach he committed to got the job — to being one of the best scorers in Division I basketball. He's an elite shooter, a guy that can create his own shot and a player that isn't going to take anything for granted. At the 51st pick, he's more than worth the risk.
Sir'Dominic Pointer: The St. John's product got scooped up by the Cavs with the 53rd pick in the draft. Pointer really can't do anything offensively at an NBA level, but he's an elite athlete that plays hard and is an excellent defender. He's another guy with a great shot at actually making a roster, and given that that roster also includes LeBron James, Pointer should be pretty happy about where he landed.