Before I go any further, before I even mention the name of the five-star guard that Kentucky added last night, let me make one thing crystal clear: When it's late June and you add a top 15 recruit to your roster, that is always a good thing.
Always.
Talent is talent. You can't win without talent. And Jamal Murray, a 6-foot-3 combo-guard from Ontario, has got plenty of it. We all saw it on display in April when he went for 30 points and six assists for the World team as they knocked off the Americans in the Nike Hoop Summit.
On Wednesday night, Murray announced that he will be joining Skal Labissiere, Isaiah Briscoe and Charles Matthews in John Calipari's 2015 recruiting class.
And that is, unequivocally, a good thing. The Wildcats now may have the nation's best front court player in Labissiere as well as the most talented perimeter trio in the country. That combination is why we bumped Kentucky up two spots to No. 3 in our latest preseason top 25. It's why the Wildcats will enter the 2015-16 season, a year that is completely devoid of a true national title favorite, as one of a handful of teams with a real shot of cutting down the nets on the first weekend in April.
But before the hype train gets completely out of control, let's talk about how Murray actually fits on this Kentucky roster. Hint: It's not exactly ideal, because Murray and Briscoe essentially play the same position. Neither are true point guards — that title belongs to the third member of their back court, Ulis — but both are ball-dominant lead guards that are at their best when they have the ball in their hands, when they are allowed the freedom to create, either for themselves or for their teammates.
That doesn't mean they're selfish. Briscoe's a better scorer than he is a facilitator, but that doesn't mean that he's not a willing passer. Murray's even more of a natural scorer that Briscoe, but he's also a guy that understands that his somewhat limited athleticism means that he has the most long-term potential as a big point guard.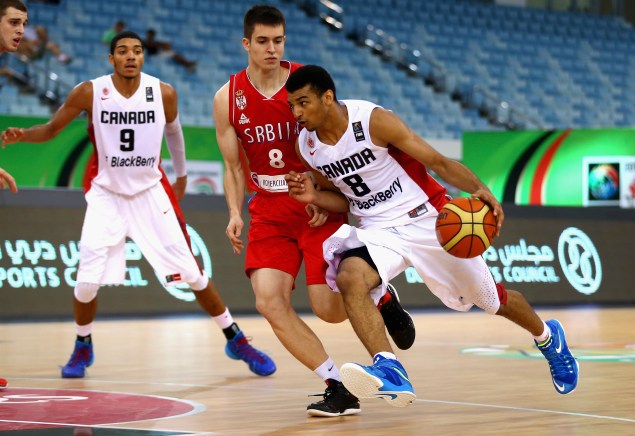 Individually, I think both have the ability to make an impact as freshman at the college level, but it's not going to come without sacrifice. You can't have three full-time point guards playing 30-plus minutes per game. Basketball just doesn't work that way, which should help you understand Kentucky head coach John Calipari's latest media campaign.
You know the one I'm talking about, his push for "position-less" basketball.
"We basically play position-less basketball and have for some time," he said during a teleconference last week, a quote that made the rounds on every sports site at the same time as his recruitment of a third point guard for the 2015-16 season reached crunch-time. "It's not trying to pigeon-hole any one player in any one position. I want them all to be multi-position players."
That's an even more obvious recruiting tactic than his missives about platoons. I'm convinced the man was Don Draper in another life.
But it's also the truth.
In order for this Kentucky team to thrive next season, Cal is going to have to convince Murray and Briscoe to play a different role than they have throughout their high school career. He's going to have to get them to buy into playing a role in his offense when they've always been used the way that D'angelo Russell was used at Ohio State last season. Will he let them take turns running the show? Will he incorporate more of the Dribble-Drive Motion offense, something that he has gone away from in recent years? Will he let Ulis be the full-time point guard while using Briscoe and Murray in pin-down and side ball-screens actions?
Perhaps more importantly, will he find a way to convince Labissiere, who will probably be Kentucky's best player next season, that he may end up being the third option offensively, a la Anthony Davis.
Kentucky won the national title in 2012, the year Davis was on the roster, by the way.
They won because Cal was able to convince a roster stocked with talent that winning was more important than shot attempts, the same way he got last year's team to prioritize winning over stats and minutes played. That team won 38 straight games.
And if this year's group is going to reach that same level, he's going to have to keep selling his back court on the idea of position-less basketball.