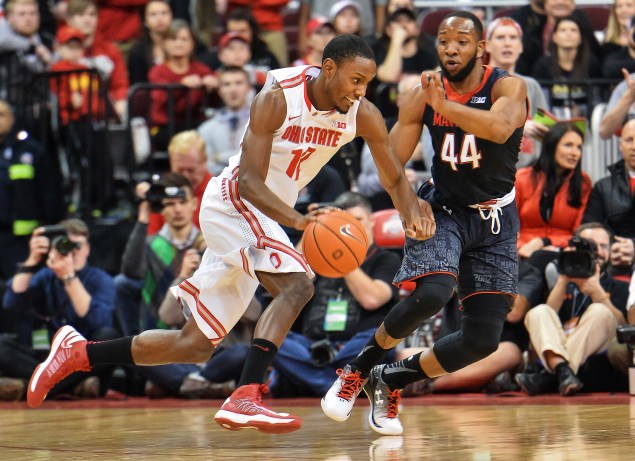 Going through the NBA Draft process is an exhausting experience for college basketball players looking to take the next step in their career. Between two-a-day workouts, weight lifting, getting up extra shots and traveling between team draft workouts, the focus is on basketball and making it at the professional level once players enter their name in the NBA Draft.
For some seniors in the NBA Draft process like Ohio State's Sam Thompson, draft workouts continue on a daily basis along with completing the academic requirements that are necessary to earn a college degree. Thompson is one of many former student-athletes in the NBA Draft process who finished out the spring semester of classes.
After Ohio State's season ended with a loss to Arizona in the Round of 32, Thompson started working out at Impact Basketball Academy in Las Vegas to prepare for the rigors of professional basketball. To earn his degree in finance after the spring semester, Thompson also needed to complete four more weeks in five finance classes.
Between the two-a-day workouts, weights and completing assignments, Thompson had a grueling four-week stretch where most of his free time away from basketball was spent studying. After his first two weeks in Las Vegas, Thompson returned home for a week for final exams on campus before returning to NBA Draft process.
Thompson walked at graduation May 10 with his degree in finance. Now he hopes to hear his name selected during the 2015 NBA Draft.
"I made arrangements with all of my teachers to work remotely. Turn in some assignments online and stuff like that," Thompson said. "When I went away to workouts, it was a month before all my classes finished out. I knew it wasn't going to be easy. But I knew that coming back and taking five classes was less likely than for me to finish up here and now. So that was just my biggest motivation."
Besides his high-flying, four-year basketball career at Ohio State — in which he became nationally known as "Slam" Thompson to some because of his aerial displays at the rim –Sam focused on his finance degree to plan for his life after basketball. Coming from a family that values academics, Sam often heard from his parents and siblings about sticking with basketball and his degree track during his final weeks of school. One of Sam's former teammates at Ohio State also had a similar experience with finishing up school while working out for NBA teams and it helped Sam to have the support of those people.
"The plan and the goal was for me to always get my college degree. [My parents] sort of set the standard in the house. They've been on me pretty hard about it," Thompson said. "I remember Aaron Craft last year, he was pretty adamant about getting his degree. He was another guy that balanced the NBA Draft process with getting his degree, so we had a few conversations."
Working out with other seniors like Penn State's D.J. Newbill, West Virginia's Juwan Staten and Syracuse's Rakeem Christmas at Impact Basketball Academy, Thompson noticed that other guys working out for the draft were also trying to complete a couple of classes. When his degree was finally completed, Thompson didn't have to worry about checking emails from professors or handing in assignments. It was back to his basketball dreams.
"A few guys left to take exams and stuff. I'm not the only guy doing it. It's just something that, as seniors, we have to do." Thompson said. "I liked finance and I really enjoyed my time at Ohio State. Just to say that I finished school and to walk out of there with a degree is all I need. I know how hard of a grind it is balancing being a student and being an athlete. I know how hard it is to get a degree in finance from Ohio State University without being an athlete. To be able to do both is definitely something I wanted to do for myself and it's something that's going to stick with me for the rest of my life."
Working on areas like his jumper and his handle the last few months, Thompson is hoping that he'll get a shot in the NBA because of his ability to defend multiple wing spots right away. If professional basketball doesn't end up working out, Thompson always has the backup plan of going into investment banking. Going back to school to get an MBA wouldn't be out of the question for Thompson if it meant furthering his career in finance. Even if he has a long career in basketball, Thompson knows that investment banking will be there for him after he retires from basketball.
"Obviously, being a financial analyst for a major investment firm is an 80- or 90-hour week. So it's not really feasible while I'm still playing," Thompson said. "That is definitely the Plan B if I'm not able to play professional basketball. I haven't exactly figured out how I want to use my degree while I'm playing, but I definitely want to stay sort of in the financial realm throughout my career so I can enter into it after my career. It's something I really enjoy and I've spent a lot of time over these past four years studying it. It's something that I'm definitely interested in going into."
During the NBA Draft process, Thompson has worked out for Boston, Brooklyn, Chicago, the Los Angeles Clippers, Orlando, Philadelphia, San Antonio and Utah. Although a minor muscle pull forced Thompson to cancel four other workouts during the process, he remained focused on getting his degree while pursuing his basketball dreams. Thompson is fully healthy now and hoping for an opportunity. It wasn't easy to go through five finance classes while working out for the NBA Draft, but Thompson got it done and he's satisfied knowing that he's done everything he can to put himself in position for success.
"Sometimes, I just needed some time to step away. But what choice do you have? You just have to suck it up and get it done," Thompson said. "Everyone just basically said the same thing. Obviously, the NBA Draft is the biggest thing in your life and you want to devote all of your energy and your time to it, but at the same time, you have a couple of more weeks of academic responsibility. It's just something you have to get done."